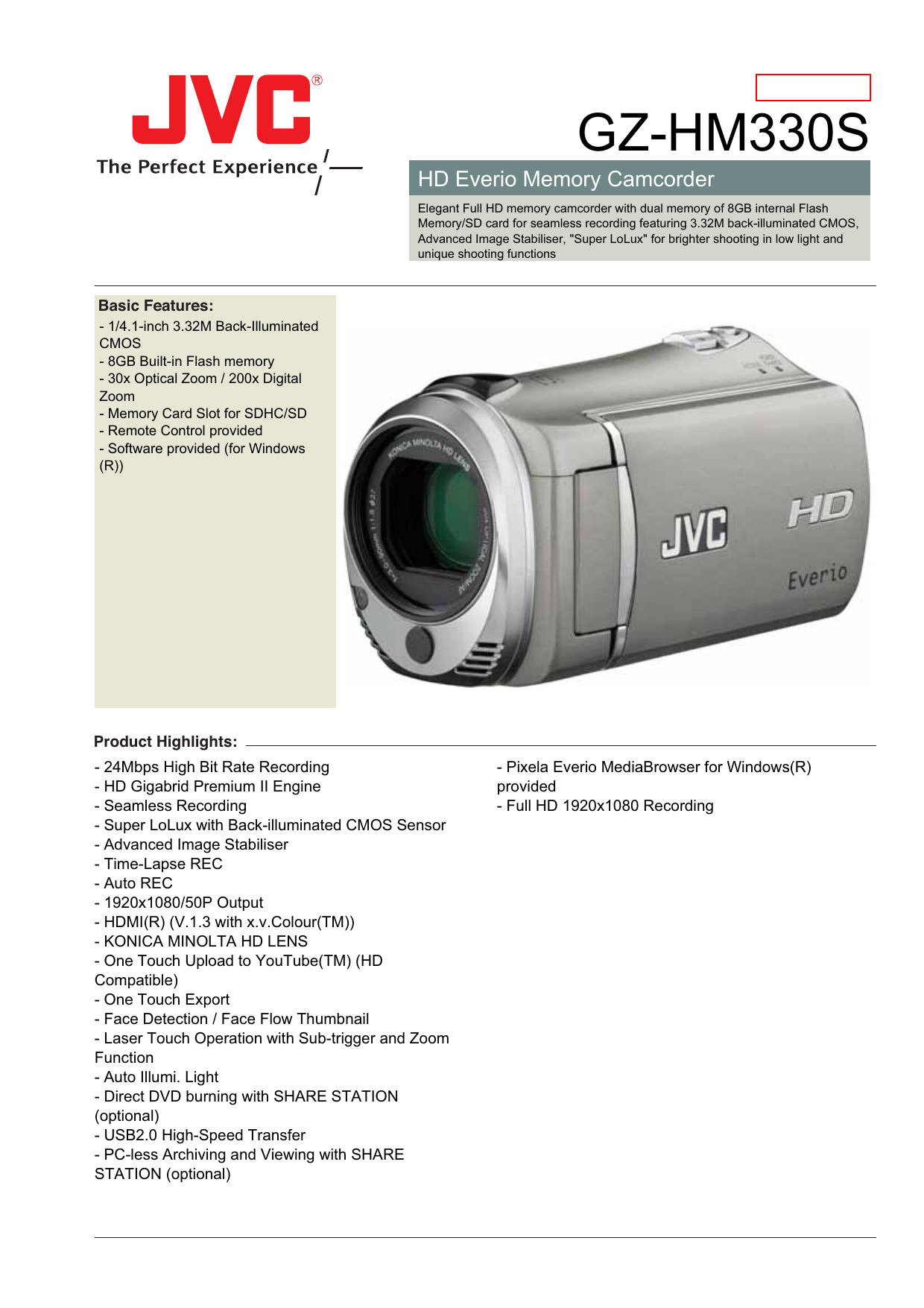 GZ-HM330S
HD Everio Memory Camcorder
Elegant Full HD memory camcorder with dual memory of 8GB internal Flash
Memory/SD card for seamless recording featuring 3.32M back-illuminated CMOS,
Advanced Image Stabiliser, "Super LoLux" for brighter shooting in low light and
unique shooting functions
Basic Features:
- 1/4.1-inch 3.32M Back-Illuminated
CMOS
- 8GB Built-in Flash memory
- 30x Optical Zoom / 200x Digital
Zoom
- Memory Card Slot for SDHC/SD
- Remote Control provided
- Software provided (for Windows
(R))
Product Highlights:
- 24Mbps High Bit Rate Recording
- HD Gigabrid Premium II Engine
- Seamless Recording
- Super LoLux with Back-illuminated CMOS Sensor
- Advanced Image Stabiliser
- Time-Lapse REC
- Auto REC
- 1920x1080/50P Output
- HDMI(R) (V.1.3 with x.v.Colour(TM))
- KONICA MINOLTA HD LENS
- One Touch Upload to YouTube(TM) (HD
Compatible)
- One Touch Export
- Face Detection / Face Flow Thumbnail
- Laser Touch Operation with Sub-trigger and Zoom
Function
- Auto Illumi. Light
- Direct DVD burning with SHARE STATION
(optional)
- USB2.0 High-Speed Transfer
- PC-less Archiving and Viewing with SHARE
STATION (optional)
- Pixela Everio MediaBrowser for Windows(R)
provided
- Full HD 1920x1080 Recording
GZ-HM330S
Memory Camcorder
Digital Media Camera
SYSTEM
Format
Storage Media
[AVCHD] Video: MPEG-4
AVC/H.264 Audio: Dolby
Digital (2ch), Still: JPEG
SD Memory Card, Internal
Flash Memory (8GB) [1]
Yes
Seamless Recording
CAMERA
CMOS
1/4.1"
No. of CCD/CMOS Pixels 3.32M (back-illuminated)
Lens
KONICA MINOLTA HD LENS Yes
Zoom Ratio Optical
30x
Zoom Ratio Digital
200x
(max.)
Focal Length (mm)
3.0 - 90.0 (35mm film
equivalent: 43.7 - 1311.0)
F Stop
F1.8 - F4.7
Filter Diameter (mm)
37.0
A.I.S.(Advanced Image
Yes
Stabiliser)
Full Range AF/Manual
Yes/Yes
Focus
Full-Auto/Manual White Yes/Yes
Balance
RECORDER
AVCHD Video Recording Yes
JPEG Still Shooting
Yes
Still Recording During
Yes
Video Recording (Dual
Rec)
Video Recording Modes UXP/XP/SP/EP [2]
Video Recording Time
3hr 20min (UXP) / 18hr 15min
(max.)
(EP) [3]
Still Image Sizes
[4:3] 1440x1080 / 640x480
[16:9] 1920x1080
No. of Still Images
9999
(max.)
Gigabrid Engine
Yes (HD Gigabrid Premium II)
x.v.Colour(TM)
Yes
INTERFACES
SD Memory Card Slot
Yes (SDHC Compatible) [1]
USB 2.0 High-Speed Data Yes
Transfer to PC
1920x1080/50P Output
Yes
HDMI(R) output (Mini)
Yes (V.1.3 with
x.v.Colour(TM))
HDMI-CEC
Yes
Component Video Output Yes
AV Input/Output
-/Yes
LCD/SCREEN
Clear LCD Monitor
2.7" wide, 123k-pixel
Auto LCD Backlight
Yes
Control
Laser Touch Operation
Yes
Sub-trigger and Zoom
Yes
with Laser Touch
Operation
FUNCTIONS
Super LoLux
Yes
One Touch Upload to
Yes (HD Compatible)
YouTube(TM)
One Touch Export
Yes
Face Detection
Yes
Face Flow Thumbnail
Yes
Time-Lapse REC
Yes
Auto REC
Yes
Programme AE Modes
Night / Twilight / Portrait
/ Sports / Snow / Spotlight
16:9 Wide Mode
Yes (Full Resolution)
Auto Illumi. Light
Yes
Data Battery
Yes
Icon Playlist/Event
Yes
Pre-registration
Play List Editing
Yes
In-Camera File Editing
Yes
Picture Titles
Yes
Quick Restart
Yes
Quick Recording
Yes
Quick Review
Yes
Intelligent Grouping
Yes
Digest Playback
Yes
Power-Linked Operation Yes
Multi-Language On-Screen 12 Languages (Eng. / Chi.
[Simple] / Fre. / Ger. /
Spa. / Ita. / Dut. / Por. /
Rus. / Pol. / Cze. / Tur.)
Self-Timer
Yes (2sec/10sec/Face
Detection)
Direct DVD Creation with Yes (AVCHD and DVD Video
SHARE STATION
disc)
Direct DVD burning of
Yes
down-converted picture
PC-less Archiving to
Yes
External HDD/BD
Sliding Lens Cover
Yes (Auto)
2-way Grip Belt
Yes
GENERAL
Power Consumption
Approx. 2.7W
Approx. Weight
220g / 260g [4]
Dimensions (WxHxL)
52 x 62 x 110mm
PROVIDED ACCESSORIES
AC Adapter
Yes
Battery Pack
Yes (BN-VG114)
AV Cable
Yes
USB Cable
Yes
Component Video Cable Yes
Remote Control
Yes
Software
Digital Photo
Yes
Navigator (Win)
Pixela Everio
Yes (HD Edition)
MediaBrowser (Win)
Foot Notes
[1] To record video, SD/SDHC card with Class 4 or higher performance is required. SD memory cards (256MB to
2GB) and SDHC memory cards (4GB to 32GB) have been tested for the following brands: Panasonic, Toshiba,
SanDisk, ATP. Note that using other media may result in recording failure or data loss. For compatibility of
memory cards, please consult an authorised JVC dealer. [2] Footage recorded in the UXP mode cannot be stored
to disc using the CU-VD50/VD3. Use the supplied MediaBrowser software installed on your PC to store footage
onto Blu-ray disc or hard disk drive. [3] When using a 32GB SDHC card (not provided) and internal flash memory
[4] without battery / with included battery
Design and specifications subject to change without notice.

* Your assessment is very important for improving the work of artificial intelligence, which forms the content of this project