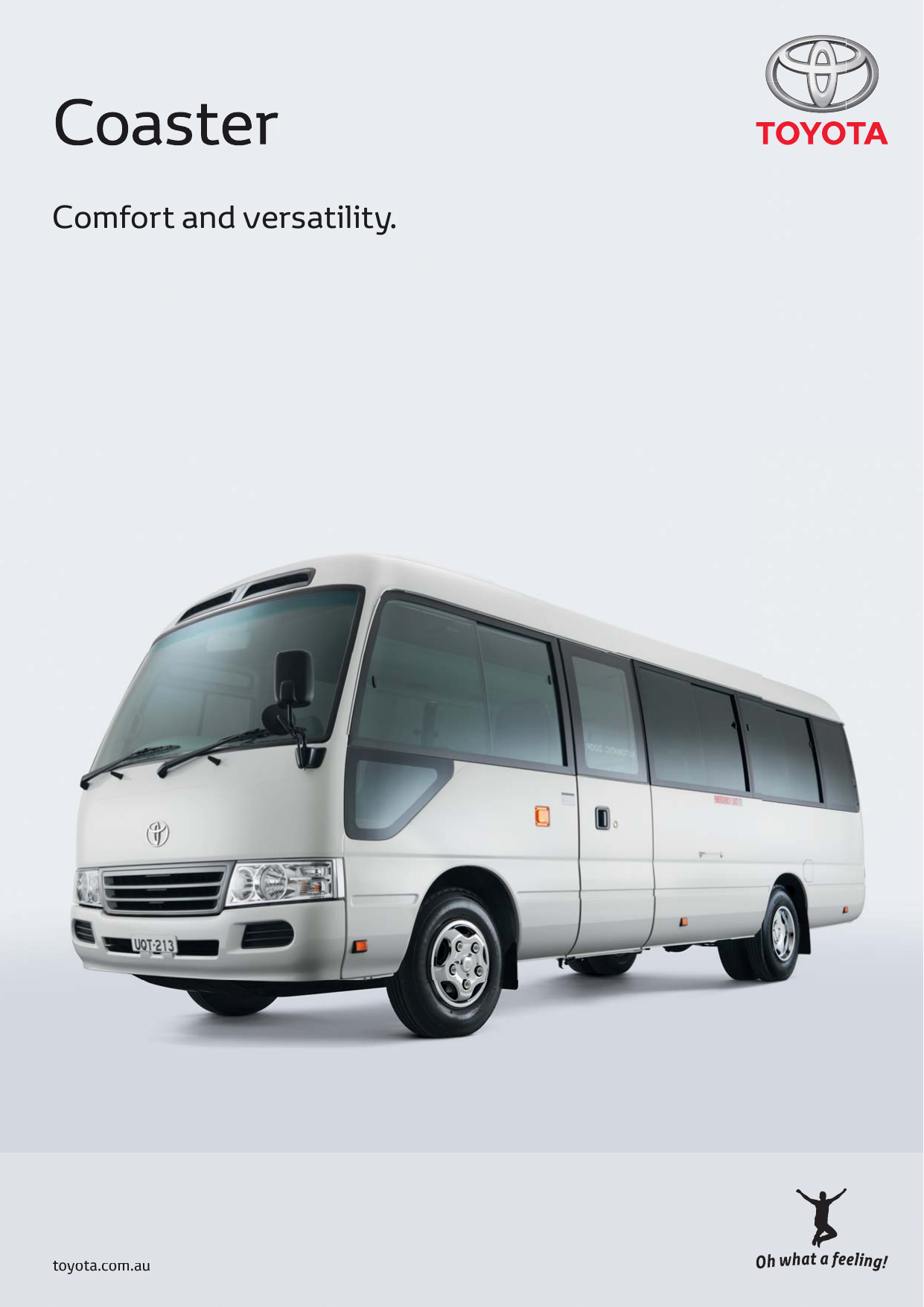 Comfort and versatility.
toyo
to
yota
ta.c
.com
om.a
.au
u
Deluxe model shown.
Front Cover – Deluxe model shown.
Comfort and versatility.
Communal road trips are
one of life's little pleasures.
For all life's journeys.
Wherever you're headed – from a long trip to just around
the corner – communal road trips are one of life's little
pleasures. And with seating for up to twenty-one people
(including driver), the improved Coaster ensures all
your passengers will enjoy the ride. From the moment
passengers step on board through the automatic sliding
door (Deluxe grade), they'll notice the difference. As well
as ample head and leg-room, there are comfortable semihigh-back seats (except fifth and sixth rows), large windows,
air conditioning, heating, seatbelts on every seat and privacy
glass across the range.
Driven by comfort.
Thoughtful design touches and additions have made the
Coaster more of a pleasure for drivers too. In fact, your
designated driver has never had it so good – with power
steering, adjustable bucket seat with lumbar support, tilt
adjustable steering wheel and large brake boosters for
smoother braking standard on all models. And with the
option of a 4-speed automatic transmission (Deluxe grade),
complete with driver footrest (Deluxe grade auto only),
a quick, effortless ride is now just around the corner.
Looks great, sounds great.
Coaster also boasts a sense of timeless style. A tailored front
bumper and grille complement stylised headlamps and
indicator lights, resulting in a sleek exterior. Inside is impressive
too, with a clever instrument panel design, eye-catching
upholstery (Deluxe grade) and ample storage space (Deluxe
grade). As well as a PA system, also included is an exciting audio
system featuring Bluetooth™ capabilities, audio input for
some USB memory sticks and iPod connectivity.,
Driver comfort.
Overseas model shown.
Comfort and space.
Deluxe model shown.
The audio unit also features voice recognition and
radio text as well as an MP3 compatible single CD player
to ensure on-road sing-alongs and easy listening.
A mover, not a shaker.
The one thing that hasn't changed is the Coaster's smooth
ride. Independent front suspension with double wishbones
and upper torsion bar and long tapered rear leaf springs ensure
a smooth, stable ride at all times, with minimal body roll.
For added safety, ABS brakes allow for more controlled
braking when it really counts, and four emergency exits
mean fast evacuation. And speaking of fast, the Coaster's
4.0 litre Turbo-diesel engine shows great acceleration when
you need it most.
Get off to a flying start.
Whether you're dropping off at the local school or sports club,
or picking up from the airport, even with a full passenger load
you'll marvel at the Coaster's smooth power. With both the
5-speed manual or 4-speed automatic transmission (Deluxe
grade), the Coaster is as happy zipping around the city as it
is cru
uising along on the freeway – even with trailer in tow.
And when you get to your destination, you'll be pleased to
know
w that the Coaster has been designed for smooth turning
and easy
e
parking.
With
h you for the long run.
Whatever use you put it to, you can rest assured that your
Coasster will go the full journey. We've built it to last, with anticorro
osion steel throughout, tinted windows, hard-wearing
upho
olstery and of course, Toyota's famous mechanical
reliability and durability. And it doesn't stop there. Optimised
diese
el-engine efficiency minimises gas emissions, and
adhe
eres to strict EURO V emissions regulations, meaning the
Coasster won't take the environment for a ride either.
1 Available from May 2012 Production
2 The Bluetooth™ word is owned by The Bluetooth SIG, Inc. Not all Bluetooth devices will be
compatible and functionality will vary depending on the bluetooth device.
3 iPod® and iPhone® are trademarks of Apple, Inc.
4 Not all devices will be compatible and functionality will vary depending on the device.
5 Voice Control Commands for Audio functions will vary depending on actual audio mode currently
in use. (e.g. CD, Radio or AUX/USB)
Suspension
– Front: Independent Double Wishbone
with Gas Dampers
– Rear: Long Tapered Semi-elliptic Leaf Spring
with Gas Dampers
Coaster Technical Specifications
Engine
– Type: Turbo-diesel
– Code: N04C-UH
– Configuration: 4 Cylinder, In-line
– Max. Power kW/rpm: 110/2700
– Max. Torque Nm/rpm: 397/1800
– Valve Mechanism: 16-valve OHV
– Fuel System: Electronic Direct injection
with Common Rail
– Displacement (cc): 4009
– Bore and Stroke (mm): 104 x 118
– Compression Ratio: 18.0:1
Wheels
– Tyres: 7.00R16 LT 12PR (Dual Rear Tyres)
– Rims (ins): 5.5F-16 (Dual Rear Rims)
Transmission
– Type: 5-speed Manual. Single Dry Plate
Diaphragm Spring Clutch
– Gear Ratios: 1st 5.099; 2nd 2.910; 3rd 1.652;
4th 1.000; 5th 0.674; Reverse 4.625
– Final Drive Ratio: 5.375
– Type: 4-speed Automatic
(Option on Deluxe model)
– Gear Ratios: 1st 2.950; 2nd 1.530; 3rd 1.000;
4th 0.703; Reverse 2.678
– Final Drive Ratio: 4.875
Steering
– System: Power Assisted
Recirculating Ball and Nut
– Power Steering: Standard
– Turning Circle Diam. (kerb to kerb): 14.4m
– Steering Gear Ratio: 19.6
Brakes
– Brake Booster: 9" + 10" Tandem,
Vacuum Boosted
– Front: Ventilated Disc
– Rear: Drums, Twin Leading Shoes
– Park Brake: Drum Type
Dimensions
– Wheelbase (mm): 3935
– Overall Length (mm): 6990
– Overall Width (mm): 2095
– Overall Height (mm): 2600
– Front Track (mm): 1690
– Rear Track (mm): 1490
Weights/Capacities
– Nominal Kerb Weight (kg): 3440-3500
– Gross Vehicle Weight (kg): 4990
– Seating Capacity: 21 Including Driver
– Fuel Capacity (litres): 95
Towing Capacity (Max)
– With Trailer Brakes (kg): 2000
– Without Trailer Brakes (kg): 680
No Toyota Genuine Towbar available
for this vehicle.
Standard Model Features
Mechanical
– 4.0 litre Turbo-diesel
– Intercooler
– 5-speed Manual Transmission
– Power Steering
– Independent Front Suspension
– Tandem Brake Booster
– Ventilated Front Disc Brakes
–
–
–
–
Exhaust Brake
Internal Battery Access Panel
Low Engine Oil Level Warning
Fuel Level Warning Lamp
Exterior
– Dual Halogen Headlamps
– Tinted Laminated Windshield
with Green Band on Top
– Privacy Glass
– Automatic Folding Door with Buzzer
and Jam Protection (Standard model only)
– Extensive Use of Anti-Corrosion Steels
– Chrome Full Wheel Covers
Interior
– Semi-high-back Passenger Seats,
except 5th and 6th rows
– Cloth Covered Driver's Seat with Lumbar
Adjustment Driver Underseat Storage
Tray and Seat Back Pocket
– Vinyl Passenger Seats
– Driver Door Pocket
– Hardwearing Vinyl Floor Covering
– Moulded Headlining
– Grab Handles
– Cigarette Lighter
– Driver's Ashtray
Features
– Air Conditioning
– Ducted Ventilation
– Passenger Compartment Heater
– AM/FM Radio with MP3 Compatible
Single Disc CD player
– 3.5mm AUX input for Portable
Audio Players, USB input for
some iPod®/USB Memory Sticks
– Voice Recognition Capabilites
– Bluetooth™ Capabilities
–
–
–
–
–
–
–
–
–
–
Microphone with Amplifier
Driver's Sunvisor
Tilt Adjustable Steering Column
Tachometer
Manual Adjust Exterior Mirrors
Rear Mounted Reversing Mirrors
Remote Fuel Release Door
Rear Door Window Demister
LCD Odometer
Twin Trip Meter
Safety
– Anti-skid Braking System (ABS)
– Driver 3-point ELR Seatbelt
– 2-point Lap Only Seatbelts fitted
on all Passenger Seats
– Side Emergency Exit Windows with
three Window Breaking Hammers
– Rear Emergency Exit Door with
Illuminated Sign
– 2.5kg Powder Type Fire Extinguisher
– Reversing Beeper
– Driver's Seatbelt Warning Buzzer and Lamp
Deluxe Model Features in Addition to
or Replacement of Standard Model
Mechanical
– 4-speed Automatic Transmission (Option)
Exterior
– Automatic Gliding Door with Buzzer
Interior
– Cloth Covered Passenger Seats
– Semi Vinyl Centre Door Trim
– Power Door Lock for Driver's and Sliding Door
Colour Guide
058
French Vanilla
058
Capped price servicing
The Coaster comes with Toyota Service Advantage. That means you'll pay the same low capped
price from one eligible logbook service to the next. So you'll enjoy the peace of mind of knowing
in advance what your maximum servicing costs will be. Better still, your Toyota will be serviced by
Toyota-trained Technicians who know your vehicle inside out and use Toyota Genuine Parts. For the
full benefits of Toyota Service Advantage consult a Toyota dealer or visit toyota.com.au/advantage
1 Some vehicle dimension figures are approximate and may vary due to options and accessory fitment.
2 Kerb, tare and payload weights are nominal and will vary depending upon options and accessories.
3 Towing capacity subject to regulatory requirements, towbar design, vehicle design and towing
equipment limitations. Ask your Dealer for details of Toyota Genuine Towbar capacity and
availability.
4 iPod® is a registered trademark of Apple, Inc.
5 Not all devices will be compatible and functionality will vary depending on the device.
6 Voice Control Commands for Audio functions will vary depending on actual audio mode currently in
use. (e.g. CD, Radio or AUX/USB). Available from May 2012 production.
7 The Bluetooth™ word mark is owned by Bluetooth SIG, Inc. Not all devices will be compatible
and functionality will vary depending on the device.
8 This feature replaces the feature of the standard model.
9 Maximum payable for standard scheduled logbook servicing (normal operating conditions) until first
of 3 years or 60,000kms (whichever occurs first), up to the first 6 services. Excludes Government
& Rental vehicles. Contact your Toyota Dealer or go to toyota.com.au/advantage for other
exclusions, eligibility and full details.
Note: Toyota Australia reserves the right to vary and discontinue from time to time the interior and
exterior colours, trims and colour/trim/model combinations currently available. Colours and trims
displayed here are a guide only and may vary from actual colours due to printing/display process.
See your Toyota dealer to confirm colour/trim/model availability when ordering your vehicle.
IMPORTANT NOTICE – please read: Toyota Australia has used its best endeavours to ensure this
material is accurate at the time of printing. However, all information must be confirmed with your
Toyota dealer at the time of ordering, as specifications and details will change over time. Colours
displayed here are a guide only and may vary from actual colours. To the extent permitted by law,
Toyota Australia will not be liable for any damage, loss or expense incurred as a result of reliance on
the information and photos contained in this material. Material distributed in Western Australia by
or on behalf Prestige Motors Pty Ltd (for vehicles) and by Eastpoint Pty Ltd (for parts/accessories).
Toyota Australia makes no warranties regarding (and will not be liable for) the accuracy of materials
distributed in Western Australia. PART NUMBER: TYCOASTER1112. VALID: X4109.
PRINTED: NOVEMBER 2012. GTO1457.