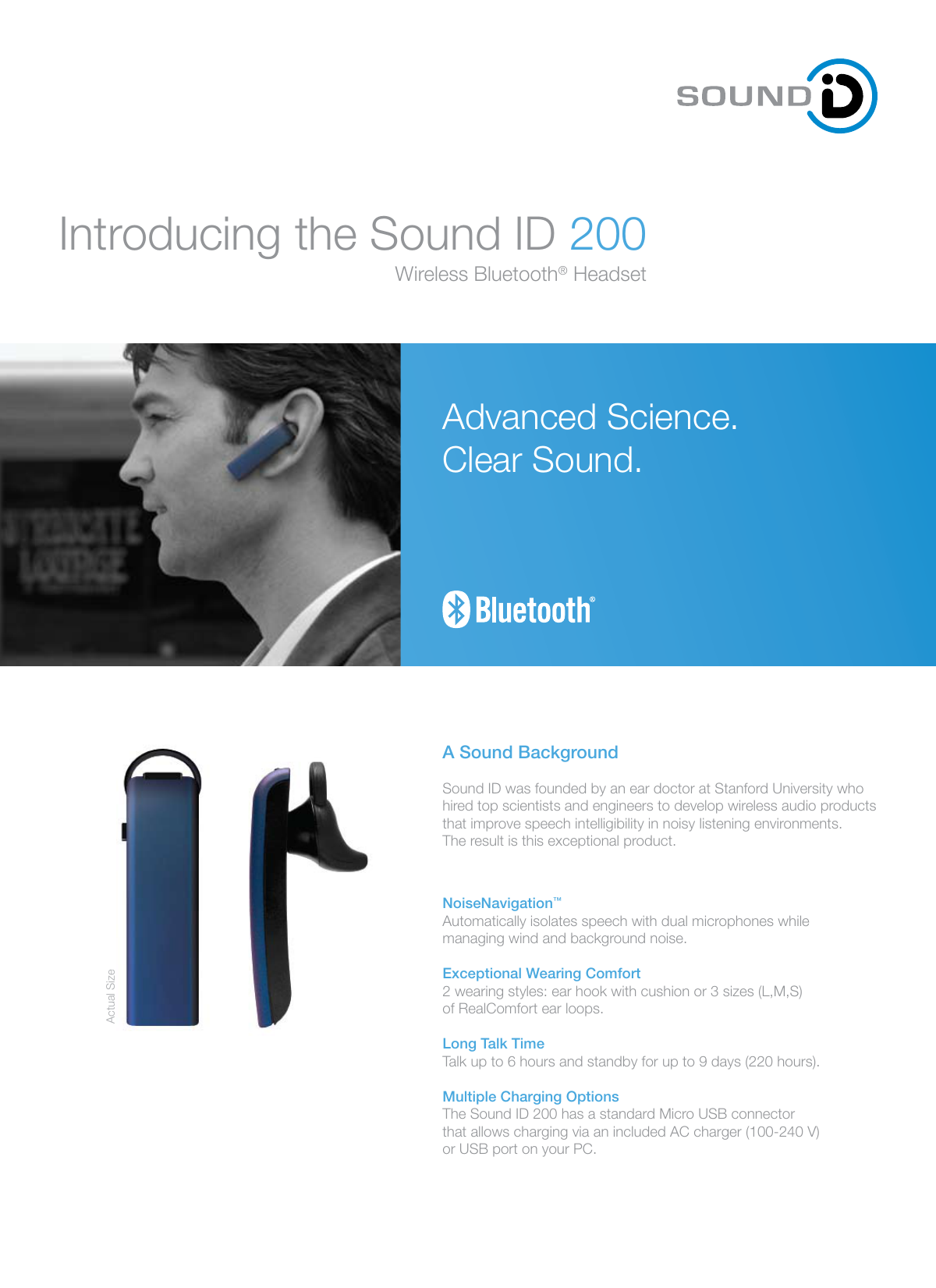 Introducing the Sound ID 200
Wireless Bluetooth® Headset
Advanced Science.
Clear Sound.
A Sound Background
Sound ID was founded by an ear doctor at Stanford University who
hired top scientists and engineers to develop wireless audio products
that improve speech intelligibility in noisy listening environments.
The result is this exceptional product.
Actual Size
NoiseNavigation™
Automatically isolates speech with dual microphones while
managing wind and background noise.
Exceptional Wearing Comfort
2 wearing styles: ear hook with cushion or 3 sizes (L,M,S)
of RealComfort ear loops.
Long Talk Time
Talk up to 6 hours and standby for up to 9 days (220 hours).
Multiple Charging Options
The Sound ID 200 has a standard Micro USB connector
that allows charging via an included AC charger (100-240 V)
or USB port on your PC.
Hear The Difference For Yourself.
Try the Sound ID 200 to feel the comfort and hear the difference.
Turn ON/OFF: Press the Main Button for 3 seconds.
The headset will go into pairing mode until the device is
paired for the first time. The status light will flash red and
green to indicate the headset is in pairing mode. Pair with
a phone.
Configure for Right or Left Ear
Insert in your ear and turn so that the headset mic is
pointed towards your mouth. If the headset feels too tight
or loose in your ear, try the smaller or larger ear tip.
EAR TIP HOLE
ROTATE TIP TO LINE UP WITH R
Adjust the headset volume with the volume controls on
your phone. Volume can also be adjusted on the headset
by momentary presses on the Volume button. Press the
Volume button briefly to go to the next volume setting, out
of 4 settings. You will hear a beep at the maximum setting.
You can demonstrate the noise reduction capabilities of the Sound
ID 200 by turning NoiseNavigation off and on during a call. To turn
all noise reduction off, press and hold the Volume button for two
seconds until you hear two beeps. To turn noise reduction back on,
press and hold the Volume button until you hear one beep.
Using the Sound ID headset with Blackberry phones
If you have a Blackberry phone, we recommend using the following
instructions to turn "Echo Control" off.
1)
2)
3)
4)
5)
6)
VOLUME
ROTATE TIP TO LINE UP WITH L
(Approximately 45 degrees)
Navigate to "Set Up Bluetooth"
Highlight the Sound ID 200
Press the Menu button
Select "Device Properties" from the list
In the device properties screen, set "Echo Control" to off
Press the Escape key (to the right of the trackball) and select save
Key Competitive Features of the Sound ID 200
Feature
Sound ID 200
Why buy Sound ID 200?
Sound quality
on the far end
Excellent in background noise
and in wind noise due to dual
adaptive beam-forming mics
and sound isolation algorithms.
Increased speech intelligibility
in a wider variety of situations
with NoiseNavigation.
Sound quality
on caller end
(what you hear)
Automatic volume control
adjusts volume based on
surrounding noise level.
Advanced speech algorithms
deliver clear speech to your ear.
Less need to adjust headset
and improved speech
intelligibility.
Talk time
6 hours
Long talk time.
Exceptional
wearing
comfort
Includes 3 patented Real
Comfort ear tips and ear hook
with foam for a secure fit.
Easy to put on, and more
comfortable to wear for longer
periods of time.
Ease of use
Easy to use controls for main
button and volume.
Easier to use.
SOUND ID 200 SPECIFICATIONS
•
•
•
•
•
•
•
•
•
In-the-ear headset with optional over-the-ear hook
Up to 6 hours of talk time
Up to 9 days (220 hours) of standby time
Range up to 33 feet (10 meters)
Built-in Micro USB charging connector
Automatic volume control
Dimensions:15.5mm x 53.5mm (.6in x 2.1in)
Weighs less than .28 ounces (8 grams)
Compatible with Bluetooth® 2.1+EDR
ADVANCED BLUETOOTH TECHNOLOGY
The Sound ID 200 features 2.1+EDR (Extended Data Rate)
Bluetooth® technology that improves transmission sound
quality and is compatible with earlier versions of Bluetooth.

* Your assessment is very important for improving the work of artificial intelligence, which forms the content of this project