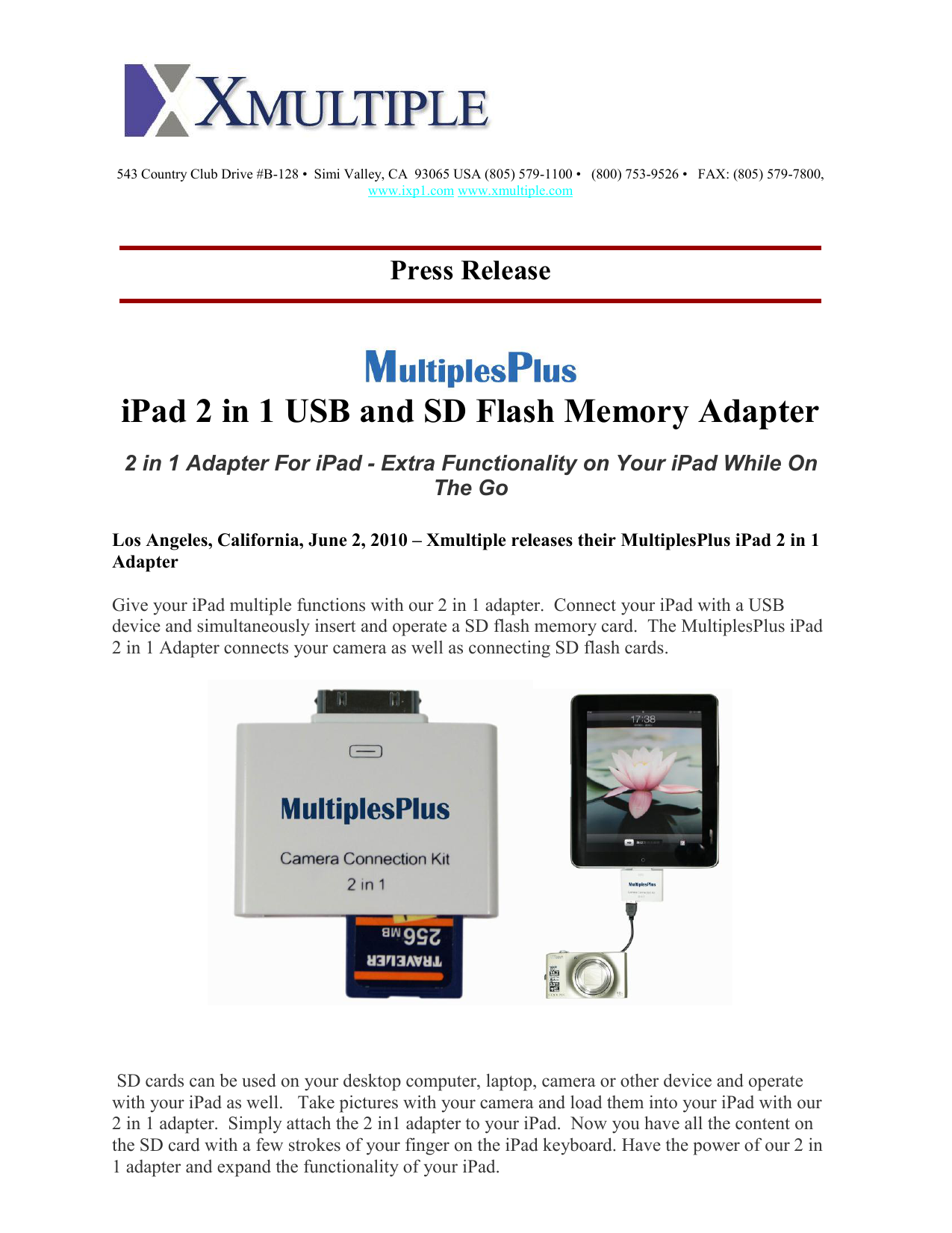 543 Country Club Drive #B-128 • Simi Valley, CA 93065 USA (805) 579-1100 • (800) 753-9526 • FAX: (805) 579-7800,
www.ixp1.com www.xmultiple.com
Press Release
iPad 2 in 1 USB and SD Flash Memory Adapter
2 in 1 Adapter For iPad - Extra Functionality on Your iPad While On
The Go
Los Angeles, California, June 2, 2010 – Xmultiple releases their MultiplesPlus iPad 2 in 1
Adapter
Give your iPad multiple functions with our 2 in 1 adapter. Connect your iPad with a USB
device and simultaneously insert and operate a SD flash memory card. The MultiplesPlus iPad
2 in 1 Adapter connects your camera as well as connecting SD flash cards.
SD cards can be used on your desktop computer, laptop, camera or other device and operate
with your iPad as well. Take pictures with your camera and load them into your iPad with our
2 in 1 adapter. Simply attach the 2 in1 adapter to your iPad. Now you have all the content on
the SD card with a few strokes of your finger on the iPad keyboard. Have the power of our 2 in
1 adapter and expand the functionality of your iPad.
MultiplesPlus iPad Camera 2 in 1 Adapter Advantages and Features:





1: 2 in 1 camera connection kit + card reader for iPad
With the iPad Camera Connection Kit, it's incredibly easy to download photos
from your digital camera to your iPad so you can view them on the gorgeous iPad
display and share them with family and friends. Optional USB to AC power adapter
available
The Camera Connector features a USB interface. Just plug it into the dock
connector port on your iPad, and then attach your digital camera or iPhone using
a USB cable (not included).
Use the SD Card Reader to import photos directly from your camera's SD card.
Connect it to your iPad, and then insert your digital camera's SD card into the slot.
After you make the connection, your iPad automatically opens the Photo app,
which lets you choose which pictures to import, then organizes the selected photos
into albums. When you sync iPad to your PC or Mac, the photos on your iPad are
added to your computer's photo library.
The MultiplesPlus 2 in 1 iPad Adapter is a great accessory—the single most important
purchase currently available for iPad users who enjoy photography. The USB port is a
must have function for iPad users interested in attaching to compatible USB devices. Used
purely for importing digital images and videos, the MultiplesPlus iPad 2 in 1 Adapter
enables iPad owners to share and store considerably higher-quality content. The Adapter
does not drain the iPad battery so you can use it without worries about power
consumption. The MultiplesPlus iPad 2 in 1 Adpaters release is a considerable
improvement to the iPads functionality and capability.
The price for the MultiplesPlus iPad 2 in 1 Adapter is $29.95. Call for a distributor located in
your area.

* Your assessment is very important for improving the work of artificial intelligence, which forms the content of this project