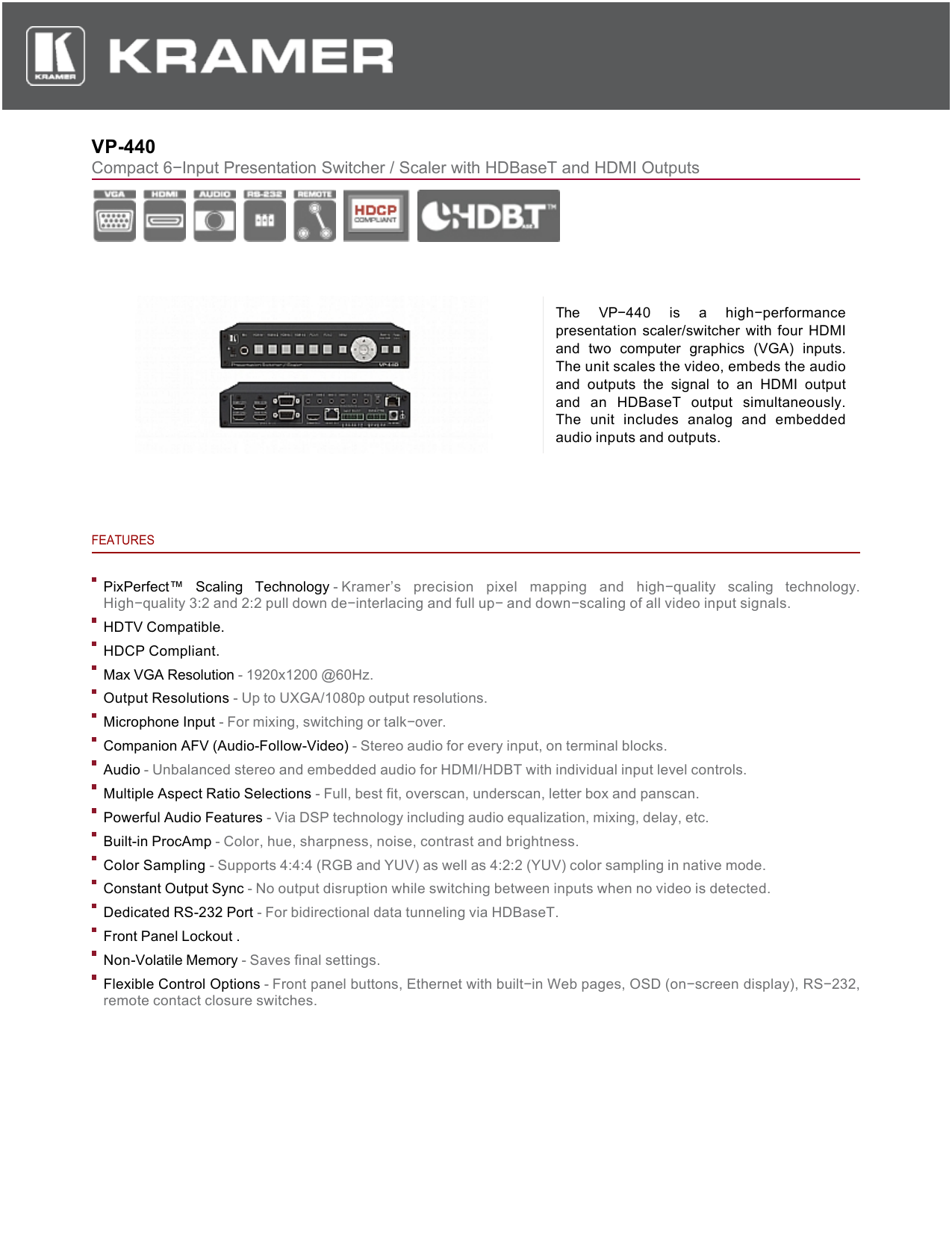 VP-440
Compact 6−Input Presentation Switcher / Scaler with HDBaseT and HDMI Outputs
The VP−440 is a high−performance
presentation scaler/switcher with four HDMI
and two computer graphics (VGA) inputs.
The unit scales the video, embeds the audio
and outputs the signal to an HDMI output
and an HDBaseT output simultaneously.
The unit includes analog and embedded
audio inputs and outputs.
FEATURES
PixPerfect™ Scaling Technology - Kramer's precision pixel mapping and high−quality scaling technology.
High−quality 3:2 and 2:2 pull down de−interlacing and full up− and down−scaling of all video input signals.
HDTV Compatible.
HDCP Compliant.
Max VGA Resolution - 1920x1200 @60Hz.
Output Resolutions - Up to UXGA/1080p output resolutions.
Microphone Input - For mixing, switching or talk−over.
Companion AFV (Audio-Follow-Video) - Stereo audio for every input, on terminal blocks.
Audio - Unbalanced stereo and embedded audio for HDMI/HDBT with individual input level controls.
Multiple Aspect Ratio Selections - Full, best fit, overscan, underscan, letter box and panscan.
Powerful Audio Features - Via DSP technology including audio equalization, mixing, delay, etc.
Built-in ProcAmp - Color, hue, sharpness, noise, contrast and brightness.
Color Sampling - Supports 4:4:4 (RGB and YUV) as well as 4:2:2 (YUV) color sampling in native mode.
Constant Output Sync - No output disruption while switching between inputs when no video is detected.
Dedicated RS-232 Port - For bidirectional data tunneling via HDBaseT.
Front Panel Lockout .
Non-Volatile Memory - Saves final settings.
Flexible Control Options - Front panel buttons, Ethernet with built−in Web pages, OSD (on−screen display), RS−232,
remote contact closure switches.
VP-440
TECHNICAL SPECIFICATIONS
INPUTS:
4 HDMI connectors (HDMI, HDCP version 1.1), 2 VGA on a 15−pin HD connector, 6 unbalanced
stereo audio on 3.5mm mini jack connectors, 1 mic on a 6.3mm jack connector (with selectable
48V phantom power).
OUTPUTS:
1 HDMI connector (HDMI, HDCP version 1.1), 1 HDBT on a RJ−45 connector, 1 unbalanced stereo
audio on a 3.5mm mini jack connector.
BANDWIDTH:
Up to 1080p, UXGA.
SWITCHING TIME
2 to 3 seconds.
BETWEEN INPUTS:
VIDEO LATENCY: Less than 2 frames.
OUTPUT
RESOLUTIONS:
Native Out 1, Native Out 2, 640x480 @60Hz, 800x600 @60Hz, 1024x768 @60Hz, 1280x768
@60Hz, 1360x768 @60Hz, 1280x720 @60Hz, 1280x800 @60Hz, 1280x1024 @60Hz, 1440x900
@60Hz, 1400x1050 @60Hz, 1680x1050 @60Hz, 1600x1200 @60Hz, 1920x1080 @60Hz,
1920x1200 @60Hz, 480p @60Hz, 720p @60Hz, 1080i @60Hz, 1080p @60Hz, 576p @50Hz, 720p
@50Hz, 1080i @50Hz, 1080p @50Hz.
CONTROLS:
HDMI 1 to HDMI 4 and PC 1 to PC 2 input selector buttons; input select contact closure, menu and
navigation buttons, reset to XGA/720p and panel lock buttons, RS−232 (control and data), Ethernet
(OSD and Web pages).
POWER
CONSUMPTION:
OPERATING
TEMPERATURE:
STORAGE
TEMPERATURE:
HUMIDITY:
5V DC, 3A.
DIMENSIONS:
21.5cm x 16.3cm x 4.4cm (8.5" x 6.42" x 1.73") W, D, H.
WEIGHT:
1.1kg (2.4lbs) approx.
INCLUDED
ACCESSORIES:
OPTIONS:
Power supply.
0° to +40°C (32° to 104°F).
−40° to +70°C (−40° to 158°F).
10% to 90%, RHL non−condensing.
RK−1 rack adapter.