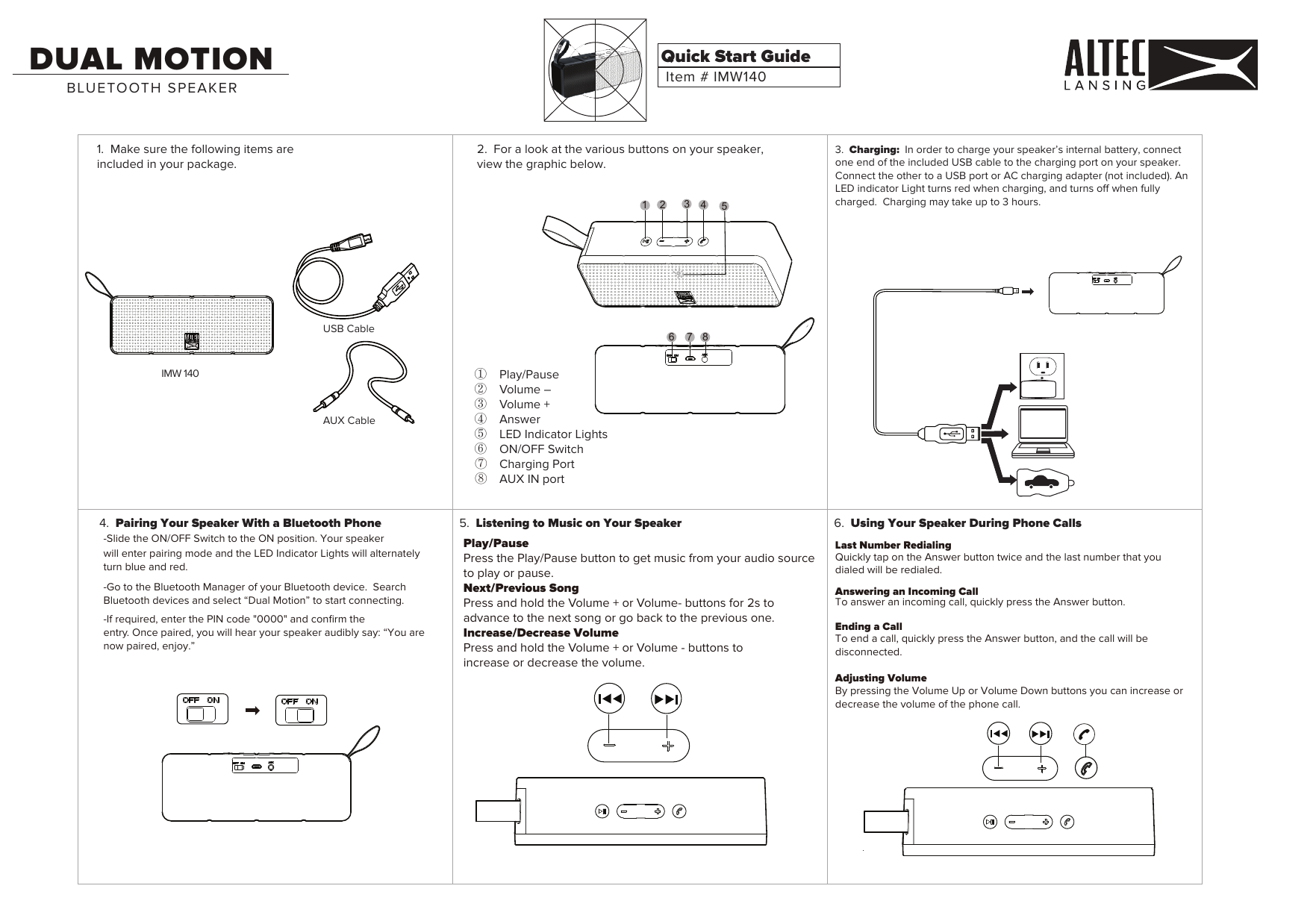 DUAL MOTION
Quick Start Guide
Item # IMW140
BLUETOOTH SPEA KER
1. Make sure the following items are
included in your package.
2. For a look at the various buttons on your speaker,
view the graphic below.
1
USB Cable
IMW 140
AUX Cable
4. Pairing Your Speaker With a Bluetooth Phone
-Slide the ON/OFF Switch to the ON position. Your speaker
will enter pairing mode and the LED Indicator Lights will alternately
turn blue and red.
-Go to the Bluetooth Manager of your Bluetooth device. Search
Bluetooth devices and select "Dual Motion" to start connecting.
-If required, enter the PIN code "0000" and confirm the
entry. Once paired, you will hear your speaker audibly say: "You are
now paired, enjoy."
3
2
6
4
5
3. Charging: In order to charge your speaker's internal battery, connect
one end of the included USB cable to the charging port on your speaker.
Connect the other to a USB port or AC charging adapter (not included). An
LED indicator Light turns red when charging, and turns off when fully
charged. Charging may take up to 3 hours.
7 8
① Play/Pause
② Volume –
③ Volume +
④ Answer
⑤ LED Indicator Lights
⑥ ON/OFF Switch
⑦ Charging Port
⑧ AUX IN port
5. Listening to Music on Your Speaker
Play/Pause
Press the Play/Pause button to get music from your audio source
to play or pause.
Next/Previous Song
Press and hold the Volume + or Volume- buttons for 2s to
advance to the next song or go back to the previous one.
Increase/Decrease Volume
Press and hold the Volume + or Volume - buttons to
increase or decrease the volume.
6. Using Your Speaker During Phone Calls
Last Number Redialing
Quickly tap on the Answer button twice and the last number that you
dialed will be redialed.
Answering an Incoming Call
To answer an incoming call, quickly press the Answer button.
Ending a Call
To end a call, quickly press the Answer button, and the call will be
disconnected.
Adjusting Volume
By pressing the Volume Up or Volume Down buttons you can increase or
decrease the volume of the phone call.
DUAL MOTION
Quick Start Guide
Item # IMW140
BLUETOOTH SPEA KER
7. Wired External Audio Input
You can also use the included 3.5mm Auxiliary Cable
to connect audio devices through the AUX In port on
your speaker.
Altec Lansing One Year Warranty Card
This warranty covers the original consumer purchaser only and is not transferable.
This warranty covers products that fail to function properly UNDER NORMAL USAGE, due to defects in material or workmanship. Your product will be repaired or
replaced at no charge for parts or labor for a period of one year.
What Is Not Covered by Warranty
Damages or malfunctions not resulting from defects in material or workmanship and damages or malfunctions from other than normal use, including but limited to, repair
by unauthorized parties, tampering, modification or accident.
To Obtain Warranty Service and Troubleshooting information:
Call 1-855-292-4087 or Visit our website at www.alteclansing.com.
To receive Warranty service along with the name and address of an authorized product service center, the original consumer purchaser must contact us for problem
determination and service procedures. Proof of purchase in the form of a bill of sale or receipted invoice, evidencing that the Product is within the applicable Warranty
period(s), MUST be presented in order to obtain the requested service. It is your responsibility to properly package and send any defective products along with a dated
copy of proof of purchase, a written explanation of the problem, and a valid return address to the authorized service center at your expense. Do not include any other
items or accessories with the defective product. Any products received by the authorized service center that are not covered by warranty will be returned unrepaired.
NO WARRANTIES, WHETHER EXPRESS OR IMPLIED, INCLUDING, BUT NOT LIMITED TO, ANY IMPLIED WARRANTIES OF MERCHANTABILITY OR FITNESS FOR A PARTICULAR PURPOSE, OTHER THAN THOSE EXPRESSLY DESCRIBED ABOVE SHALL APPLY. DISTRIBUTOR
FURTHER DISCLAIMS ALL WARRANTIES AFTER THE EXPRESS WARRANTY PERIOD STATED ABOVE. NO OTHER EXPRESS WARRANTY
OR GUARANTY GIVEN BY ANY PERSON, FIRM OR ENTITY WITH RESPECT TO THE PRODUCT SHALL BE BINDING ON DISTRIBUTOR.
REPAIR, REPLACEMENT, OR REFUND OF THE ORIGINAL PURCHASE PRICE - AT DISTRIBUTOR'S SOLE DISCRETION -ARE THE EXCLUSIVE REMEDIES OF THE CONSUMER. IN NO EVENT WILL DISTRIBUTOR, ITS MANUFACTURERS, OR SAKAR INT. BE LIABLE FOR ANY
INCIDENTAL, DIRECT, INDIRECT, SPECIAL, PUNITIVE OR CONSEQUENTIAL
DAMAGES (SUCH AS, BUT NOT LIMITED TO, DAMAGES FOR LOSS OF PROFITS, BUSINESS, SAVINGS, DATA OR RECORDS) CAUSED BY
THE USE, MISUSE OR INABILITY TO USE THE PRODUCT. EXCEPT AS STATED HEREIN, NO OTHER WARRANTIES SHALL APPLY.
NOTWITHSTANDING THE FOREGOING, CONSUMER'S RECOVERY AGAINST DISTRIBUTOR SHALL NOT EXCEED THE PURCHASE PRICE
OF THE PRODUCT SOLD BY DISTRIBUTOR. THIS WARRANTY SHALL NOT EXTEND TO ANYONE OTHER THAN THE ORIGINAL
CONSUMER WHO PURCHASED THE PRODUCT AND IS NOT TRANSFERABLE.
Some countries, states or provinces do not allow the exclusion or limitation of incidental or consequential damages or allow limitations on
warranties, so limitation or exclusions may not apply to you. This warranty gives you specific legal rights, and you may have other rights that
vary from state to state or province to province. Contact your authorized retailer to determine if another warranty applies. This product is
manufactured, distributed and sold by SAKAR International, Inc. All other trademarks are the property of the respective owner, who has not
sponsored, endorsed or approved this product.
EFFORTLESS
BLUETOOTH
PAIRING
BUILT-IN
RECHARGEABLE
BATTERY
HANDS
FREE
SPEAKERPHONE
MANAGE
MUSIC
This device complies with part 15 of the FCC rules. Operation is subject to the following two conditions: (1) this device may not cause harmful interference , and (2) this device must accept any interference received,
including interference that may cause undesired operation.
Caution: changes or modifications not expressly approved by the party responsible for compliance could void the user's authority to operate the equipment.
NOTE: This equipment has been tested and found to comply with the limits for a Class B digital device, pursuant to Part 15 of the FCC Rules, These limits are designed to provide reasonable protection against
harmful interference in a residential installation. This equipment generates. Uses and can radiate radio frequency energy and, if not installed and used in accordance with instructions. May cause harmful
interference to radio or -television reception, which can be
following measures:
__ Reorient or relocate the receiving antenna.
__ Increase the separation between the equipment and receiver.
__ Consult the dealer or experienced radio/ TV technician for help.