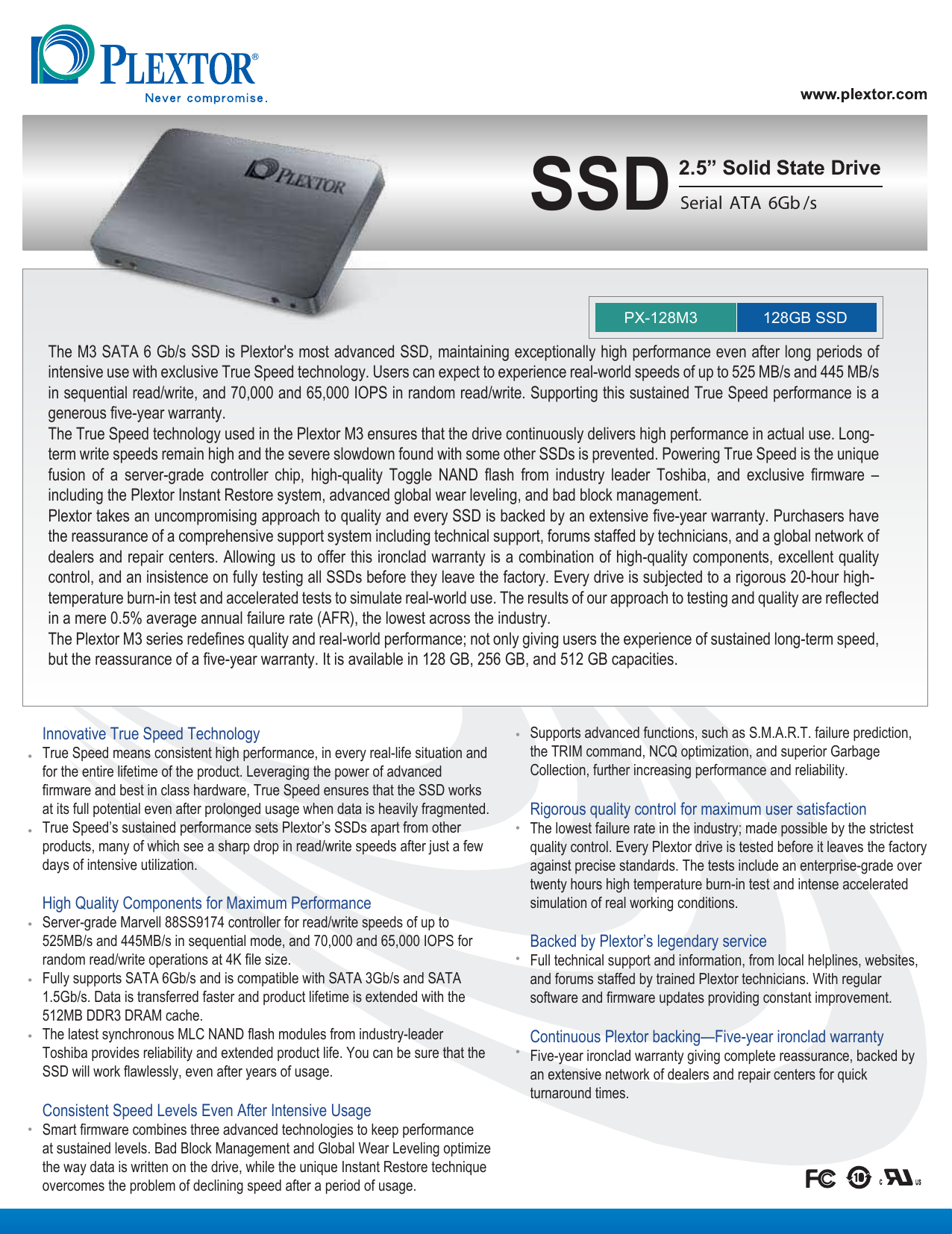 SSD
2.5" Solid State Drive
Serial ATA 6Gb /s
PX-128M3
128GB SSD
The M3 SATA 6 Gb/s SSD is Plextor's most advanced SSD, maintaining exceptionally high performance even after long periods of
intensive use with exclusive True Speed technology. Users can expect to experience real-world speeds of up to 525 MB/s and 445 MB/s
in sequential read/write, and 70,000 and 65,000 IOPS in random read/write. Supporting this sustained True Speed performance is a
generous five-year warranty.
The True Speed technology used in the Plextor M3 ensures that the drive continuously delivers high performance in actual use. Longterm write speeds remain high and the severe slowdown found with some other SSDs is prevented. Powering True Speed is the unique
fusion of a server-grade controller chip, high-quality Toggle NAND flash from industry leader Toshiba, and exclusive firmware –
including the Plextor Instant Restore system, advanced global wear leveling, and bad block management.
Plextor takes an uncompromising approach to quality and every SSD is backed by an extensive five-year warranty. Purchasers have
the reassurance of a comprehensive support system including technical support, forums staffed by technicians, and a global network of
dealers and repair centers. Allowing us to offer this ironclad warranty is a combination of high-quality components, excellent quality
control, and an insistence on fully testing all SSDs before they leave the factory. Every drive is subjected to a rigorous 20-hour hightemperature burn-in test and accelerated tests to simulate real-world use. The results of our approach to testing and quality are reflected
in a mere 0.5% average annual failure rate (AFR), the lowest across the industry.
The Plextor M3 series redefines quality and real-world performance; not only giving users the experience of sustained long-term speed,
but the reassurance of a five-year warranty. It is available in 128 GB, 256 GB, and 512 GB capacities.
Innovative True Speed Technology
• True Speed means consistent high performance, in every real-life situation and
for the entire lifetime of the product. Leveraging the power of advanced
firmware and best in class hardware, True Speed ensures that the SSD works
at its full potential even after prolonged usage when data is heavily fragmented.
• True Speed's sustained performance sets Plextor's SSDs apart from other
products, many of which see a sharp drop in read/write speeds after just a few
days of intensive utilization.
High Quality Components for Maximum Performance
• Server-grade Marvell 88SS9174 controller for read/write speeds of up to
525MB/s and 445MB/s in sequential mode, and 70,000 and 65,000 IOPS for
random read/write operations at 4K file size.
• Fully supports SATA 6Gb/s and is compatible with SATA 3Gb/s and SATA
1.5Gb/s. Data is transferred faster and product lifetime is extended with the
512MB DDR3 DRAM cache.
• The latest synchronous MLC NAND flash modules from industry-leader
Toshiba provides reliability and extended product life. You can be sure that the
SSD will work flawlessly, even after years of usage.
Consistent Speed Levels Even After Intensive Usage
• Smart firmware combines three advanced technologies to keep performance
at sustained levels. Bad Block Management and Global Wear Leveling optimize
the way data is written on the drive, while the unique Instant Restore technique
overcomes the problem of declining speed after a period of usage.
• Supports advanced functions, such as S.M.A.R.T. failure prediction,
the TRIM command, NCQ optimization, and superior Garbage
Collection, further increasing performance and reliability.
Rigorous quality control for maximum user satisfaction
• The lowest failure rate in the industry; made possible by the strictest
quality control. Every Plextor drive is tested before it leaves the factory
against precise standards. The tests include an enterprise-grade over
twenty hours high temperature burn-in test and intense accelerated
simulation of real working conditions.
Backed by Plextor's legendary service
• Full technical support and information, from local helplines, websites,
and forums staffed by trained Plextor technicians. With regular
software and firmware updates providing constant improvement.
Continuous Plextor backing—Five-year ironclad warranty
• Five-year ironclad warranty giving complete reassurance, backed by
an extensive network of dealers and repair centers for quick
turnaround times.
www.goplextor.com
PX-128M3
Perfomance
128GB SSD
Form Factor and Connectors
Capacity
128 GB
Form Factor
2.5 inch form factor
Buffer
256MB DDR3
Power Connector
15-pin SATA connector for DC 5V input
Data Connector
7-pin SATA connector
Read/Write Speed (Under Windows NTFS)
Sequential Read Speed (SATA 6Gb/s)
Up to 510 MB/s
Dimension and Weight
Sequential Write Speed (SATA 6Gb/s)
Up to 210 MB/s
Dimension (W/H/D)
2.75 x 0.3 x 4.0 inch / 69.85mm x 9.5mm x 100mm
Random Read Speed (IOPS 4KB)
Up to 70,000
Weight
2.54 oz / 75g
Random Write Speed (IOPS 4KB)
Up to 50,000
Power Consumption
2.5W (Active); 0.7W (Idle) typical
Environment and Reliability
Temperature
0°C ~ 70°C (Operating)
Shock
1500G, 0.5 ms
Vibration
7 ~ 800Hz, 2.17G (RMS, Operation)
MTBF
1,500,000 hours
Warranty
5 years Plextor's Warranty Service
Compatibility
Operating System Supported
Microsoft Windows Family / Linux / Mac OS
Agency Approval
UL, CE, BSMI, WHQL, RoHS
Command Set Support
TRIM, S.M.A.R.T., NCQ, ATA/ATAPI-8
DATA Encryption
Supported
Firmwave Upgrade
Supported
Package Contents
Drive
128GB/256GB/512GB SSD
Software
Image software included
Accessory
3.5" Bracket
Document
Quick installation guide
Users manual and warranty statement"
System Requirements (For Bundled Software)
CPU
Pentium 4 1.3GHz and higher
Memory (RAM)
512 MB RAM or higher
Interface
SATA (Serial ATA)
Operating System
Microsoft Windows 7
Microsoft Windows Vista SP1
Microsoft Windows XP SP3 / XP-Pro (x64) SP2
Other
CD-RW/DVD-RW drive for bootable media creation
Internet connection recommended for updates
© 2011 Copyright Plextor
Plextor Logo are registered trademark of Shinano Kabushiki Kaisha
Other brands and products are trademarks of their respective holders
Content subject to change without notices.