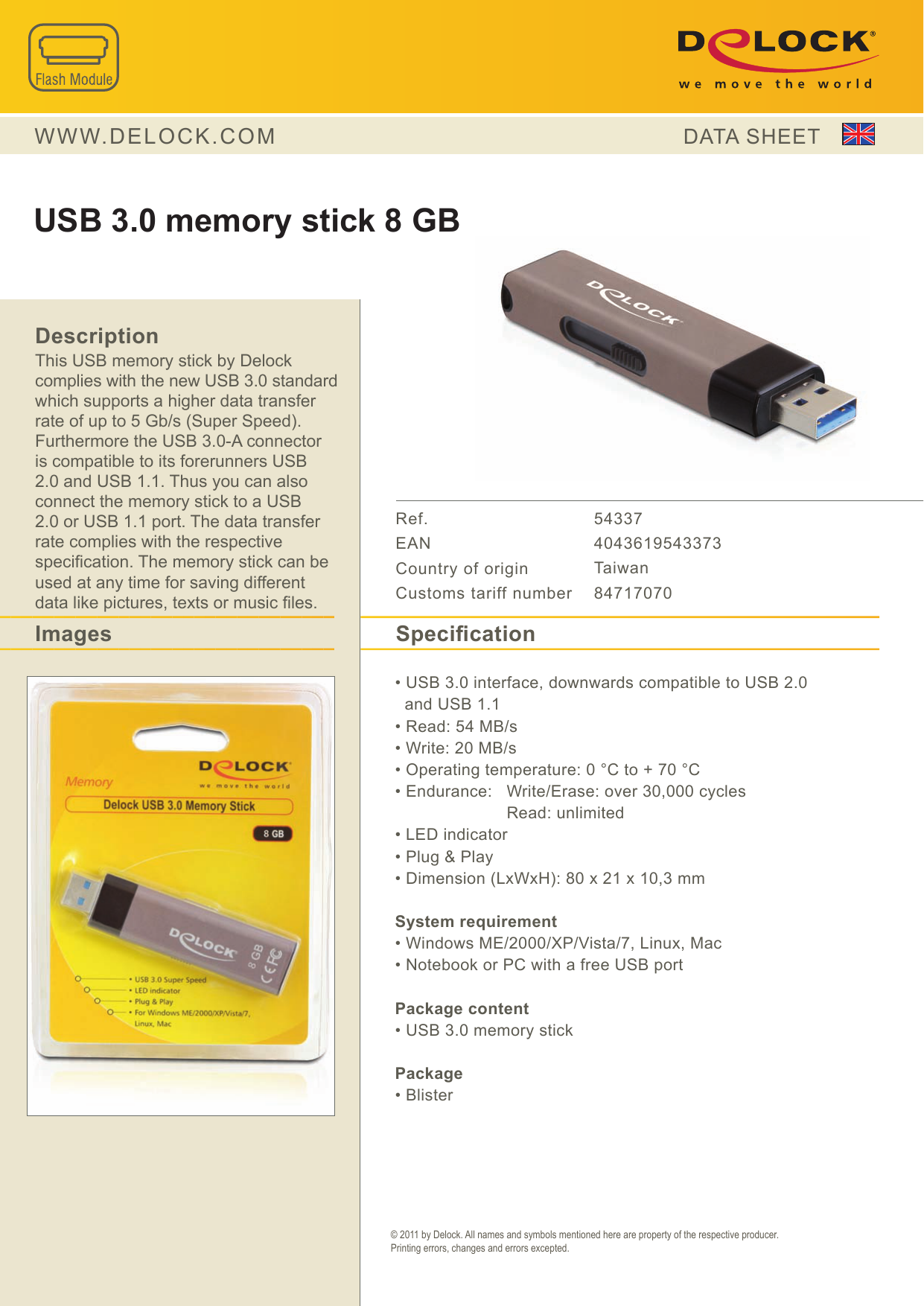 DATA SHEET
WWW. DE LO CK . C O M
USB 3.0 memory stick 8 GB
Description
This USB memory stick by Delock
complies with the new USB 3.0 standard
which supports a higher data transfer
rate of up to 5 Gb/s (Super Speed).
Furthermore the USB 3.0-A connector
is compatible to its forerunners USB
2.0 and USB 1.1. Thus you can also
connect the memory stick to a USB
2.0 or USB 1.1 port. The data transfer
rate complies with the respective
specification. The memory stick can be
used at any time for saving different
data like pictures, texts or music files.
Images
Ref.
54337
EAN
4043619543373
Country of origin
Taiwan
Customs tariff number
84717070
Specification
• USB 3.0 interface, downwards compatible to USB 2.0
and USB 1.1
• Read: 54 MB/s
• Write: 20 MB/s
• Operating temperature: 0 °C to + 70 °C
• Endurance: Write/Erase: over 30,000 cycles
Read: unlimited
• LED indicator
• Plug & Play
• Dimension (LxWxH): 80 x 21 x 10,3 mm
System requirement
• Windows ME/2000/XP/Vista/7, Linux, Mac
• Notebook or PC with a free USB port
Package content
• USB 3.0 memory stick
Package
• Blister
© 2011 by Delock. All names and symbols mentioned here are property of the respective producer.
Printing errors, changes and errors excepted.

* Your assessment is very important for improving the work of artificial intelligence, which forms the content of this project