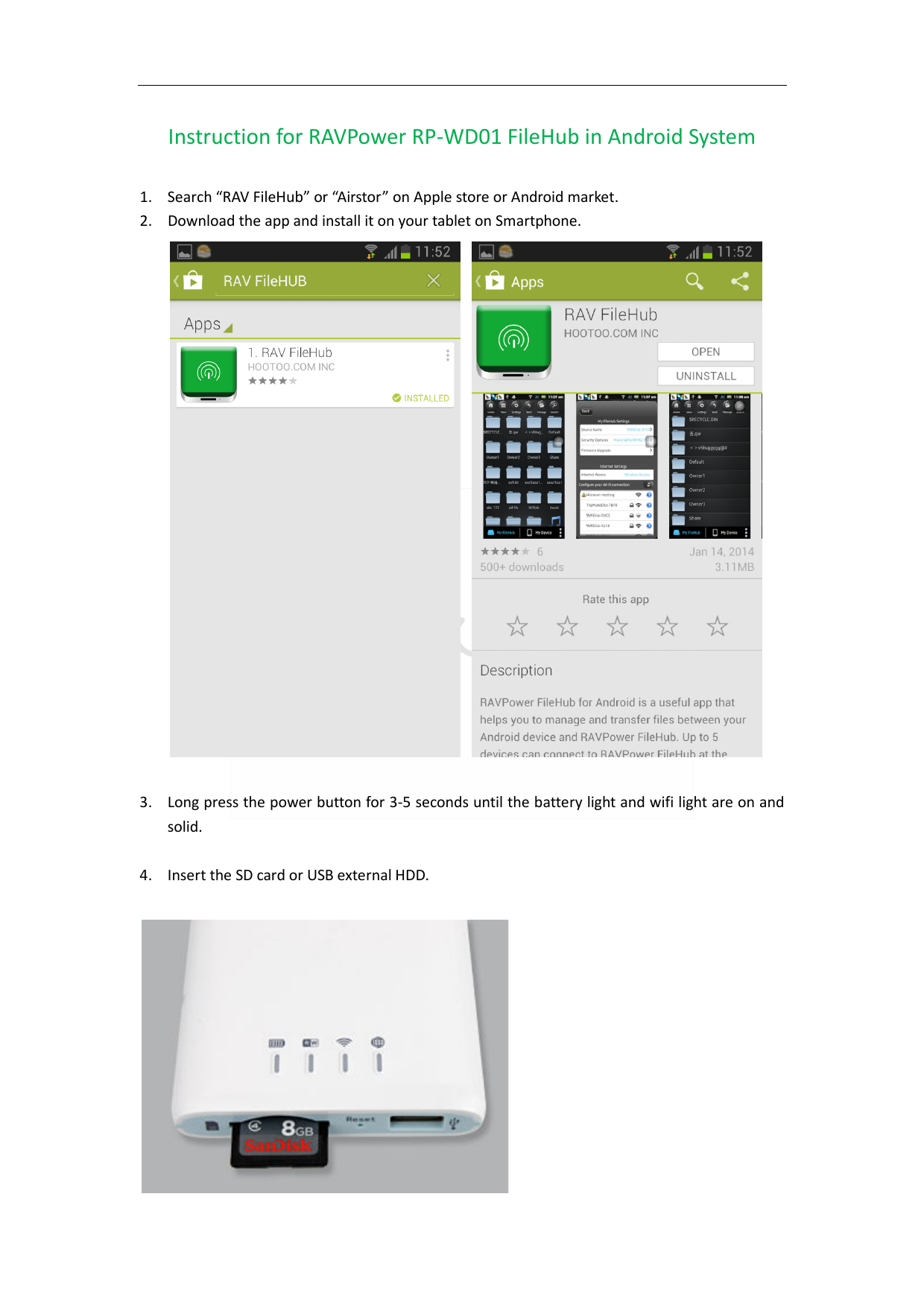 Instruction for RAVPower RP-WD01 FileHub in Android System
1. Search "RAV FileHub" or "Airstor" on Apple store or Android market.
2. Download the app and install it on your tablet on Smartphone.
3. Long press the power button for 3-5 seconds until the battery light and wifi light are on and
solid.
4. Insert the SD card or USB external HDD.
5. Open " Setting" on your phone or tablet, enter into "Wifi"
6. Choose " FileHub – XXXX" to connect , the password is "11111111"
7. Open the downloaded APP "RAV FileHub"
8. Now you can read the data on your SD card (My FileHub)
9. Listen to the Music
10. View the Picture and Share it.
11. Watch the Movie - choose a video player to play the music.
12. Transfer the data on SD card to my phone. Enter in to the folder like photos, click "Manage"
on the top. Then choose the photo you want to transfer. There will appear an " " on the
upper right of the file you chose. Click "Download" on the bottom to transfer.
√
13. Choose the folder you want to save on your phone.
14. Choose the folder and confirm to transfer the picture to my phone.
15. You can see the status of data transferring. On the top is the file waiting for transfer, on the
bottom is the data transferred successfully.
16. Show the photos transferred from SD card on my phone.
17. To transfer the data from my phone to SD card is the same way. Choose the data on "My
device" and download to " My FileHub"
18. How to delete the data on "My device" or "My Disk"? Choose the data you want to delete
and click "Delete".
19. How to use it as a portable WLAN hot spot ( get Internet connection)? Click "Setting" and
choose the WIFI to connect.
20. Now you can use it to share your photos on SD card on Facebook or twitter.
21. How to copy the pictures on My SD card to my hard drive?
1> Insert SD card and hard drive into the FileHub at the same time. And you can find two
folders on "My FileHub"
2> Choose the files you want to copy by "Manage". Click "Download" on the bottom,
choose the folders on your USB hard drive and confirm.
3> You can check the status on "Status".
22. With 3000mAh Power Bank, it can give a full charge to most phones and also can supply its
own Power when used as wifi disk.
Thank you very much for choosing RAVPower FileHub! If you have any other
questions, please feel free to contact us at support@ravpower.com.

* Your assessment is very important for improving the work of artificial intelligence, which forms the content of this project