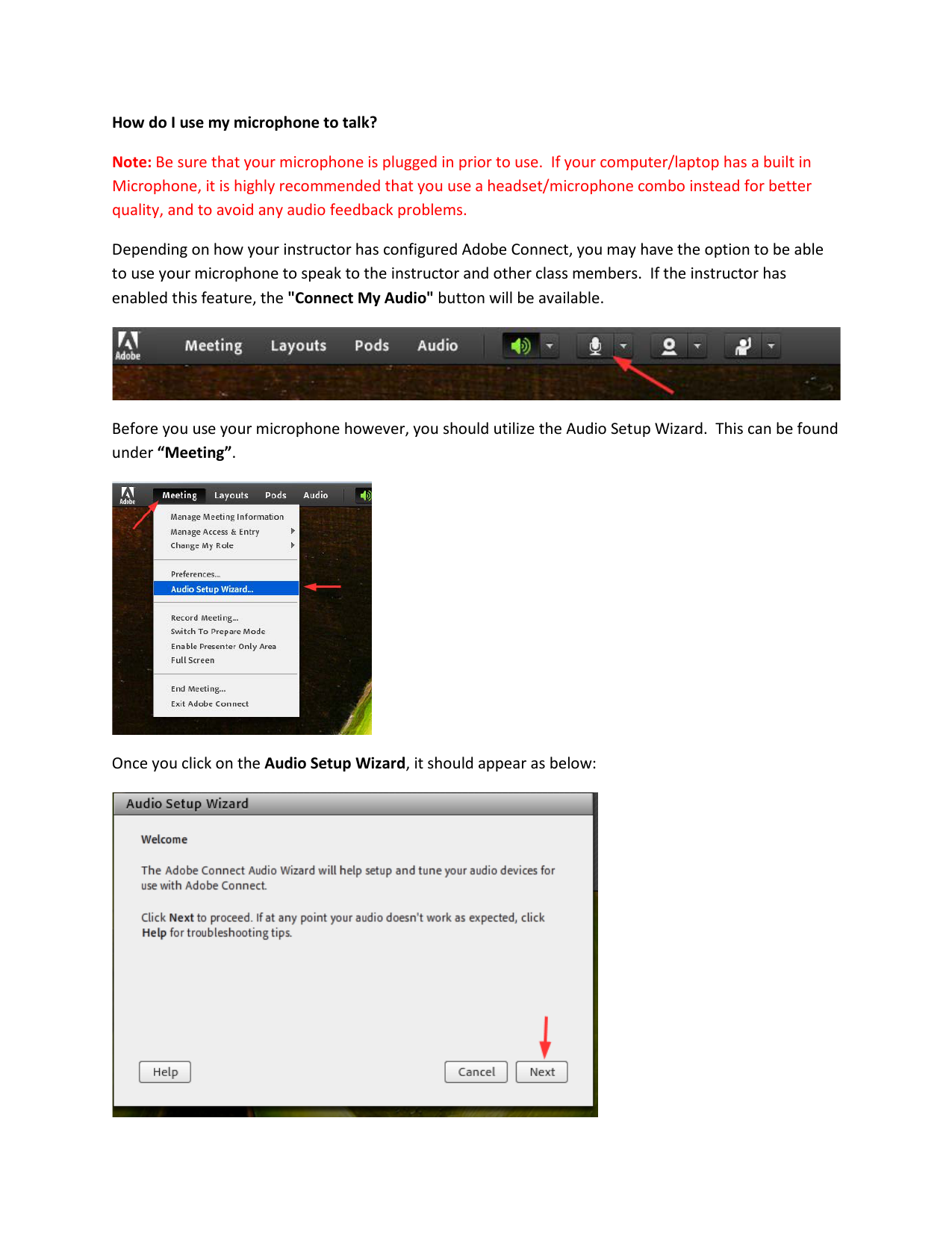 How do I use my microphone to talk?
Note: Be sure that your microphone is plugged in prior to use. If your computer/laptop has a built in
Microphone, it is highly recommended that you use a headset/microphone combo instead for better
quality, and to avoid any audio feedback problems.
Depending on how your instructor has configured Adobe Connect, you may have the option to be able
to use your microphone to speak to the instructor and other class members. If the instructor has
enabled this feature, the "Connect My Audio" button will be available.
Before you use your microphone however, you should utilize the Audio Setup Wizard. This can be found
under "Meeting".
Once you click on the Audio Setup Wizard, it should appear as below:
Click "Next".
You will be asked to test your sound output. Click "Play Sound". You should hear an audio greeting
play.
If you do not, checks to make sure that your speakers/headphones are plugged in and that the audio on
your pc is not muted.
Once you are able to hear the greeting, click "Next".
Next, you will be asked to select your Microphone. "Select default device" will be set by default;
however you may have other options available.
When you click "Next", you will be given the option to test the device you have selected. If you find that
it does not work, you may have to return to this screen to select another audio device, until you find one
that works.
If the device you have selected is recording properly, you should see movement on the volume bar.
Once you have verified that it is recording properly, click "Next".
You will be asked to test the silence level. Follow the instructions, and once you are done click "Next".
Finally click "Finish".
Note: You should run the Audio Setup Wizard the first time you use any computer with Adobe Connect.
Once you have run it at least once, it is not necessary to run it again, unless you are troubleshooting an
audio/microphone issue.
Now that your audio is configured, click on "Connect My Audio" to begin using your Microphone.
You may receive a prompt similar to below:
Choose "Allow".
Your Microphone should now be broadcasting. Check to see if your instructor and others can hear you.
At any time you can "Mute" your microphone feed to prevent others from hear you. To "Mute", click
the Microphone button again. It should change to display as below:
Clicking the button again will return it back to broadcasting.
If you wish to stop using your microphone entirely, click the dropdown arrow to the right of the
Microphone button, then choose "Disconnect My Microphone".
Your microphone will then be turned off and the icon will return to its default state.
If you have any questions or require any further assistance, please contact support@cstl.semo.edu or
call 573-651-2298.

* Your assessment is very important for improving the work of artificial intelligence, which forms the content of this project