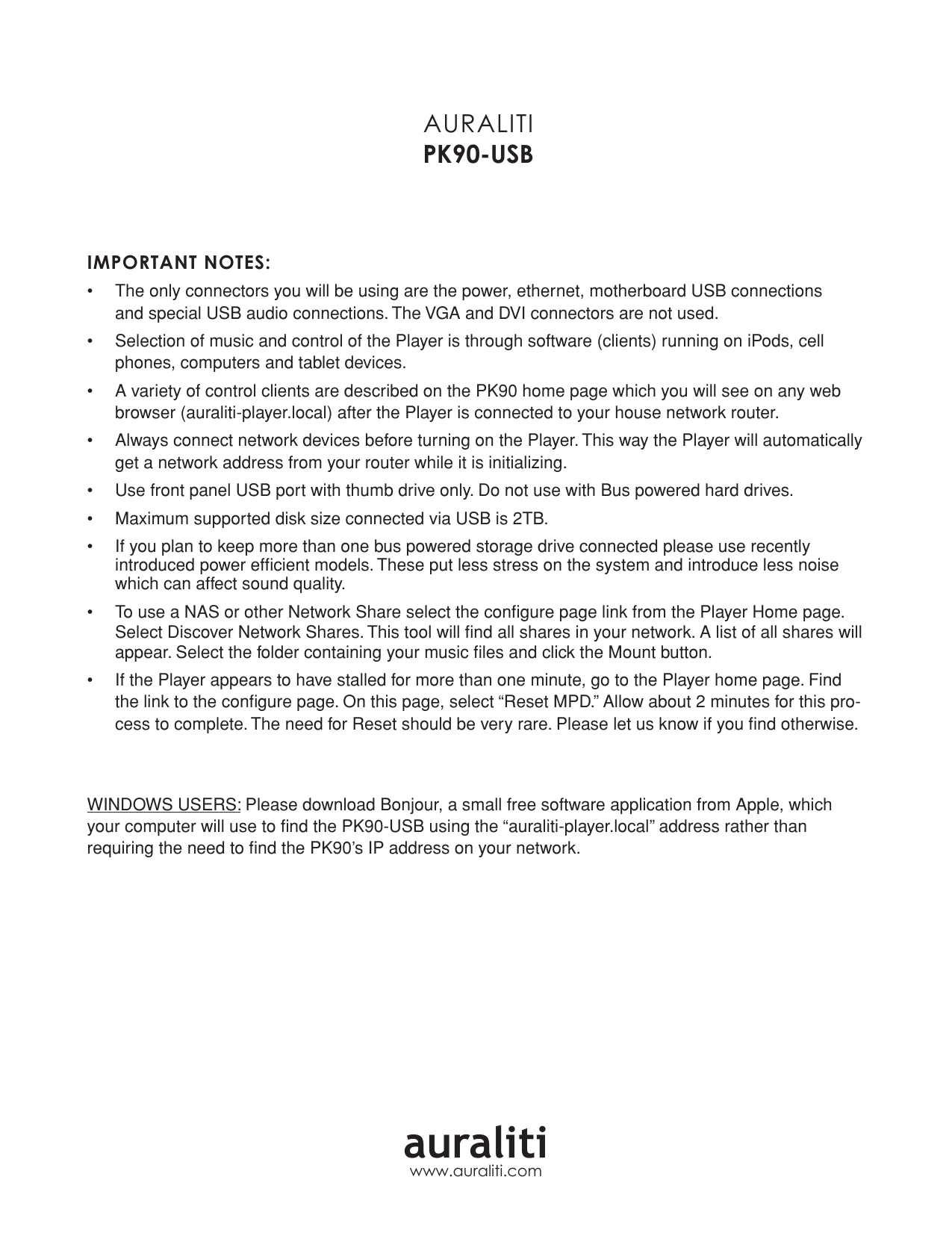 AURALITI
PK90-USB
IMPORTANT NOTES:
•
The only connectors you will be using are the power, ethernet, motherboard USB connections
and special USB audio connections. The VGA and DVI connectors are not used.
•
Selection of music and control of the Player is through software (clients) running on iPods, cell
phones, computers and tablet devices.
•
A variety of control clients are described on the PK90 home page which you will see on any web
browser (auraliti-player.local) after the Player is connected to your house network router.
•
Always connect network devices before turning on the Player. This way the Player will automatically
get a network address from your router while it is initializing.
•
Use front panel USB port with thumb drive only. Do not use with Bus powered hard drives.
•
Maximum supported disk size connected via USB is 2TB.
•
If you plan to keep more than one bus powered storage drive connected please use recently
introduced power efficient models. These put less stress on the system and introduce less noise
which can affect sound quality.
•
To use a NAS or other Network Share select the configure page link from the Player Home page.
Select Discover Network Shares. This tool will find all shares in your network. A list of all shares will
appear. Select the folder containing your music files and click the Mount button.
•
If the Player appears to have stalled for more than one minute, go to the Player home page. Find
the link to the configure page. On this page, select "Reset MPD." Allow about 2 minutes for this process to complete. The need for Reset should be very rare. Please let us know if you find otherwise.
WINDOWS USERS: Please download Bonjour, a small free software application from Apple, which
your computer will use to find the PK90-USB using the "auraliti-player.local" address rather than
requiring the need to find the PK90's IP address on your network.
auraliti
www.auraliti.com
PK90-USB
NOTE: The front panel USB port should
only be used with storage drives.
Power switch allows
shut down of bus power
to USB converter *
Power Supply
Connector
Not Used
(if you connect a
monitor all you will
see is command line)
Three USB
ports for
connection
to storage
devices
Connect Network
Cable
(Note: always
connect ethernet
first)
Use only with USB
audio devices
Disabled
INSTALLATION:
1. Connect the Player over ethernet to your router. Plug in the power supply and USB audio connections. Press the power switch. Wait about a minute.
2. Using a computer, iPod, or other device with a web browser that is connected to your local network, open a browser page and enter http://auraliti-player.local (see note).
3. You will now see a page with an image of the Player and information regarding control clients
for the PK90 Player. Some of these clients run on hand held devices and others are designed
to run on lap or desktop computers. Other functions on this page allow managmeent of the
database, volume setting (when available), mounting a NAS volume, shutdown and a link to the
configure page.
4. Plug the supplied USB thumb drive into one of the 3 USB ports on the back as shown in the
image above, or the single USB port on the front of the unit.
5. Use one of the control clients discussed on the Player home page. We recommend starting with
Neompc. While Neompc was designed for handheld devices like smart phones it will work on
any web browser to select albums or tracks from the music folder directory.
6. Browse to find and select albums or tracks and add to the temporary Playlist. Press the Playlist
button to view your selections and press Control for play, pause and track skip functions.
* Your USB Converter may require Bus power. Please review the audio device's instructions.
Note: Windows computers must have Bonjour software installed for this to work. Otherwise, you will need to find and use the IP address given by your
network router to the PK90-USB.

* Your assessment is very important for improving the work of artificial intelligence, which forms the content of this project