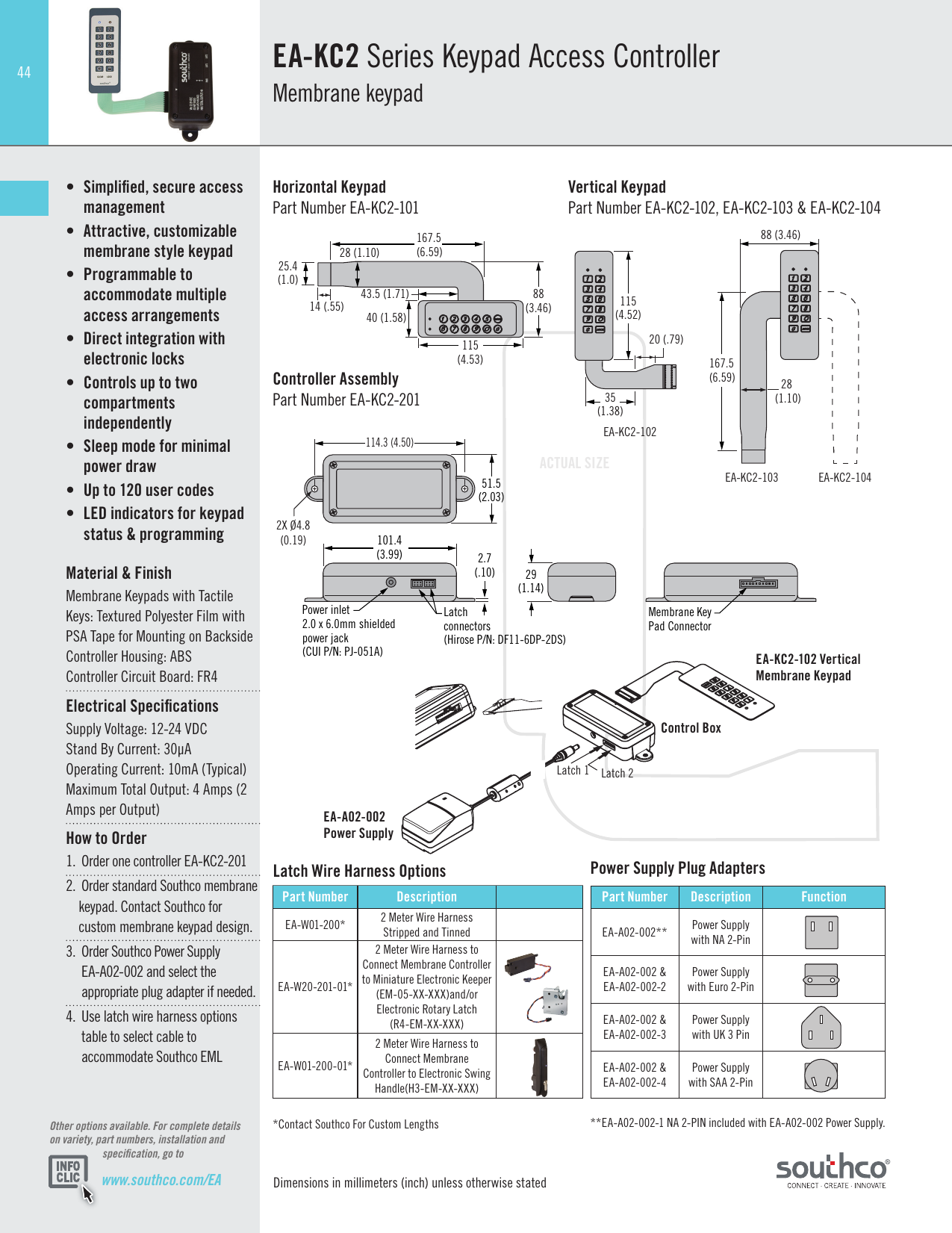 EA-KC2 Series Keypad Access Controller
44
Membrane keypad
• Simplified, secure access
management
• Attractive, customizable
membrane style keypad
• Programmable to
accommodate multiple
access arrangements
• Direct integration with
electronic locks
• Controls up to two
compartments
independently
• Sleep mode for minimal
power draw
• Up to 120 user codes
• LED indicators for keypad
status & programming
Horizontal Keypad
Part Number EA-KC2-101
14 (.55)
88 (3.46)
167.5
(6.59)
28 (1.10)
25.4
(1.0)
Vertical Keypad
Part Number EA-KC2-102, EA-KC2-103 & EA-KC2-104
43.5 (1.71)
88
(3.46)
40 (1.58)
20 (.79)
115
(4.53)
167.5
(6.59)
Controller Assembly
Part Number EA-KC2-201
EA-KC2-102
114.3 (4.50)
ACTUAL SIZE
EA-KC2-103
51.5
(2.03)
2X Ø4.8
(0.19)
101.4
(3.99)
Power inlet
2.0 x 6.0mm shielded
power jack
(CUI P/N: PJ-051A)
28
(1.10)
35
(1.38)
2.7
(.10)
Material & Finish
Membrane Keypads with Tactile
Keys: Textured Polyester Film with
PSA Tape for Mounting on Backside
Controller Housing: ABS
Controller Circuit Board: FR4
115
(4.52)
EA-KC2-104
29
(1.14)
Latch
connectors
(Hirose P/N: DF11-6DP-2DS)
Membrane Key
Pad Connector
EA-KC2-102 Vertical
Membrane Keypad
Electrical Specifications
Supply Voltage: 12-24 VDC
Stand By Current: 30µA
Operating Current: 10mA (Typical)
Maximum Total Output: 4 Amps (2
Amps per Output)
How to Order
1. Order one controller EA-KC2-201
2. Order standard Southco membrane
keypad. Contact Southco for
custom membrane keypad design.
3. Order Southco Power Supply
EA-A02-002 and select the
appropriate plug adapter if needed.
4. Use latch wire harness options
table to select cable to
accommodate Southco EML
Other options available. For complete details
on variety, part numbers, installation and
specification, go to
www.southco.com/EA
Control Box
Latch 1 Latch 2
EA-A02-002
Power Supply
Latch Wire Harness Options
Part Number
Description
2 Meter Wire Harness
Stripped and Tinned
2 Meter Wire Harness to
Connect Membrane Controller
to Miniature Electronic Keeper
EA-W20-201-01*
(EM-05-XX-XXX)and/or
Electronic Rotary Latch
(R4-EM-XX-XXX)
EA-W01-200*
EA-W01-200-01*
2 Meter Wire Harness to
Connect Membrane
Controller to Electronic Swing
Handle(H3-EM-XX-XXX)
*Contact Southco For Custom Lengths
Dimensions in millimeters (inch) unless otherwise stated
Power Supply Plug Adapters
Part Number
Description
EA-A02-002**
Power Supply
with NA 2-Pin
EA-A02-002 &
EA-A02-002-2
Power Supply
with Euro 2-Pin
EA-A02-002 &
EA-A02-002-3
Power Supply
with UK 3 Pin
EA-A02-002 &
EA-A02-002-4
Power Supply
with SAA 2-Pin
Function
**E A-A02-002-1 NA 2-PIN included with EA-A02-002 Power Supply.

* Your assessment is very important for improving the work of artificial intelligence, which forms the content of this project