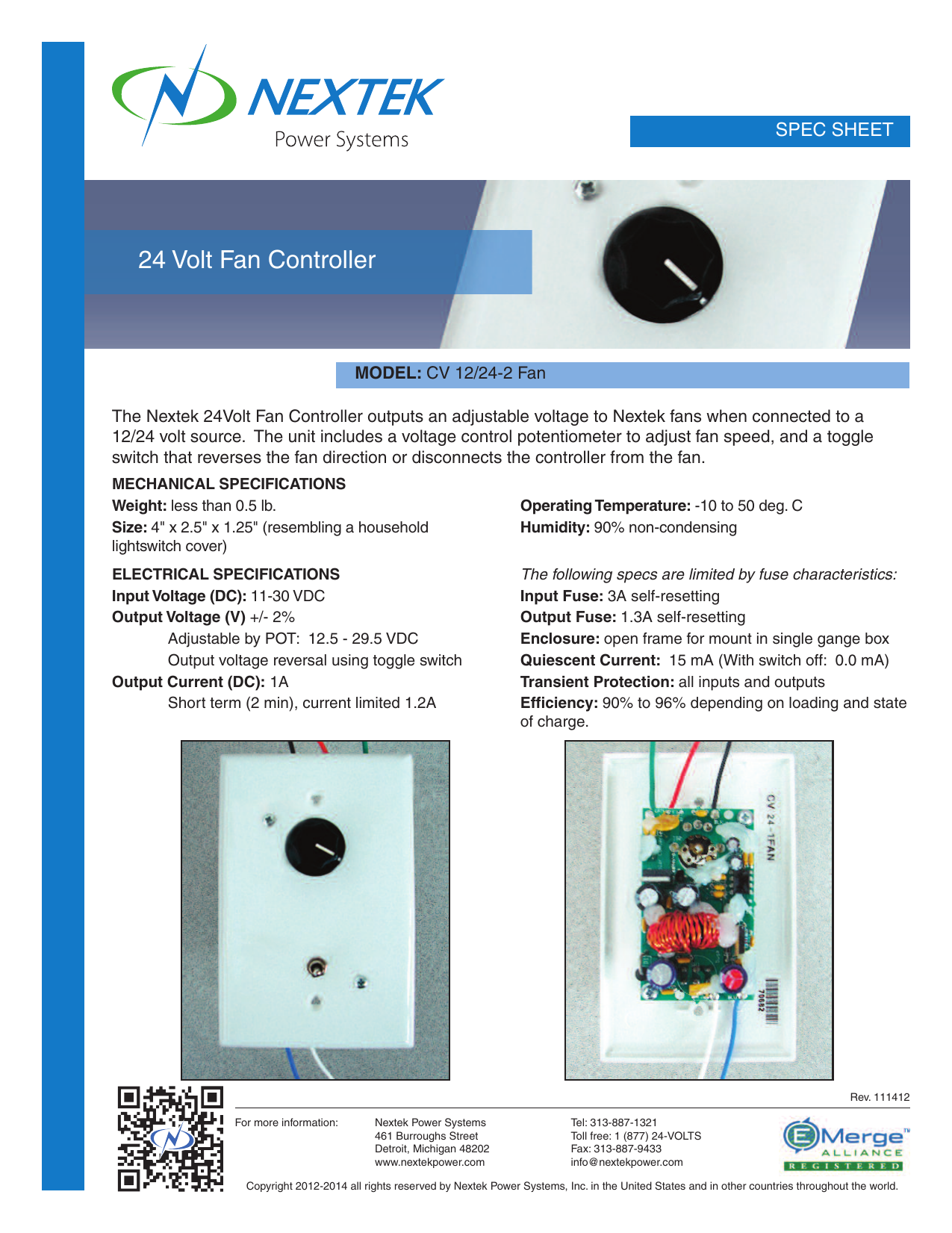 SPEC SHEET
24 Volt Fan Controller
MODEL: CV 12/24-2 Fan
The Nextek 24Volt Fan Controller outputs an adjustable voltage to Nextek fans when connected to a
12/24 volt source. The unit includes a voltage control potentiometer to adjust fan speed, and a toggle
switch that reverses the fan direction or disconnects the controller from the fan.
MECHANICAL SPECIFICATIONS
Weight: less than 0.5 lb.
Size: 4" x 2.5" x 1.25" (resembling a household
lightswitch cover)
ELECTRICAL SPECIFICATIONS
Input Voltage (DC): 11-30 VDC
Output Voltage (V) +/- 2%
Adjustable by POT: 12.5 - 29.5 VDC
Output voltage reversal using toggle switch
Output Current (DC): 1A
Short term (2 min), current limited 1.2A
Operating Temperature: -10 to 50 deg. C
Humidity: 90% non-condensing
The following specs are limited by fuse characteristics:
Input Fuse: 3A self-resetting
Output Fuse: 1.3A self-resetting
Enclosure: open frame for mount in single gange box
Quiescent Current: 15 mA (With switch off: 0.0 mA)
Transient Protection: all inputs and outputs
Efficiency: 90% to 96% depending on loading and state
of charge.
Rev. 111412
For more information:
Nextek Power Systems
461 Burroughs Street
Detroit, Michigan 48202
www.nextekpower.com
Tel: 313-887-1321
Toll free: 1 (877) 24-VOLTS
Fax: 313-887-9433
info@nextekpower.com
Copyright 2012-2014 all rights reserved by Nextek Power Systems, Inc. in the United States and in other countries throughout the world.

* Your assessment is very important for improving the work of artificial intelligence, which forms the content of this project