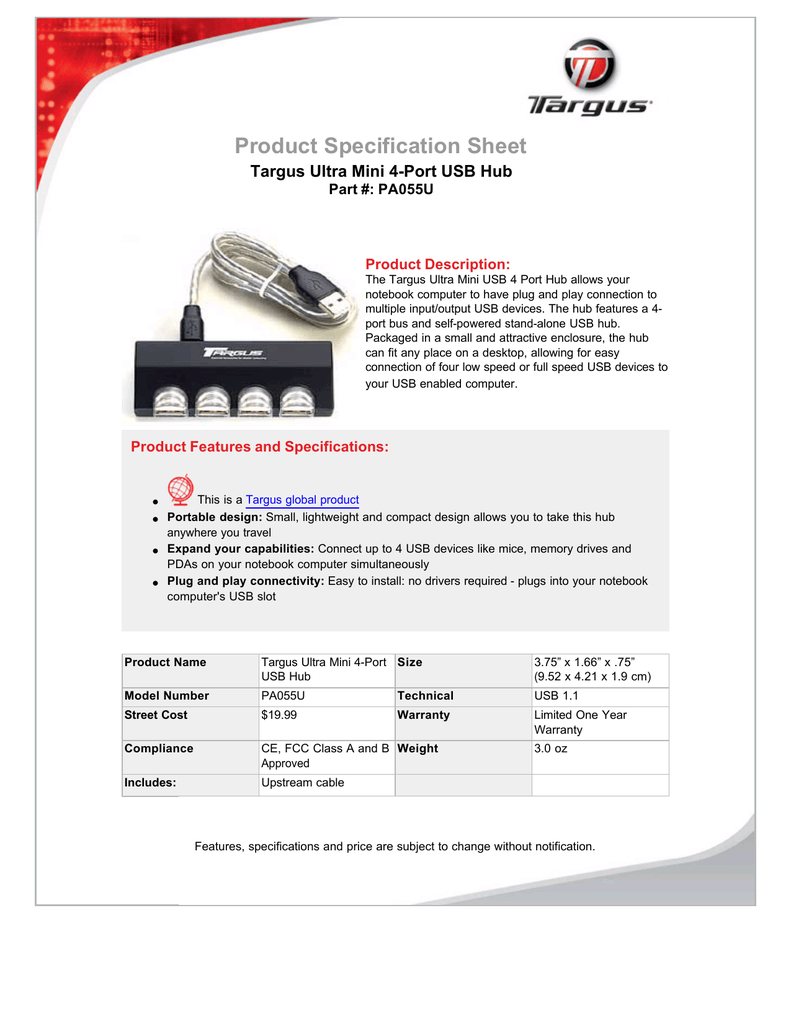 Product Specification Sheet
Targus Ultra Mini 4-Port USB Hub
Part #: PA055U
Product Description:
The Targus Ultra Mini USB 4 Port Hub allows your
notebook computer to have plug and play connection to
multiple input/output USB devices. The hub features a 4port bus and self-powered stand-alone USB hub.
Packaged in a small and attractive enclosure, the hub
can fit any place on a desktop, allowing for easy
connection of four low speed or full speed USB devices to
your USB enabled computer.
Product Features and Specifications:
●
●
●
●
This is a Targus global product
Portable design: Small, lightweight and compact design allows you to take this hub
anywhere you travel
Expand your capabilities: Connect up to 4 USB devices like mice, memory drives and
PDAs on your notebook computer simultaneously
Plug and play connectivity: Easy to install: no drivers required - plugs into your notebook
computer's USB slot
Product Name
Targus Ultra Mini 4-Port Size
USB Hub
3.75" x 1.66" x .75"
(9.52 x 4.21 x 1.9 cm)
Model Number
PA055U
Technical
USB 1.1
Street Cost
$19.99
Warranty
Limited One Year
Warranty
Compliance
CE, FCC Class A and B Weight
Approved
Includes:
Upstream cable
3.0 oz
Features, specifications and price are subject to change without notification.

* Your assessment is very important for improving the work of artificial intelligence, which forms the content of this project