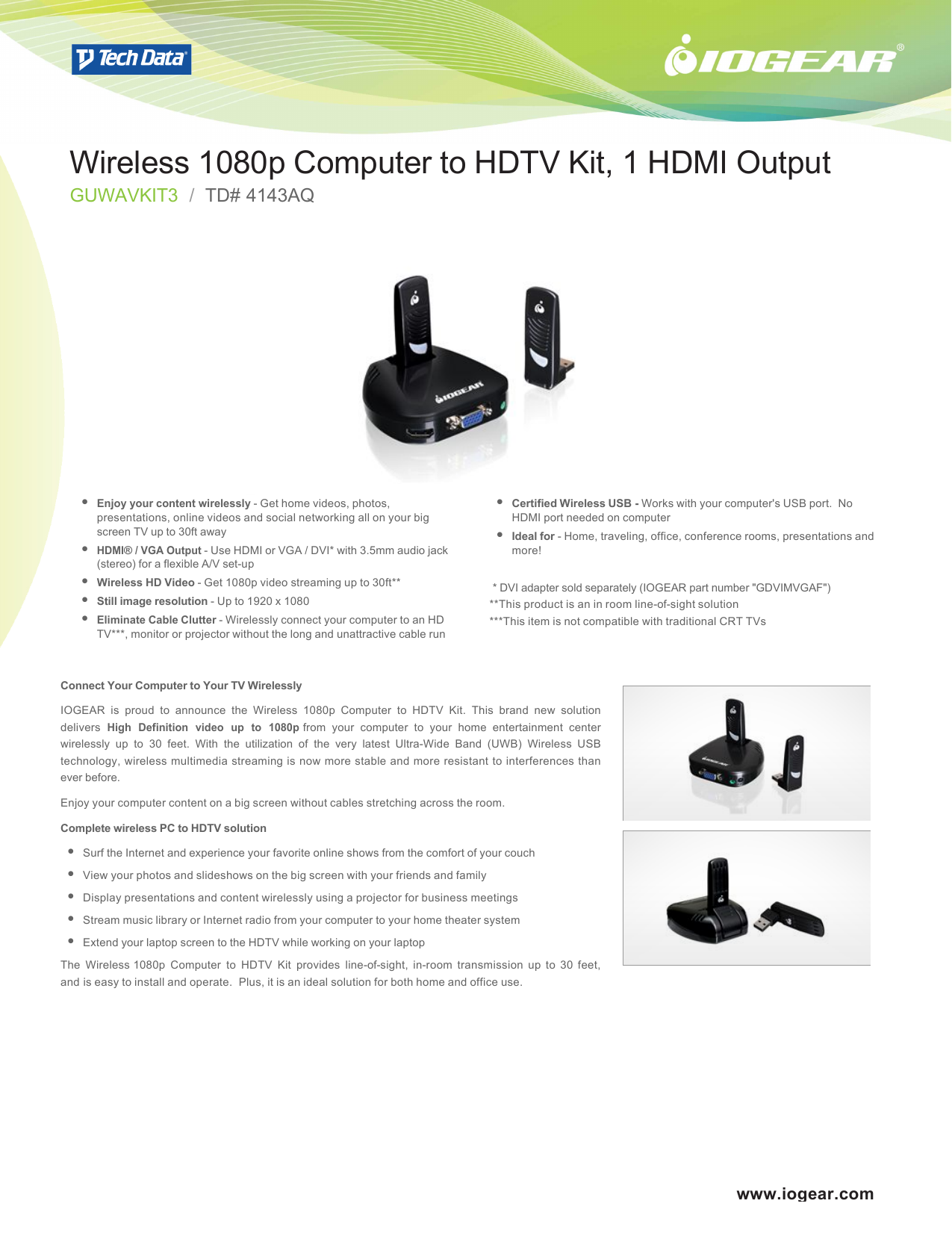 Wireless 1080p Computer to HDTV Kit, 1 HDMI Output
GUWAVKIT3 / TD# 4143AQ
●
Enjoy your content wirelessly - Get home videos, photos,
presentations, online videos and social networking all on your big
screen TV up to 30ft away
●
Certified Wireless USB - Works with your computer's USB port. No
HDMI port needed on computer
●
HDMI® / VGA Output - Use HDMI or VGA / DVI* with 3.5mm audio jack
(stereo) for a flexible A/V set-up
●
Ideal for - Home, traveling, office, conference rooms, presentations and
more!
●
Wireless HD Video - Get 1080p video streaming up to 30ft**
* DVI adapter sold separately (IOGEAR part number "GDVIMVGAF")
●
Still image resolution - Up to 1920 x 1080
●
Eliminate Cable Clutter - Wirelessly connect your computer to an HD
TV***, monitor or projector without the long and unattractive cable run
**This product is an in room line-of-sight solution
***This item is not compatible with traditional CRT TVs
Connect Your Computer to Your TV Wirelessly
IOGEAR is proud to announce the Wireless 1080p Computer to HDTV Kit. This brand new solution
delivers High Definition video up to 1080p from your computer to your home entertainment center
wirelessly up to 30 feet. With the utilization of the very latest Ultra-Wide Band (UWB) Wireless USB
technology, wireless multimedia streaming is now more stable and more resistant to interferences than
ever before.
Enjoy your computer content on a big screen without cables stretching across the room.
Complete wireless PC to HDTV solution
●
Surf the Internet and experience your favorite online shows from the comfort of your couch
●
View your photos and slideshows on the big screen with your friends and family
●
Display presentations and content wirelessly using a projector for business meetings
●
Stream music library or Internet radio from your computer to your home theater system
●
Extend your laptop screen to the HDTV while working on your laptop
The Wireless 1080p Computer to HDTV Kit provides line-of-sight, in-room transmission up to 30 feet,
and is easy to install and operate. Plus, it is an ideal solution for both home and office use.
www.iogear.com
Wireless 1080p Computer to HDTV Kit, 1 HDMI Output
Requirements:
Operating System
PC:
●
Microsoft Windows® 7, Windows Vista® SP2 or Windows® XP (32-bit) SP3
●
1.8 GHz processor (2.4GHz recommended) with 1 GB RAM (3GB recommended)
●
1 x USB 2.0 Port
Display:
●
Flat-panel TV or Projector with HDMI or VGA (RGB / D-sub 15-pin / PC) port
●
TV or Audio system with HDMI, 3.5mm audio jack, or RCA connectors
Package Contents:
1 x Wireless A/V Receiver (device adapter + A/V base)
1 x Wireless USB Transmitter (for computer)
1 x HDMI Cable
1 x Power Adapter
1 x Quick Start Guide
1 x Warranty / Registration Card
1 x Installation CD
www.iogear.com
Wireless 1080p Computer to HDTV Kit, 1 HDMI Output
SPECIFICATIONS
Function
Dimensions
Audio
POP Information
Audio Output
2 Channel DAC with 16 bit resolution
10'' Peg Hook
5
Dynamic Range
93.8 db, THD+N -71db
6'' Peg Hook
3
Sample Rate
Up to 48KHz with 16-bit resolution
Unit Dimensions
Antenna Type
Directional
Color Depth
32-bit True Color
Width
Base: 5.75", Receiver: 0.75", Transmitter: 0.75"
Height
Base: 3", Receiver: 2.75", Transmitter: 2.5"
Connectors
Depth
Base: 1", Receiver: 0.5", Transmitter: 0.5"
Audio Output
HDMI + 3.5 mm
Unit Package Dimensions
Video Output
HDMI or VGA
Width
5.75"
Height
9"
10-95% RH, Non-condensing
Depth
2"
Operation Temperature
32 F to 122 F (0 C to 50 C)
Master Carton
Storage Temperature
32 F to 160 F (0 C to 75 C)
Environment
Humidity
Width
6.5"
Height
7"
Depth
9.75"
Yes
Master Carton Qty.
3
Number of Channel
3 FFI
Weight
Operating Range
Up to 30 feet (10 meters)
PHY Data Rate
53.3Mbps, 80Mbps, 106.6Mbps, 160Mbps,
200Mbps, 320Mbps, 400Mbps, 480Mbps
Frequency
3.1 GHz to 4.8 GHz
LEDs
ACT (Activity)
Power Adapter
5V, 2A, 100-240V
RF Modulation Type
QPSK/DCM
Screen Mode
Extended and Mirror mode
Security
Highly Secured Wireless Connection (AES 128
bits)
Video Streaming
Up to 1080p
Resolution
Up to 1920 x 1080 for static image display; 1080p
for video streaming
19641 Da Vinci
P 949.453.8782
[email protected]
Foothill Ranch, CA 92610
F 949.453.8785
www.iogear.com
Master Carton Wt.
3.5 lb
Unit Pack Wt.
1 lb
Unit Wt. w/accessories
0.6 lb
Unit Wt.
0.2 lb
GUWAVKIT3
TD# 4143AQ
© 2012 IOGEAR®
IOGEAR, the IOGEAR logo, are trademarks of IOGEAR, Inc. Microsoft and Windows are registered trademarks of Microsoft Corporation. All other brand and product names are trademarks or registered trademarks
of their respective holders. IOGEAR makes no warranty of any kind with regards to the information presented in this document. All information furnished here is for informational purposes only and is subject to
change without notice. IOGEAR, Inc. assumes no responsibility for any inaccuracies or errors that may appear in this document.

* Your assessment is very important for improving the work of artificial intelligence, which forms the content of this project