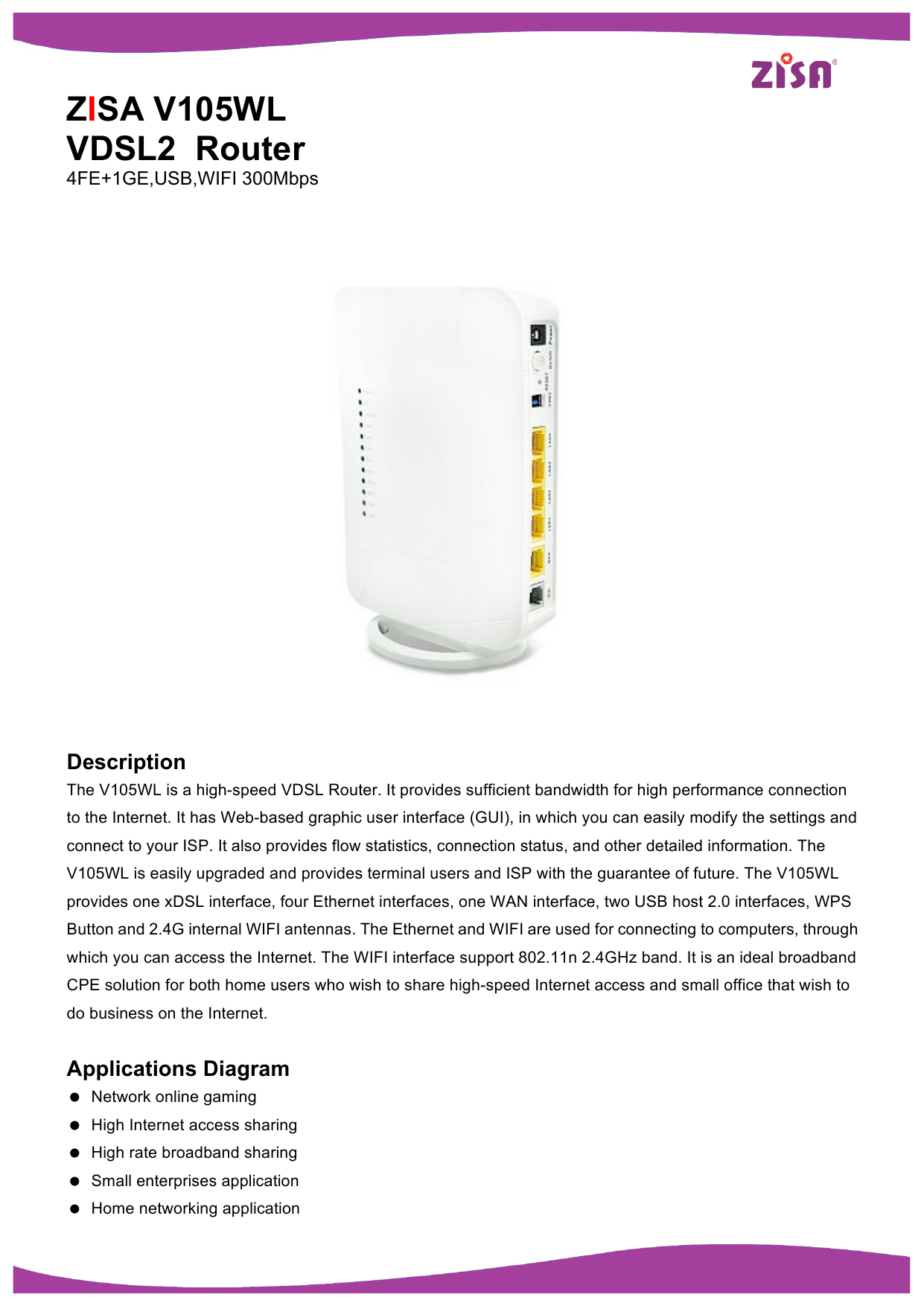 ZISA V105WL
VDSL2 Router
4FE+1GE,USB,WIFI 300Mbps
Description
The V105WL is a high-speed VDSL Router. It provides sufficient bandwidth for high performance connection
to the Internet. It has Web-based graphic user interface (GUI), in which you can easily modify the settings and
connect to your ISP. It also provides flow statistics, connection status, and other detailed information. The
V105WL is easily upgraded and provides terminal users and ISP with the guarantee of future. The V105WL
provides one xDSL interface, four Ethernet interfaces, one WAN interface, two USB host 2.0 interfaces, WPS
Button and 2.4G internal WIFI antennas. The Ethernet and WIFI are used for connecting to computers, through
which you can access the Internet. The WIFI interface support 802.11n 2.4GHz band. It is an ideal broadband
CPE solution for both home users who wish to share high-speed Internet access and small office that wish to
do business on the Internet.
Applications Diagram
! Network online gaming
! High Internet access sharing
! High rate broadband sharing
! Small enterprises application
! Home networking application
System Specifications
Chipset BCM63381+BCM6303+BCM43217+BCM50210
DRAM DDR 64MB
Flash Nor Flash 16MB
Wi-Fi 2.4GHz BCM43217, 802.11b/g/n, 2T2R
Voice LE9642
Features and Technical Specifications
ADSL Features
! T1.413i2, G.992.1
! G.dmt, G.992.2, G.lite
! G.992.3 (G.bis/ADSL2)
! G.992.5 (ADSL2+)
! ITU G.994.1 (G.hs)
! Annex L (Reach Extended ADSL2)
! Support ATM forum UNI3.0, 3.1 and 4.0 permanent virtual circuits (PVCs)
! Support CBR, UBR, VBR-rt, VBR-nrt
! Support multiple PVCs
!
Support ITU-T i.610F4/F5 OAM
VDSL Features
! ITU-T G.993.2 VDSL2
! Support 8a,8b,12a,12b,17a profile
! Support G.vector
! Support ATM and PTM
! Support G.INP
Protocol Features
! RFC2684 multiprotocol Encapsulation over ATM Adaptation Layer 5
! RFC1483 multiprotocol Encapsulation over ATM Adaptation Layer 5
! RFC2364 PPP over ATM ALL5 (PPPoA)
! RFC2516 PPP Over Ethernet (PPPoE)
! RFC1662 PPP in HDLC-like Framing
! RFC1332 PPP Internet Protocol Control Protocol
! RFC1577/2225 Classical IP and ARP over ATM (IPoA)
! RFC894 A Standard for the Transmission of IP Datagrams over
Ethernet Networks
! RFC1042 A standard for the Transmission of IP Datagrams over IEEE 802 Networks
! MER (a.k.a IP over Ethernet over AAL5)
! Support ALG (Application Level Gateways)
! IEEE802.3
! IEEE802.3u
! IEEE 802.11b
! IEEE 802.11g
! IEEE 802.11n
Bridging Features
! Self-learning bridge (IEEE 802.1D Transparent Bridging)
! At least 64 learning MAC addresses
! Support IGMP snooping
Routing Features
! RFC768 User Datagram Protocol (UDP)
! RFC791 Internet Protocol (IP)
! RFC792 Internet Control Message Protocol (ICMP)
! RFC793 Transmission Control Protocol (TCP)
! RFC826 An Ethernet Address Resolution Protocol (ARP)
! RFC862 Echo Protocol
! Support IP routing
! Support transparent bridging
! Support source and destination routing
! Support DHCP server/client
! Support UPnP
! Support NAT,NAPT
! Support DMZ
! Support IP QoS
! Support IGMP proxy
! Support IPv6
Management
! Device Configuration, Management and Update
! Web based GUI
! Localization support
! Embedded web server
! Download image via HTTP, TFTP client, TFTP server, FTP server
! Command Line Interface via serial port, telnet, or ssh
! Menu-driven CLI via serial port or telnet
! Universal Plug and Play (UPnP) Internet Gateway Device (IGDv1.0)
! WAN Management Protocol (TR-069)
! SNMP v1/v2
! PSI configuration file upload and download
! Date/time update from SNTP Internet Time Server
Security
! Three-level login including local admin, local user, and remote
technical support access
! Service access control based on incoming interface: WAN or LAN
! Service access control based on source IP addresses
! Protect DOS attacks from WAN: SYN flooding, IP surfing, ping of Death, fragile, UDP ECHO (port 7), teardrop,
land
! PAP (RFC1334), CHAP (RFC1994), MSCHAP for PPP session
! IP filter, Parental control
Wireless Features
Standard IEEE802.11b/g/n
Modulation schemes
! 802.11g: 64QAM, 16QAM, QPSK, BPSK, DSSS
! 802.11b: CCK, DQPSK, DBPSK
! HT20 and HT40: 64 QAM, 16QAM, QPSK, BPSK
Wireless data rate
! 802.11b: 11, 5.5, 2, 1 Mbps per channel, auto fallback for extended range
! 802.11g: 54, 48, 36, 24, 18, 12, 9, 6 Mbps per channel, auto fallback for extended range
! HT20: up to 150 Mbps
! HT40: up to 300 Mbps
Security
64-bit, 128-bit WEP, AES, TKIP, WPA, WPA2, 802.1x
Parameter Specifications
External Connectors
! 1 x VDSL interface
! 4 x RJ45 LAN Ethernet interfaces 10M/100M
! 1 x 10M/100M/1000M WAN Interface
! 1 x USB 2.0 host
! 1 x reset button
! 1 x WPS button
! 1 x WLAN button
! 1 x power jack
! 1 x power switch
Environment Requirement
Operating Temperature 0ºC—40ºC
Storage Temperature -20ºC—70ºC
Operating Humidity 10%—95%, non-condensing
Storage Humidity 5%—95%, non-condensing
Power Supply 12VDC, 2 A
Consumption 18 W (including power Adapter)
EMC and Safety
Regulation Compliance
! CCC Class B
! CE
Safety Regulations UL
Green Standard RoHS
Physical Characteristics
Physical Dimension 180x130x40
Weight 0.4Kg
ZISA Corporation Limited
Tel: +86-10-52885062 Fax:+86-10-58236899
Mail to : sales@zisacom.com.cn
URL: http://www.zisacom.com.cn
Specifications are subject to change without notice.
Copyright © ZISA Corp. All rights reserved.