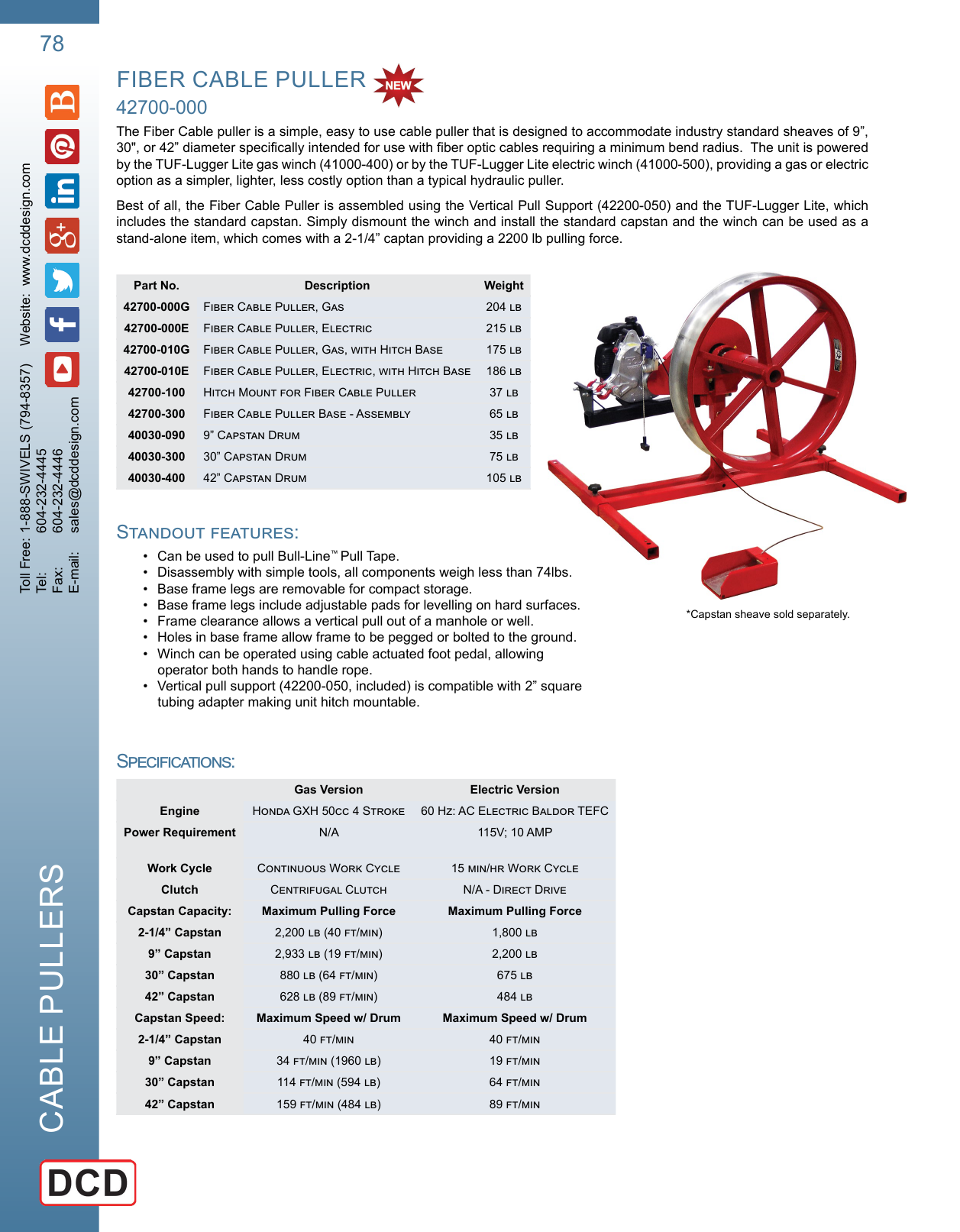 78
FIBER CABLE PULLER
Toll Free:
Tel:
Fax:
E-mail:
1-888-SWIVELS (794-8357)
604-232-4445
604-232-4446
sales@dcddesign.com
Website: www.dcddesign.com
42700-000
The Fiber Cable puller is a simple, easy to use cable puller that is designed to accommodate industry standard sheaves of 9",
30", or 42" diameter specifically intended for use with fiber optic cables requiring a minimum bend radius. The unit is powered
by the TUF-Lugger Lite gas winch (41000-400) or by the TUF-Lugger Lite electric winch (41000-500), providing a gas or electric
option as a simpler, lighter, less costly option than a typical hydraulic puller.
Best of all, the Fiber Cable Puller is assembled using the Vertical Pull Support (42200-050) and the TUF-Lugger Lite, which
includes the standard capstan. Simply dismount the winch and install the standard capstan and the winch can be used as a
stand-alone item, which comes with a 2-1/4" captan providing a 2200 lb pulling force.
Part No.
Description
Weight
42700-000G
Fiber Cable Puller, Gas
204 lb
215 lb
42700-000E
Fiber Cable Puller, Electric
42700-010G
Fiber Cable Puller, Gas, with Hitch Base
175 lb
42700-010E
Fiber Cable Puller, Electric, with Hitch Base
186 lb
42700-100
Hitch Mount for Fiber Cable Puller
37 lb
42700-300
Fiber Cable Puller Base - Assembly
65 lb
35 lb
40030-090
9" Capstan Drum
40030-300
30" Capstan Drum
75 lb
40030-400
42" Capstan Drum
105 lb
Standout features:
•
•
•
•
•
•
•
Can be used to pull Bull-Line™ Pull Tape.
Disassembly with simple tools, all components weigh less than 74lbs.
Base frame legs are removable for compact storage.
Base frame legs include adjustable pads for levelling on hard surfaces.
Frame clearance allows a vertical pull out of a manhole or well.
Holes in base frame allow frame to be pegged or bolted to the ground.
Winch can be operated using cable actuated foot pedal, allowing
operator both hands to handle rope.
• Vertical pull support (42200-050, included) is compatible with 2" square
tubing adapter making unit hitch mountable.
CABLE PULLERS
Specifications:
Gas Version
Electric Version
Engine
Honda GXH 50cc 4 Stroke
60 Hz: AC Electric Baldor TEFC
Power Requirement
N/A
115V; 10 AMP
Work Cycle
Continuous Work Cycle
15 min/hr Work Cycle
Clutch
Centrifugal Clutch
N/A - Direct Drive
Capstan Capacity:
Maximum Pulling Force
Maximum Pulling Force
2-1/4" Capstan
2,200 lb (40 ft/min)
1,800 lb
9" Capstan
2,933 lb (19 ft/min)
2,200 lb
30" Capstan
880 lb (64 ft/min)
675 lb
42" Capstan
628 lb (89 ft/min)
484 lb
Capstan Speed:
Maximum Speed w/ Drum
Maximum Speed w/ Drum
2-1/4" Capstan
40 ft/min
40 ft/min
9" Capstan
34 ft/min (1960 lb)
19 ft/min
30" Capstan
114 ft/min (594 lb)
64 ft/min
42" Capstan
159 ft/min (484 lb)
89 ft/min
*Capstan sheave sold separately.

* Your assessment is very important for improving the work of artificial intelligence, which forms the content of this project