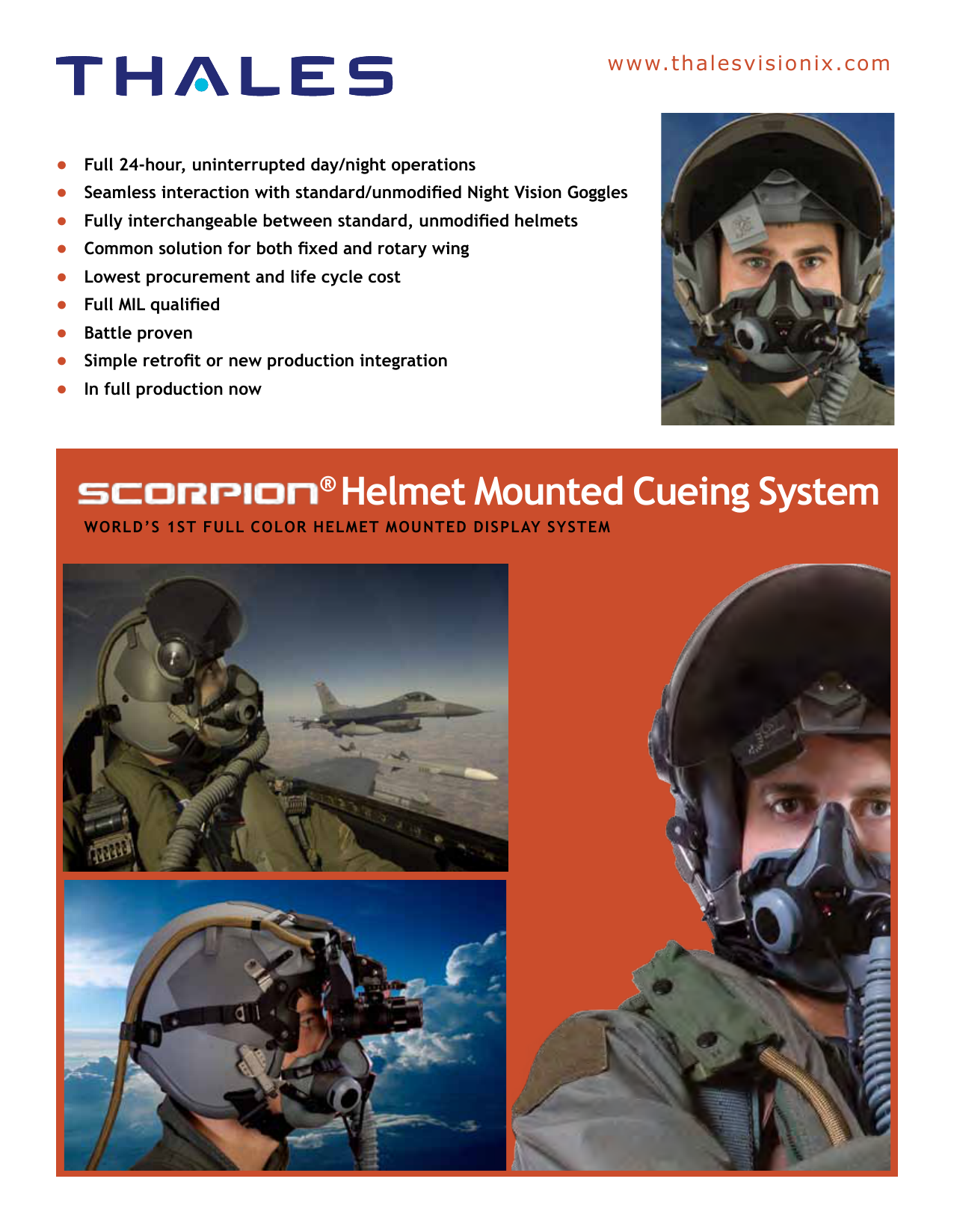 www.thalesvisionix.com
●●
●●
●●
●●
●●
●●
●●
●●
●●
Full 24-hour, uninterrupted day/night operations
Seamless interaction with standard/unmodified Night Vision Goggles
Fully interchangeable between standard, unmodified helmets
Common solution for both fixed and rotary wing
Lowest procurement and life cycle cost
Full MIL qualified
Battle proven
Simple retrofit or new production integration
In full production now
®
Helmet Mounted Cueing System
World's 1st full color Helmet Mounted Display System
www.thalesvisionix.com
SCORPION® Helmet Mounted Cueing System
The Scorpion HMCS provides full-color, dynamic flight and mission data, projected directly
and safely into the aircrew's line of sight via a large field-of-view, fully transparent,
rugged, optical waveguide assembly. This capability allows the user to remain head-up
and eyes-out of the cockpit with greatly enhanced real-time Situational Awareness (SA).
The added dimension of full-color symbology and video imagery dramatically increases the
user's ability to rapidly interpret and correlate vital SA information, resulting in lower task
saturation and increased efficiency. In full service operation on U.S. Air Force A-10, F-16, and
AC-130W aircraft, Scorpion has the battle-proven pedigree, demonstrated field performance, and
provides ease of integration necessary for both forward-fit and retrofit applications—fixed and rotary wing. Scorpion is
currently under Operational Utility Evaluation (OUE) and flight evaluation on numerous other programs and platforms.
These activities relating to both international and domestic platforms confirm that government and industry alike now
see Scorpion as the market benchmark HMD/HMCS product for both now and the foreseeable future.
Advantages
●●
●●
●●
●●
●●
●●
●●
●●
●●
●●
●●
●●
●●
Precise head-steered weapons and sensor cueing
Full-color, dynamic conformal color symbology overlaid on
the real world, clearly visible in all ambient lighting conditions
Rapid target acquisition and hand-off to sensors and weapons
Sensor video capability with full-color overlay symbol suite
DTED, JTIDS and tactical type data display capabilities
Seamless 24-hour operation / transition day-night
Simple/Accurate bore sight procedure
Rapid aircraft integration; No avionics bay LRUs
Backward/Forward compatibility with standard head and life support gear, including: HGU-55/P, HGU-68/P, HGU-84/P, HGU-56/P, SPH-5, MBU-20/P, MBU-23/P, MBU-12/P, AN/AVS-6/9, JSAM, LEP and protective visors.
Compatible with Clear/Glare/Yellow/LEP/Step-in visors, spectacles
Developed and manufactured by helmet/PFE OEM
System interchangeable between pilots, NOT one per pilot
Lowest procurement cost and projected life cycle cost
fe atures
mission supportabil i t y user fr iendly
●● Programmable, compact Interface Control Unit (ICU)
mounted in cockpit; no avionics bay intrusion
●● ICU provides an in-cockpit, 16 GB removable data cartridge
●● Ethernet or 1553 interface
●● ICU provides aircraft power and battery backup to NVGs for
less head-borne weight
●● Military qualification 810D/461E/704A
●● Ejection system compatible/Qualified HVI Safety
Disconnect System
Technologies
●●
●●
●●
●●
●●
Supports full day/night transition missions
Full 24-hour day/night capability; totally compatible
with AN/AVS-9 NVGs and Panoramic Night-Vision Goggles (PNVGs)
●● No interruption of symbology/video during NVGs attachment/
detachment
●● 26x20 FOV full-color, high-resolution SVGA display
●● Virtual HUD or Multi-Function Display (MFD) capability
●● On-demand sensor video (EO/IR) display
●● High-speed tracker with a full-spherical Field of Regard (FOR);
choice of Hybrid Optical-based Inertial Tracker (HObIT) or
Magnetic tracker
●● Lowest system latency/highest accuracy
●● No cockpit mapping required with HObIT tracker
●● Minimal head-borne weight
●● Low total system weight
●● Low power consumption
●●
●●
●●
Lightguide Optical Element (LOE) waveguide technology
Magnetic or Hybrid Optical-Inertial Tracker options available
Fully programmable symbol generator allows Aircraft
Integrator flexibility to define, re-program and implement
both raster and vector symbols independently
Full 24-bit color capability - Scorpion display can match
head down display color philosophy
Full 24-hour day/night capability; compatible with AN/AVS-9
Night Vision Goggles and Panoramic Night-Vision Goggles (PNVGs)
Optional integrated, helmet mounted color camera
available for post-flight mission debrief/BDA
COMPONENTS
Integrates with all Flight Helmets
(System pictured below features HGU-55/P aircrew helmet. System is able to integrate with other flight helmets.)
Fiducials
Scorpion Display Module
HObIT Sensor
Scorpion Day Visor
Interface Control Unit (ICU)
Helmet Release Connector (HRC)
Quick Disconnect Connector (QDC)
Scorpion Battlefield View - Simulated
(Color - Hypothetical Symbology Suite)
WP2
1
WP5
300
X
1598
0
X X
135
S
H
H
H
187
N
X
N
LOOK
DESIGNATE
SHOOT
www.thalesvisionix.com
www.thalescomminc.com
World's Only FULL-Color
Helmet Mounted DISPLAY (HMD)
360° FIELD OF REGARD
Thales Visionix, Inc.
1444 N. Farnsworth Ave. #604 | Aurora, IL 60505
Phone: 570-848-2404
Email: info@thalesvisionix.com | Website: www.thalesvisionix.com
2600:001:090413:V1

Non-U.S. Government sales are subject to U.S. Government approval.

Specifications are subject to change without notice.

* Your assessment is very important for improving the work of artificial intelligence, which forms the content of this project