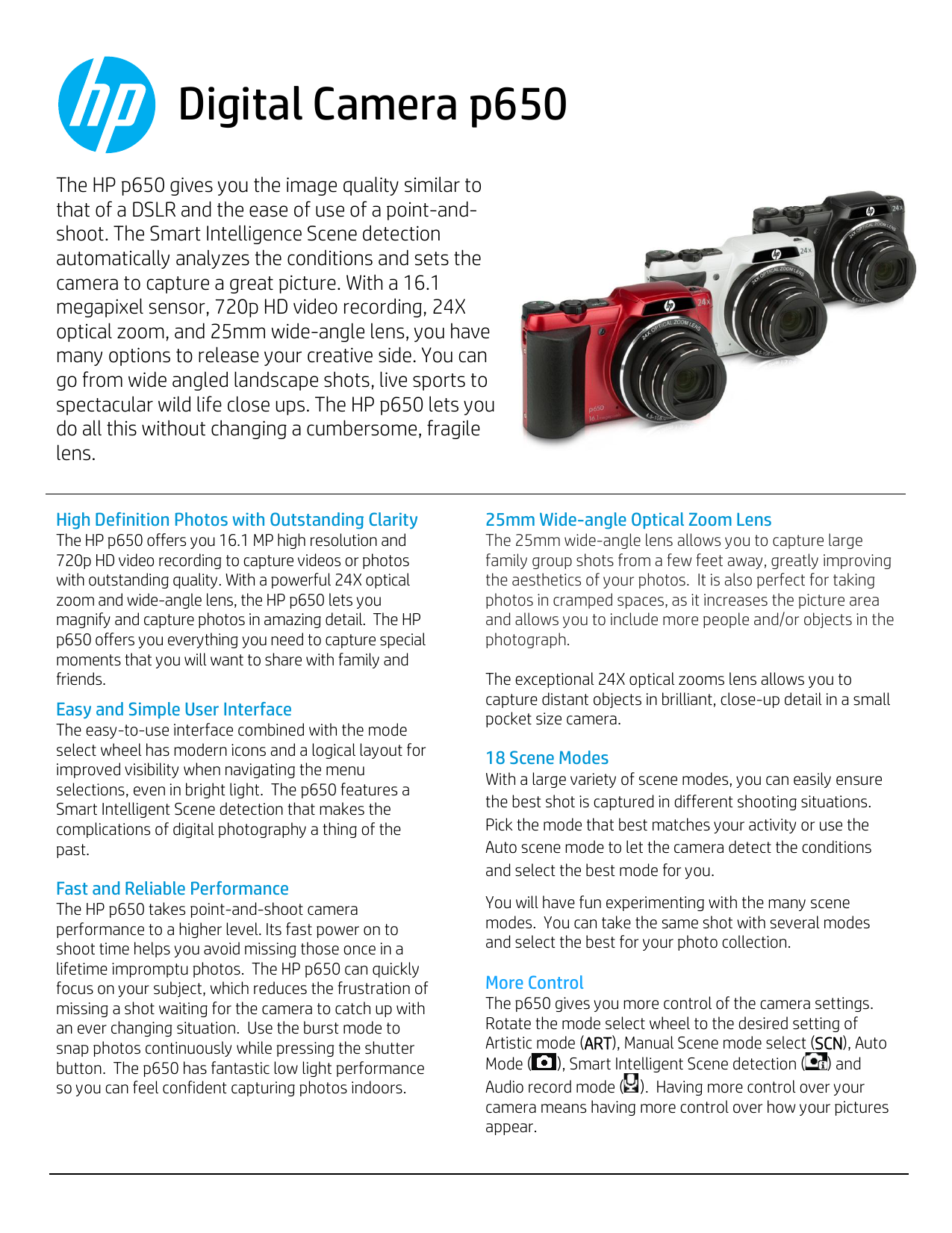 Digital Camera p650
The HP p650 gives you the image quality similar to
that of a DSLR and the ease of use of a point-andshoot. The Smart Intelligence Scene detection
automatically analyzes the conditions and sets the
camera to capture a great picture. With a 16.1
megapixel sensor, 720p HD video recording, 24X
optical zoom, and 25mm wide-angle lens, you have
many options to release your creative side. You can
go from wide angled landscape shots, live sports to
spectacular wild life close ups. The HP p650 lets you
do all this without changing a cumbersome, fragile
lens.
High Definition Photos with Outstanding Clarity
25mm Wide-angle Optical Zoom Lens
The HP p650 offers you 16.1 MP high resolution and
720p HD video recording to capture videos or photos
with outstanding quality. With a powerful 24X optical
zoom and wide-angle lens, the HP p650 lets you
magnify and capture photos in amazing detail. The HP
p650 offers you everything you need to capture special
moments that you will want to share with family and
friends.
The 25mm wide-angle lens allows you to capture large
family group shots from a few feet away, greatly improving
the aesthetics of your photos. It is also perfect for taking
photos in cramped spaces, as it increases the picture area
and allows you to include more people and/or objects in the
photograph.
Easy and Simple User Interface
The easy-to-use interface combined with the mode
select wheel has modern icons and a logical layout for
improved visibility when navigating the menu
selections, even in bright light. The p650 features a
Smart Intelligent Scene detection that makes the
complications of digital photography a thing of the
past.
Fast and Reliable Performance
The HP p650 takes point-and-shoot camera
performance to a higher level. Its fast power on to
shoot time helps you avoid missing those once in a
lifetime impromptu photos. The HP p650 can quickly
focus on your subject, which reduces the frustration of
missing a shot waiting for the camera to catch up with
an ever changing situation. Use the burst mode to
snap photos continuously while pressing the shutter
button. The p650 has fantastic low light performance
so you can feel confident capturing photos indoors.
The exceptional 24X optical zooms lens allows you to
capture distant objects in brilliant, close-up detail in a small
pocket size camera.
18 Scene Modes
With a large variety of scene modes, you can easily ensure
the best shot is captured in different shooting situations.
Pick the mode that best matches your activity or use the
Auto scene mode to let the camera detect the conditions
and select the best mode for you.
You will have fun experimenting with the many scene
modes. You can take the same shot with several modes
and select the best for your photo collection.
More Control
The p650 gives you more control of the camera settings.
Rotate the mode select wheel to the desired setting of
Artistic mode (ART), Manual Scene mode select (SCN), Auto
Mode ( ), Smart Intelligent Scene detection ( ) and
Audio record mode ( ). Having more control over your
camera means having more control over how your pictures
appear.
Digital Camera p650
SPECIFICATIONS
Display Dimensions
3.0 inch LCD Panel
Sensor Type
1/2.3 inch CCD
Effective Pixels
16.1 MP (4640 x 3480 pixels)
Still Image Resolutions
16.1 MP (4640 x 3480 pixels), 3:2 (4608 x 3072 pixels),
16:9 (4608 x 2592 pixels), 10 MP (3648 x 2736 pixels),
5 MP (2560 x 1920 pixels), 3 MP (2048 x 1536 pixels), VGA (640 x 480 pixels)
Zoom
24X optical zoom, 4x digital zoom
35mm equivalent focal length
25mm ~ 600mm
Still Image Format
JPEG/EXIF 2.3, DCF 2.0
ISO Sensitivity
Auto, 64, 100, 200, 400, 800, 1600
Image Stabilization
Optical Image Stabilization, sensor shift
Detection Features
Face, Smart Intelligent Scene
Video Resolutions
720p (1280 x 720 pixels)/ 30 fps, VGA (640 x 480 pixels)/30 fps
Video Format
AVI (MJPEG)
Storage Media
SD / SDHC (Up to 32 GB) / SDXC (Up to 2TB)
Note: Class 6 speed SDHC cards or greater are required for 720p HD video
Connections
UBS (8 pin micro, USB 2.0)
Power
Rechargeable NP-45 (3.7V, 700mAh) Li-ion battery
Dimensions
106.8 mm x 68.9 mm x 40.3 mm (4.2 in x 2.7 in x 1.6 in)
Weight
220 g (7.8 oz.) (without battery and SD card)
Warranty
One year limited hardware warranty from date of purchase
Minimum System Requirements
Microsoft Windows XP/Vista/7/8
Pentium D 3.0 GHz processor or equivalent
1 GB RAM or greater
Box Contents
HP Digital Camera p650
Wrist Strap
Rechargeable NP-45 (3.7V, 700mAh) Li-ion battery
AC Power Adaptor (with USB connector)
USB Cable
Quick Start Guide
Warranty document
Questions about the HP Digital Camera p650?
Look us up online at http://www.hp.com
© 2013 HPDC, Hewlett-Packard Company, Palo Alto, CA 94304
Manufactured and distributed under license from Hewlett-Packard.
Actual product image may vary from image shown.
All specifications are subject to change without notice.
HP shall not be liable for technical or editorial errors or omissions contained herein.
Microsoft, Windows, XP, Vista, and Windows 7 are trademarks or registered
trademarks of Microsoft Corporation in the United States and/or other countries.
All other brand and product names are trademarks, registered trademarks or service
marks of their respective holders.