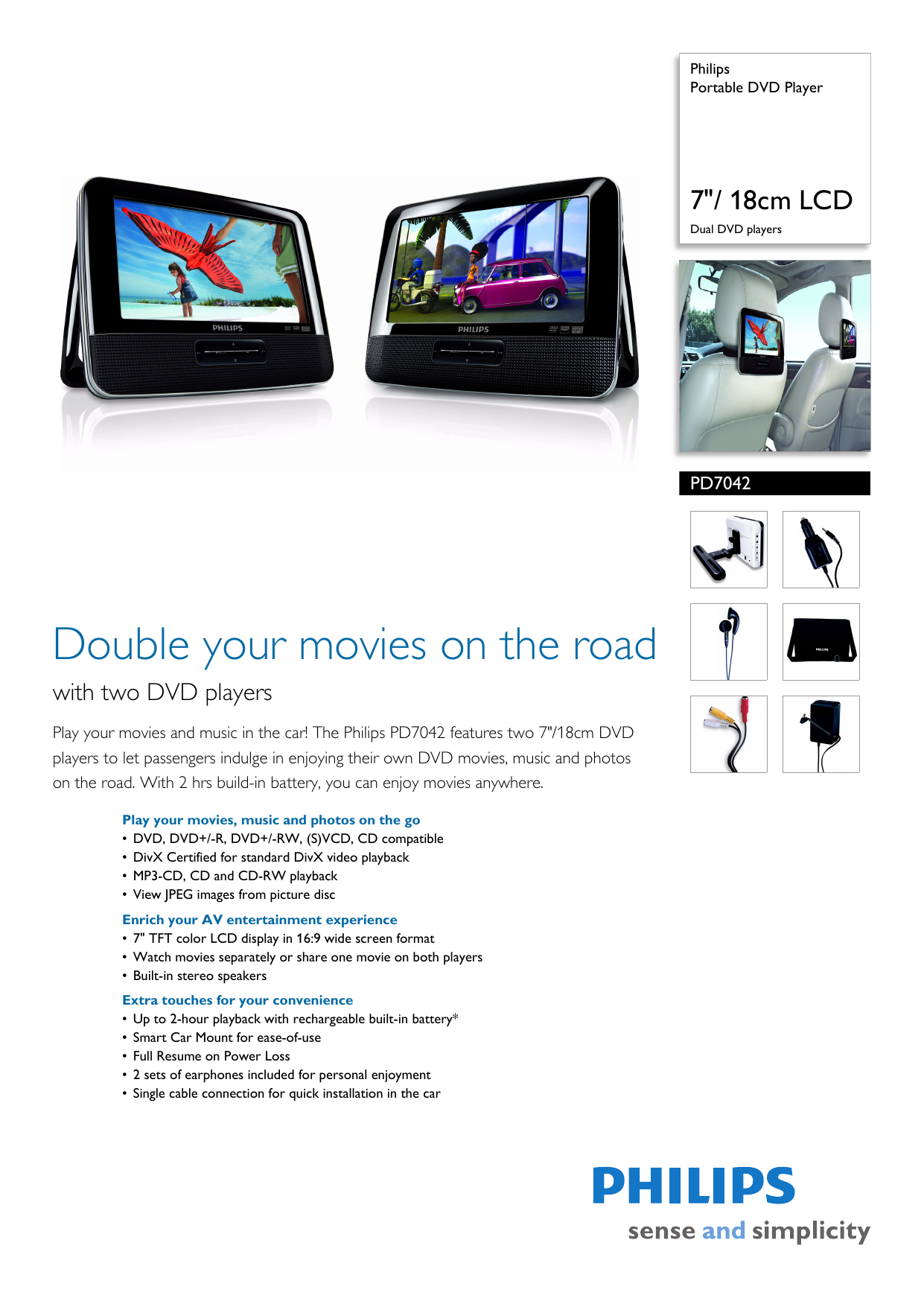 Philips
Portable DVD Player
7"/ 18cm LCD
Dual DVD players
PD7042
Double your movies on the road
with two DVD players
Play your movies and music in the car! The Philips PD7042 features two 7"/18cm DVD
players to let passengers indulge in enjoying their own DVD movies, music and photos
on the road. With 2 hrs build-in battery, you can enjoy movies anywhere.
Play your movies, music and photos on the go
• DVD, DVD+/-R, DVD+/-RW, (S)VCD, CD compatible
• DivX Certified for standard DivX video playback
• MP3-CD, CD and CD-RW playback
• View JPEG images from picture disc
Enrich your AV entertainment experience
• 7" TFT color LCD display in 16:9 wide screen format
• Watch movies separately or share one movie on both players
• Built-in stereo speakers
Extra touches for your convenience
• Up to 2-hour playback with rechargeable built-in battery*
• Smart Car Mount for ease-of-use
• Full Resume on Power Loss
• 2 sets of earphones included for personal enjoyment
• Single cable connection for quick installation in the car
PD7042/12
Portable DVD Player
7"/ 18cm LCD Dual DVD players
Highlights
7" TFT color LCD display(16:9)
DVD player. DVD+/-R is a shorthand term for
a DVD drive that can accept both of the
common recordable DVD formats. Likewise,
DVD+/-RW handles both common rewritable
disc types.
MP3-CD, CD and CD-RW playback
The color LCD display brings images to life,
showing off your treasured photos, favorite
movies and music with the same 'real life' rich
detail and vibrant colors as high quality prints.
The 16:9 widescreen aspect ratio is standard
for universal to high-definition digital
television. A native 16:9 aspect ratio means
video display without bars at top and bottom
of the picture and without the quality loss than
comes from scaling, altering an image to fit on
a different screen size.
MP3 is a revolutionary compression
technology by which large digital music files can
be made up to 10 times smaller without
radically degrading their audio quality. A singe
CD can store up to 10 hours of music.
DVD, DVD+/-RW, (S)VCD, CD
Smart Car Mount
The Philips Portable DVD player is compatible
with most DVD and CD discs available in the
market. DVD, DVD+/-R, DVD+/-RW,
(S)VCD, and CD – all of them can play on the
To enjoy entertainment on the go, why not
bring your portable DVD player from home on
the road with you? A unique Car Mount
system ensures ease-of-use, with a quick-
PICTURE
POWER
RESUME
release arm that facilitates easy removal of the
player when not in use. You can bring the
portable DVD player with you, leaving just the
Mount behind in the car.
Single cable connection
The single cable connection design means
there is just one cable needed to connect the
two Philips Portable DVD players together.
No additional cables are needed, there is no
mess created and installation takes a few
seconds.
Watch movies separately
The in-car dual player design lets you watch
movies individually on each portable DVD
player. Alternatively, you can connect them
together and, with the single touch of the signal
switch button, passengers in both the front and
back seats can watch one movie playing
simultaneously on both DVD players.
DivX Certified
With DivX® support, you are able to enjoy
DivX encoded videos and movies from the
Internet, including purchased Hollywood films.
The DivX media format is an MPEG-4 based
video compression technology that enables
you to save large files like movies, trailers and
music videos on media like CD-R/RW and
DVD recordable discs, USB storage and other
memory cards for playback on your DivX
Certified® Philips device.
PD7042/12
Portable DVD Player
7"/ 18cm LCD Dual DVD players
Specifications
Picture/Display
• Display screen type: LCD TFT
• Diagonal screen size: 7 inch / 18 cm
• Resolution: 480(w)x234(H)x3(RGB)
Sound
• Output Power: 250mW RMS(built-in speakers)
• Output power (RMS): 5mW RMS(earphone)
• Signal to noise ratio: >80dB(line out),
>76dB(earphone), >62dB(built-in speakers)
Video Playback
• Playback Media: DVD, Picture CD, SVCD, Video
CD, DVD-R/-RW, MP3-CD, CD-R/CD-RW,
DVD+R/+RW, CD
• Disc Playback Modes: Disc Menu, Fast Backward,
Fast Forward, OSD, Repeat, Zoom, Shuffle Play,
Resume Playback from Stop
• Video disc playback system: NTSC, PAL
• Compression formats: MPEG4, Divx
Audio Playback
•
•
•
•
Compression format: Dolby Digital, MP3
MP3 bit rates: 32 - 320 kbps
Playback Media: CD, CD-R, CD-RW, MP3-CD
File systems supported: ISO-9660, Jolliet
Connectivity
• DC in: 9V, 0.8A
• Headphone jack: 3.5mm Stereo Headphone
• AV output: Composite (CVBS) x1
• AV input: Composite (CVBS) x1
Convenience
• Battery charging indication
• Shock proof
Accessories
•
•
•
•
•
•
•
AC/DC Adaptor: 9V, 0.8A, (110-240v, 50/60Hz)
Cables: AV Cables
Car kit: cigarette outlet adaptor, 12vDC
User Manual: Multi Langauges
Smart car mount: AY4246 x 2
Headphones: AY3822 x 2
Pouch: Travel bag x 1
Power
• Battery lifetime: Up to 2hrs*
• Battery Type: Built-in battery
Dimensions
•
•
•
•
Master carton dimensions: 285 x 360 x 372 mm
Master carton quantity: 3
Master carton weight: 7.93 kg
Packaging dimensions (W x H x D):
362 x 350 x 90 mm
• Product dimensions (W x H x D):
199 x 38 x 153 mm
• Product weight: 1.4 kg
• Packaging type: D-box
•
Issue date 2010-01-27
© 2010 Koninklijke Philips Electronics N.V.
All Rights reserved.
Version: 1.2.3
Specifications are subject to change without notice.
Trademarks are the property of Koninklijke Philips
Electronics N.V. or their respective owners.
12 NC: 8670 000 59223
EAN: 87 12581 52051 9
www.philips.com
* DivX, DivX Certified, and associated logos are trademarks of
DivXNetworks, Inc. and are used under license.
* Rechargeable batteries have a limited number of charge cycles and
may eventually need to be replaced. Battery life and number of
charge cycles vary by use and settings.
* Battery life varies by use and settings.
* Battery life of playtime is approximate and may vary depending on
application condition. To optimize battery life, user should turn LCD
backlight to minimum, connect to headphones (not built-in speakers)
and listen at medium volume level, and use the product at room
temperature.