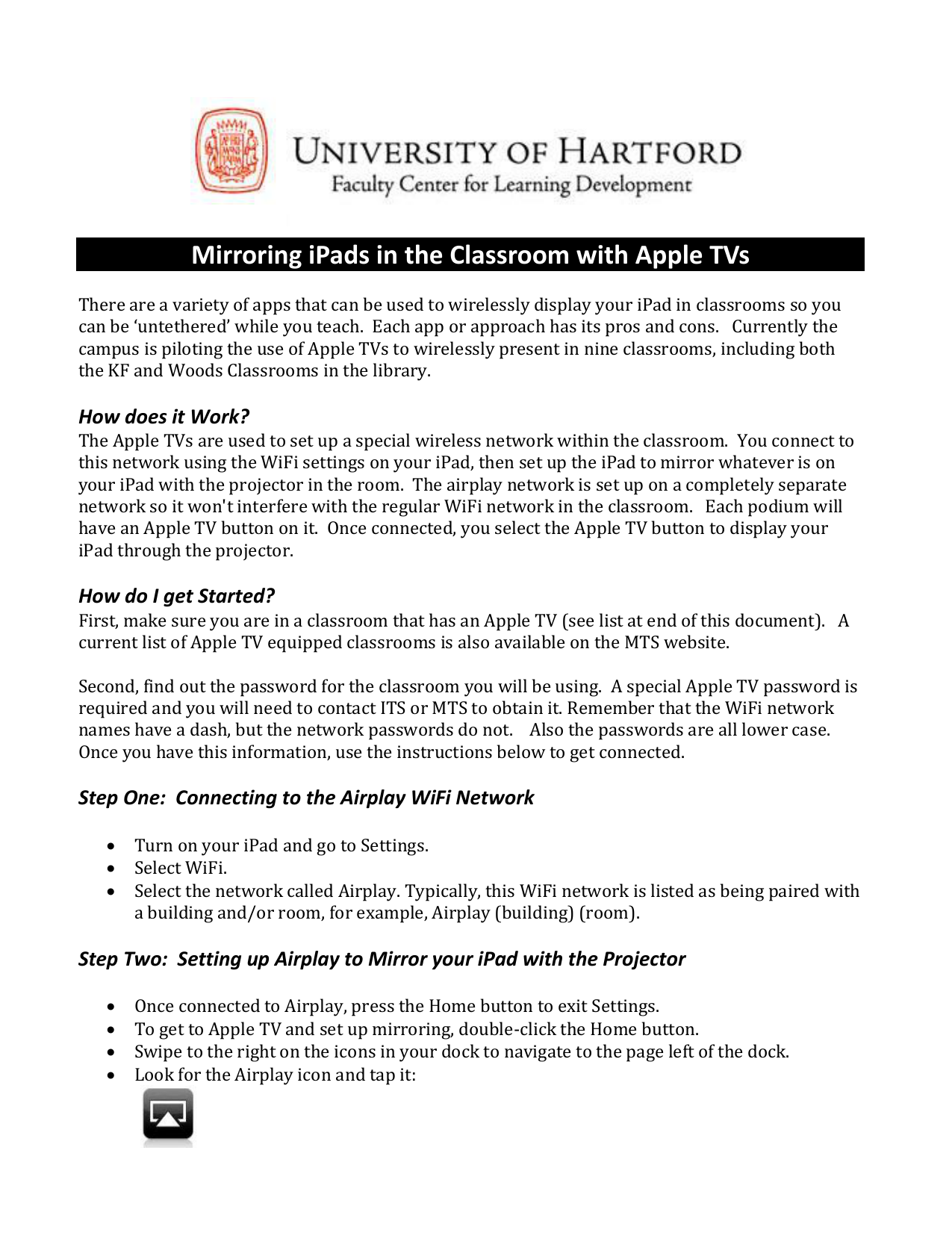 Mirroring iPads in the Classroom with Apple TVs
There are a variety of apps that can be used to wirelessly display your iPad in classrooms so you
can be 'untethered' while you teach. Each app or approach has its pros and cons. Currently the
campus is piloting the use of Apple TVs to wirelessly present in nine classrooms, including both
the KF and Woods Classrooms in the library.
How does it Work?
The Apple TVs are used to set up a special wireless network within the classroom. You connect to
this network using the WiFi settings on your iPad, then set up the iPad to mirror whatever is on
your iPad with the projector in the room. The airplay network is set up on a completely separate
network so it won't interfere with the regular WiFi network in the classroom. Each podium will
have an Apple TV button on it. Once connected, you select the Apple TV button to display your
iPad through the projector.
How do I get Started?
First, make sure you are in a classroom that has an Apple TV (see list at end of this document). A
current list of Apple TV equipped classrooms is also available on the MTS website.
Second, find out the password for the classroom you will be using. A special Apple TV password is
required and you will need to contact ITS or MTS to obtain it. Remember that the WiFi network
names have a dash, but the network passwords do not. Also the passwords are all lower case.
Once you have this information, use the instructions below to get connected.
Step One: Connecting to the Airplay WiFi Network



Turn on your iPad and go to Settings.
Select WiFi.
Select the network called Airplay. Typically, this WiFi network is listed as being paired with
a building and/or room, for example, Airplay (building) (room).
Step Two: Setting up Airplay to Mirror your iPad with the Projector




Once connected to Airplay, press the Home button to exit Settings.
To get to Apple TV and set up mirroring, double-click the Home button.
Swipe to the right on the icons in your dock to navigate to the page left of the dock.
Look for the Airplay icon and tap it:

Next, tap the WiFi name, and tap Mirroring to ON:



Push the Apple TV button on the podium.
Tap in the password that appears on the screen.
Your iPad should now be projected.
If you want to project from your laptop or the Internet, push the button on the podium for lab top
or PC.
It is possible to use this collaboratively if everyone in the room has the password (not
recommended for students). Each person can display his or her screen by turning mirroring
on…the last person who connects to it is the one connected.
NOTE: iPad version 1 does not have mirroring capability.
You might want to arrange for ITS or the Arts and Sciences Math Department to show you Dana
Hall 236, which has been set up as a 'flipped classroom'. There are multiple Apple TVs and screens
set up to be used collaboratively by small groups of students.
Some important notes and tips:
 When you are projecting your iPad, be careful about typing in passwords since they show
for a split second when you enter them.
 Mirroring works only for iPads; iPhones won't work.
 iPad v 1 will not mirror, though you can still show pictures, videos, , etc. , via miscellaneous
apps.
 Apple TVs will need to be updated from time to time. You may enter the classroom one
day, set up your Apple TV network and see an update message displayed. At the present
time, only ITS can update them.
 Lots of folks use a special iPad holder called Free Hand which makes it easy to hold and
annotate when you are projecting.

* Your assessment is very important for improving the work of artificial intelligence, which forms the content of this project