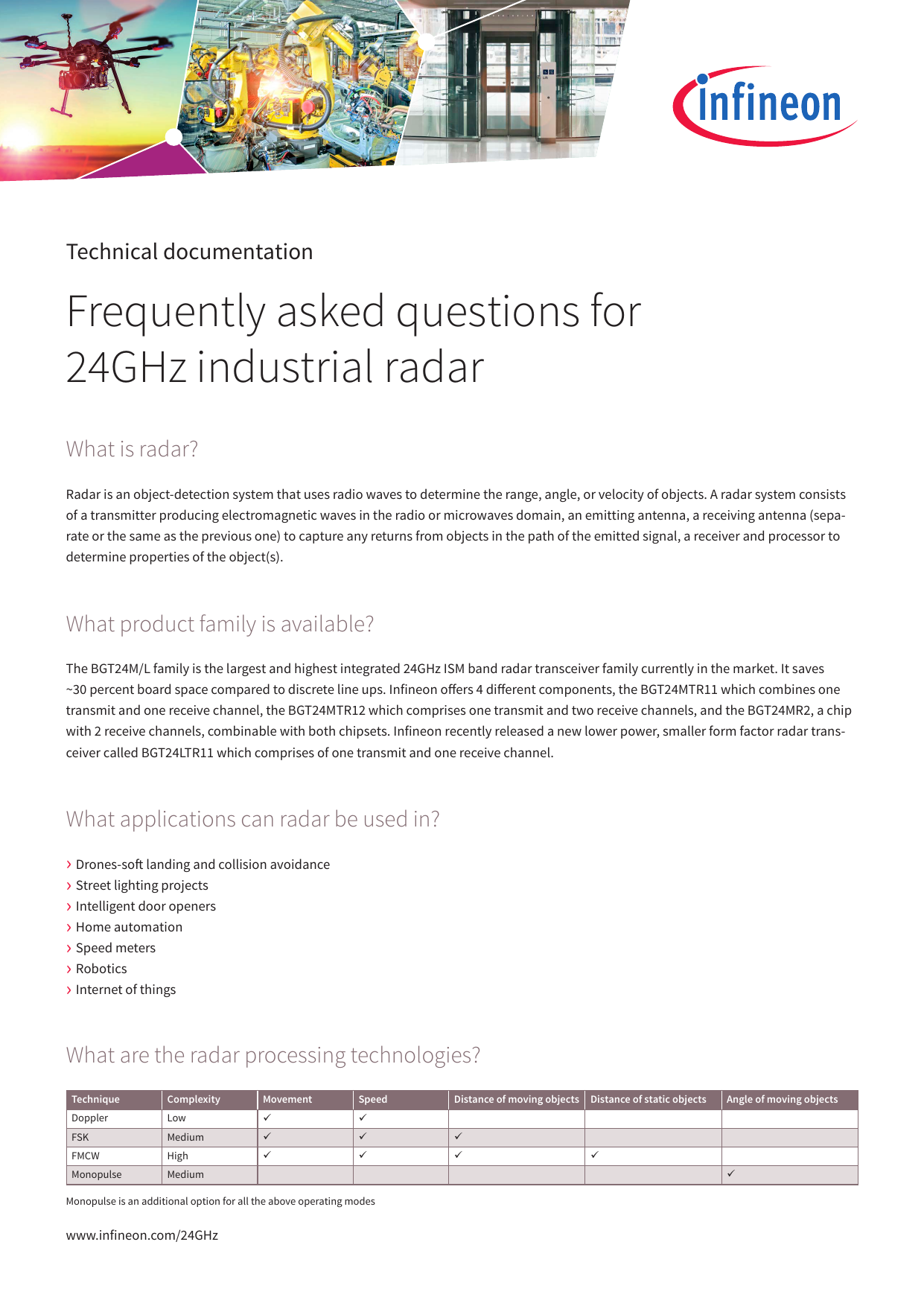 Technical documentation
Frequently asked questions for
24GHz industrial radar
What is radar?
Radar is an object-detection system that uses radio waves to determine the range, angle, or velocity of objects. A radar system consists
of a transmitter producing electromagnetic waves in the radio or microwaves domain, an emitting antenna, a receiving antenna (separate or the same as the previous one) to capture any returns from objects in the path of the emitted signal, a receiver and processor to
determine properties of the object(s).
What product family is available?
The BGT24M/L family is the largest and highest integrated 24GHz ISM band radar transceiver family currently in the market. It saves
~30 percent board space compared to discrete line ups. Infineon offers 4 different components, the BGT24MTR11 which combines one
transmit and one receive channel, the BGT24MTR12 which comprises one transmit and two receive channels, and the BGT24MR2, a chip
with 2 receive channels, combinable with both chipsets. Infineon recently released a new lower power, smaller form factor radar transceiver called BGT24LTR11 which comprises of one transmit and one receive channel.
What applications can radar be used in?
››Drones-soft landing and collision avoidance
››Street lighting projects
››Intelligent door openers
››Home automation
››Speed meters
››Robotics
››Internet of things
What are the radar processing technologies?
Technique
Complexity
Movement
Speed
Doppler
Low


FSK
Medium



FMCW
High



Monopulse
Medium
Monopulse is an additional option for all the above operating modes
www.infineon.com/24GHz
Distance of moving objects
Distance of static objects
Angle of moving objects


Technical Documentation
What are some of the main features of the products available?
››Highest integration currently in the market
››Multiple combination Tx/Rx configurations available
››Fully packaged solution
››Low cost TSNP-16-9 package
››Distance detection up to 100 m
››Smallest packaged radar chip on the market
What is radar transceiver?
Radar transceiver (transmitter receiver)
››Transmits low energy radio frequency signal over Tx antenna (24 GHz, max. 100 mW)
››Receives reflected signal over Rx antenna
››Moving target generates low frequency Doppler output signal (so called IF)
Tx
Rx
IF output
FM input
How does radar detect movement?
Basic movement detector
››Output becomes active as soon as Doppler signals are present
››Implemented with discrete components or simple microcontroller
Sensitivity
Hold time
t
Amp
Comparator
Timer
Output
Technical Documentation
What is the Doppler effect?
Doppler effect
Radar transceiver
Low frequency Doppler signal
Amplitude depends on reflectivity and distance.
Frequency fd depends on object speed.
Calculating the Doppler frequency
fd =
or
v=
2 · fTx · v
c0 · cos α
(1)
c0 · fd
2 · fTx · cos α
(2)
fd
fTx
c0
v
α
Doppler frequency
Transmit frequency (24 GHz)
Speed of light (3 · 108 m/s)
Object speed in m/s
Angle between beam and object moving direction
α
At a transmit frequency of f Tx = 24.125 GHz we get a Doppler frequency for a moving object at the IF output of
fd = v [km/h] · 44 Hz · cos α or
fd = v [m/s] · 161 Hz · cos α
(4)
How does Doppler processing calculate speed?
Speed display
››Frequency (= speed) and direction are detected by complex FFT
››Implemented with FFT (Fast Fourier Transform)
Sensitivity
I
Q
ADC
Direction
+
FFT
YOUR
SPEED
ADC
Microprocessor
Speed [km/h] = fd / (44 Hz · cos α)
Q
I
I and Q signals phase shifted by 90°
depending on movement direction
Technical Documentation
How does radar measure distances?
Typical measurement methods
Distance measurement always needs bandwidth / modulated carrier
Pulse radar
››Sends out a very short, powerful pulse
››Measures time of flight of reflected pulse
››Needs high bandwidth → not usable in K-band
Continuous wave methods
No pulse, but a continuous, frequency modulated carrier is sent
››FMCW: used to detect stationary and moving objects.
A so called chirp is sent and mixed with the received signal. Low frequency output represents distance.
››FSK: used to get distances of moving objects.
2 frequencies are sequentially sent. 2 phase shifted Doppler signals represent distance.
What is the difference between FMCW and FSK?
FMCW and FSK
Measuring distances need modulation of carrier → bandwidth
Use
Modulation
FMCW (Frequency Modulation Continuous Wave)
FSK (Frequency Shift Keying)
For stationary and moving objects
For moving objects only
fp
f
f
fa
fb
fM
fb
TM
fRx
Formula
Resolution
fTx
R=
c0 fb TM
· ·
2 fM 2
1 m, limited by K-band bandwidth 250 MHz
Ta Tb
t
txa txb txa txb txa txb
R=
c0 · ∆φ
4π · (fa - fb)
1–100 cm, depending on signal processing
t
Technical Documentation
What is current system availability?
There are 3 demo boards available now. Please see below description and images.
2014
2015
2016
RFB2412 (BGT24TR12 + XMC4400)
Sense2Go2
(BGT24MTR11 + XMC4200)
Sense2GoL
(BGT24LTR11 + XMC1300) 1)
››1 transmitter + 2 receivers
››Motion detection
››Doppler radar for speed monitoring
››Software based FMCW for distance
››Starter kit for radar and
››Starter kit for radar as well as IFX
microcontroller development
››1 transmitter and 1 receiver
››Motion detection and Doppler radar
for speed
››Low power mode for enhanced
battery life
››Industrial standard interfaces via
CAN and IOLINK
››Range to 15 m
measurement of stationary objects
- NEW
››Angle of arrival estimation - NEW
microcontrollers
››Low end solution + development kit
››1 transmittet and 1 receiver
››Motion detection and Doppler radar
for speed
››Low power mode for enhanced
battery life
››Ultra small form factor
1) Now available
RFB2412
BGT24MTR12
Transparent
connector
Sense2Go2
MCU disconnect
and level shift
XMC4400
MCU
Sense2GoL with
break away debugger
Reverse current
protection diode
Micro-USB
Voltage
regulator
User
buttons and
LEDs
Pin header X2
Pin header X1
TVS diode
User LED1 @ P1.5
User LED2 @ P1.15
BGT24MTR11
24 GHz radar IC
USB OTG
connector
Baseband
amplifiers
Cortex®
debug connector
DC input
8 V … 36 V
RF frontend
Analog
amplifiers
RTC backup
battery
Crystal
Power
supply
Is there a block diagram available for the Sense2GoL?
+5 V
+3.3 V
Power supply (LDO)
Switch
+3.3 V
+3.3 V
VCC_BGT
VCC_PTAT
PTAT
Balun
V_PTAT
Standby
LED
BGT24LTR11
MPA
Balun
+3.3 V
Microcontroller
IFI
HPF
ADC
Amp2
Amp1
IFQ
VCC_DIV
DIV_OUT
Frequency
divider
Balun
ADC
Polyphase
filter
LED2
FFT, DSP
Balun
90°
VTUNE
Balun
Optional
res
LED1
0°
IFI
LNA
Balun
IFQ
R_TUNE
PWM2
I/O
Tx
antenna
Tx_ON
PWM1
XMC1302
TxOUT
RFIN
Rx
antenna
Technical Documentation
What are the key features of the Sense2GoL demo board?
Features
››Capability to detect motion, speed and direction of movement
(approaching or retreating)
››BGT24LTR11 – 24 GHz highly integrated low power RF MMIC
››XMC1302 ARM® Cortex®-M0 – 32-bit industrial microcontroller
››Integrated patch antennas
››Segger debugger break off board for reprogramming
Kit contains
››User manual
››SW GUI to operate kit
››Precompiled C libraries provided
››PCB schematic and Gerber files
Is this available as an MMIC or complete module?
Infineon smart sensing solutions
MMIC
Features
››Radar-based motion detector
operating in the 24 GHz ISM-band
››Long range distance detection of
moving objects up to 30 m
››Wide range speed detection up to
more than ±100 km/h
Module suppliers using Infineon chip
Technical benefits
››Large coverage areas such as
warehouses, parking lots, ect.
››Robust against harsh conditions
(rain, dust and temperature)
››Precise presence detection
››Fast measurement updates
Customer benefits
››Excellent movement detection
››Fewer false alarms
››Energy savings
››Concealable
››Customized solution
››Off the shelf module from
market partners
Where do I go for additional information?
www.infineon.com/24GHz
Published by
Infineon Technologies AG
81726 Munich, Germany
© 2016 Infineon Technologies AG.
All Rights Reserved.
Please note!
THIS DOCUMENT IS FOR INFORMATION PURPOSES ONLY AND
ANY INFORMATION GIVEN HEREIN SHALL IN NO EVENT BE
REGARDED AS A WARRANTY, GUARANTEE OR DESCRIPTION OF
ANY FUNCTIONALITY, CONDITIONS AND/OR QUALITY OF OUR
PRODUCTS OR ANY SUITABILITY FOR A PARTICULAR PURPOSE.
WITH REGARD TO THE TECHNICAL SPECIFICATIONS OF OUR
PRODUCTS, WE KINDLY ASK YOU TO REFER TO THE RELEVANT
PRODUCT DATA SHEETS PROVIDED BY US. OUR CUSTOMERS AND
THEIR TECHNICAL DEPARTMENTS ARE REQUIRED TO EVALUATE
THE SUITABILITY OF OUR PRODUCTS FOR THE INTENDED
APPLICATION.
WE RESERVE THE RIGHT TO CHANGE THIS DOCUMENT AND/OR
THE INFORMATION GIVEN HEREIN AT ANY TIME.
Order Number: B132-I0384-V1-7600-EU-EC-P
Date: 10 / 2016
Additional information
For further information on technologies, our products, the
application of our products, delivery terms and conditions
and/or prices, please contact your nearest Infineon Technologies
office (www.infineon.com).
Warnings
Due to technical requirements, our products may contain
dangerous substances. For information on the types in question,
please contact your nearest Infineon Technologies office.
Except as otherwise explicitly approved by us in a written
document signed by authorized representatives of Infineon
Technologies, our products may not be used in any life-­
endangering applications, including but not limited to medical,
nuclear, military, life-critical or any other applications where a
failure of the product or any consequences of the use thereof
can result in personal injury.

* Your assessment is very important for improving the work of artificial intelligence, which forms the content of this project