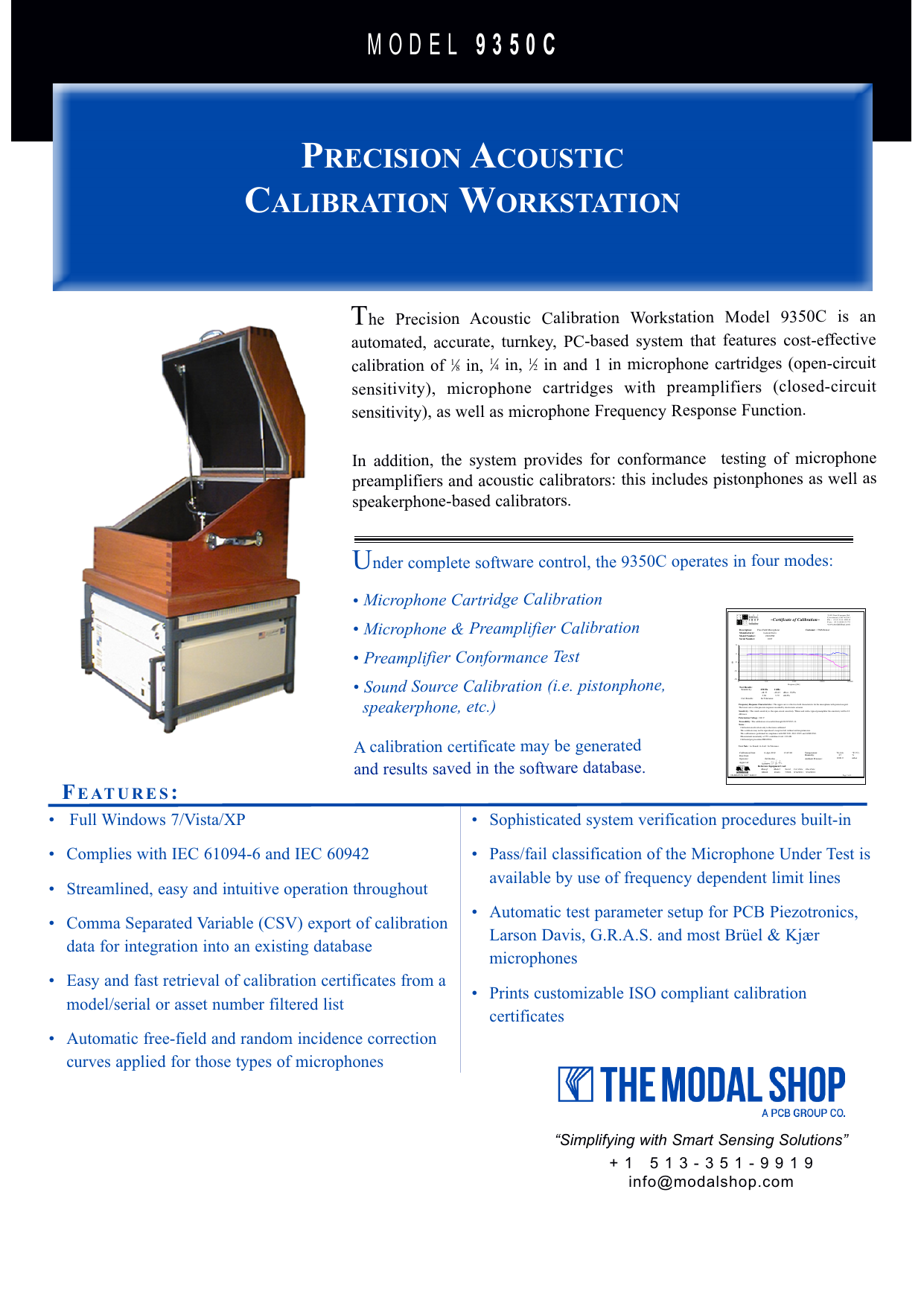 MODEL 9350C
PRECISION ACOUSTIC
CALIBRATION WORKSTATION
The
Precision Acoustic Calibration Workstation Model 9350C is an
automated, accurate, turnkey, PC-based system that features cost-effective
calibration of 1⁄8 in, 1⁄4 in, 1⁄2 in and 1 in microphone cartridges (open-circuit
sensitivity), microphone cartridges with preamplifiers (closed-circuit
sensitivity), as well as microphone Frequency Response Function.
In addition, the system provides for conformance testing of microphone
preamplifiers and acoustic calibrators: this includes pistonphones as well as
speakerphone-based calibrators.
Under complete software control, the 9350C operates in four modes:
• Microphone Cartridge Calibration
• Microphone & Preamplifier Calibration
• Preamplifier Conformance Test
A calibration certificate may be generated
and results saved in the software database.
• Full Windows 7/Vista/XP
• Complies with IEC 61094-6 and IEC 60942
• Streamlined, easy and intuitive operation throughout
• Comma Separated Variable (CSV) export of calibration
data for integration into an existing database
• Easy and fast retrieval of calibration certificates from a
model/serial or asset number filtered list
• Automatic free-field and random incidence correction
curves applied for those types of microphones
Customer : TMS Rental
5
dB
0
• Sound Source Calibration (i.e. pistonphone,
speakerphone, etc.)
F E AT U R E S :
~Certificate of Calibration~
Description:
Free-Field Microphone
Manufacturer:
Larson Davis
Model Number:
2620-PM
1007
Serial Number:
-5
-10
-15
10
100
Test Results:
Sensitivity:
Cal. Results:
250 Hz
1 kHz
-48.37
-48.43
3.82
3.79
In Tolerance
1000
Frequency [Hz]
10000
100000
dB re. 1V/Pa
mV/Pa
Frequency Response Characteristics : The upper curve is the free field characteristic for the microphone with protection grid.
The lower curve is the pressure response recorded by electrostatic actuator.
Sensitivity : The stated sensitivity is the open-circuit sensitivity. When used with a typical preamplifier the sensitivity will be 0.2
dB lower.
Polarization Voltage : 200 V
Traceability : The calibration is traceable through 822/278767-10.
Notes :
Calibration results relate only to the items calibrated.
This certificate may not be reproduced, except in full, without written permission.
This calibration is performed in compliance with ISO 9001, ISO 17025 and ANSI Z540.
Measurement uncertainty at 95% confidence level: 0.30 dB.
Calibrated per procedure PRD-P204.
User Note : As Found / As Left: In Tolerance.
Calibration Date:
Due Date:
Operator :
6-Apr-2012
13:45:00
Temperature:
Humidity:
Ambient Pressure:
Ed Devlin
76 (24)
27
1000.9
°F (°C)
%
mbar
Approval:
Reference Equipment Used:
Manuf.
Model
Serial
GRAS
40AG
77606
Cal. Date
9/14/2011
Due Date
9/14/2012
CALIBRATION CERT 2649.01
Page 3 of 4
• Sophisticated system verification procedures built-in
• Pass/fail classification of the Microphone Under Test is
available by use of frequency dependent limit lines
• Automatic test parameter setup for PCB Piezotronics,
Larson Davis, G.R.A.S. and most Brüel & Kjær
microphones
• Prints customizable ISO compliant calibration
certificates
"Simplifying with Smart Sensing Solutions"
+1 513-351-9919
info@modalshop.com
MODEL 9350C
The Acoustic Calibration Workstation Model 9350C has been carefully designed with the aim of providing consistent
and reliable calibrations and conformance tests with the highest possible accuracy. System verification procedures
function to assure a stable, consistent operating environment and reduce systematic and random errors to a minimum.
With easy, user-friendly operation and proven stepped sine excitation method, the 9350C provides fast, consistent,
reliable calibrations and excels in efficient, high-volume transducer calibrations, just like the manufacturers do it. The
system also allows for easy integration of user-defined logos for customized calibration certificates.
SYSTEM USES
Microphone types calibrated
Microphone calibration
Microphone calibration with preamplifier
Source calibration
Preamplifier types calibrated
Preamplifier conformance check
GENERAL
Calibration method
Frequency range
Measurement uncertainty
(at microphone reference frequency)
System accuracy (actuator response)
Correction curves - supplied
Correction curves - other
Calibration data management
Automatic pass/fail classification
REFERENCE MICROPHONE
Type
Sensitivity
Frequency range
Dynamic range
Polarization voltage
SOUND SOURCE
Sound pressure level
Frequency
Distortion
ENVIRONMENTAL
System warm-up time
ELECTRICAL
Main voltage supply
⁄8 in, 1⁄4 in, 1⁄2 in and 1in externally polarized (120 V and 200 V) and prepolarized condenser microphones
Open-circuit sensitivity, pressure response, 0° incidence free-field response,
and random incidence response
Closed-circuit sensitivity, pressure response, 0° incidence free-field response,
and random incidence response
Output sound pressure level, frequency and distortion
1
⁄4 in and 1⁄2 in traditional (28 V and 120 V) and ICP
Frequency response and gain
1
Single level/single frequency insert voltage technique and electrostatic
actuator response (Frequency Response)
20 Hz to Upper Limiting frequency of Microphone under Test
+/- 0.3 dB
0.5 dB
PCB Piezotronics, Larson Davis, G.R.A.S. and Brüel & Kjær microphones
Manual data entry capable into text file
Yes
Yes
⁄2 in Precision Condenser
12.5 mV/Pa
3.15 - 20,000 Hz
19 - 162 dB (re. 2 x 10-5 Pa)
200 Volts
1
114 dB (re. 2 x 10-5 Pa)
250 Hz
<2%
30 minutes
115 V - optional 220 V
The Modal Shop, Inc. 3149 E Kemper Road, Cincinnati, OH 45241 USA
Toll free 8 0 0 - 8 6 0 - 4 8 6 7 / Phone 5 1 3 - 3 5 1 - 9 9 1 9 / Fax 5 1 3 - 4 5 8 - 2 1 7 2
E-mail i n f o @ m o d a l s h o p . c o m
Website w w w. m o d a l s h o p . c o m
DS-0007 rev D A4
© 2015 PCB Group, Inc. In the interest of constant product improvement, specifications are subject to change without notice.
PCB and ICP are registered trademarks of PCB Group, Inc.
Printed in U.S.A.