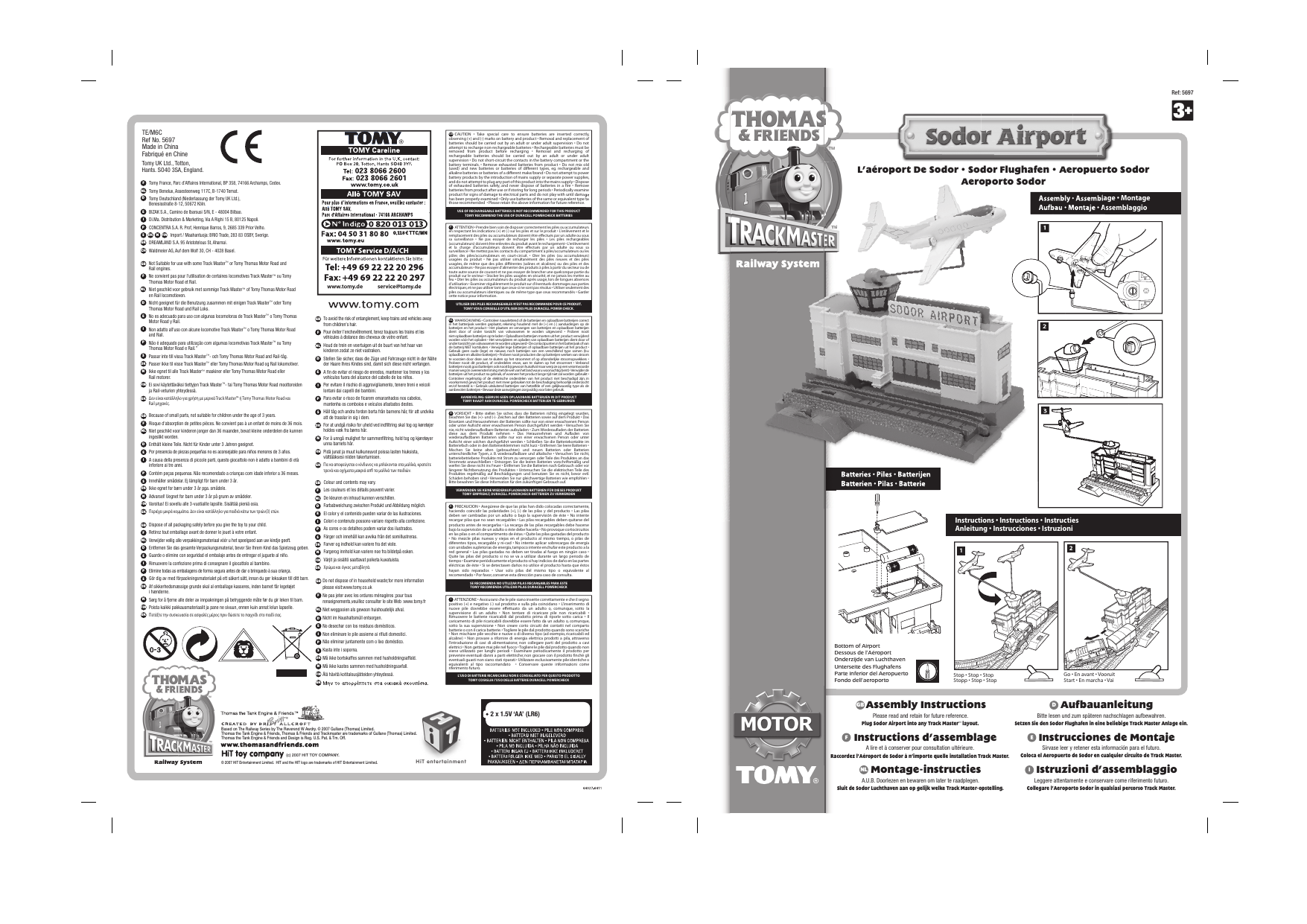 Ref: 5697
3
TE/M6C
Ref No. 5697
Made in China
Fabriqué en Chine
CAUTION • Take special care to ensure batteries are inserted correctly,
observing (+) and (-) marks on battery and product • Removal and replacement of
batteries should be carried out by an adult or under adult supervision • Do not
attempt to recharge non-rechargeable batteries • Rechargeable batteries must be
removed from product before recharging • Removal and recharging of
rechargeable batteries should be carried out by an adult or under adult
supervision • Do not short-circuit the contacts in the battery compartment or the
battery terminals. • Remove exhausted batteries from product • Do not mix old
(used) and new batteries or batteries of different types, eg. rechargeable and
alkaline batteries or batteries of a different make/brand • Do not attempt to power
battery products by the introduction of mains supply or separate power supplies,
and do not attempt to plug any part of this product into the mains supply • Dispose
of exhausted batteries safely, and never dispose of batteries in a fire • Remove
batteries from product after use or if storing for long periods • Periodically examine
product for signs of damage to electrical parts and do not play with until damage
has been properly examined • Only use batteries of the same or equivalent type to
those recommended • Please retain the above information for future reference.
GB
Tomy UK Ltd., Totton,
Hants. SO40 3SA, England.
F
NL
D
E
I
P
S
GR
CH
GB
F
NL
D
E
I
P
S
DK
N
FIN
GK
GB
F
NL
D
E
I
P
S
DK
N
FIN
GK
GB
F
NL
D
E
I
P
S
DK
N
FIN
GK
Tomy France, Parc d'Affaires International, BP 358, 74166 Archamps, Cedex.
Tomy Benelux, Assesteenweg 117C, B-1740 Ternat.
Tomy Deutschland (Niederlassung der Tomy UK Ltd.),
Benesisstraße 8-12, 50672 Köln.
BIZAK S.A., Camino de Ibarsusi S/N, E - 48004 Bilbao.
Di.Ma. Distribution & Marketing, Via A Righi 15 B, 80125 Napoli.
CONCENTRA S.A. R. Prof, Henrique Barros, 9, 2685 339 Prior Velho.
DK N FIN Import / Maahantuoja: BRIO Trade, 283 83 OSBY, Sverige.
DREAMLAND S.A. 95 Aristotelous St, Aharnai.
Waldmeier AG, Auf dem Wolf 30, CH - 4028 Basel.
L'aéroport De Sodor • Sodor Flughafen • Aeropuerto Sodor
Aeroporto Sodor
Assembly • Assemblage • Montage
Aufbau • Montaje • Assemblaggio
USE OF RECHARGEABLE BATTERIES IS NOT RECOMMENDED FOR THIS PRODUCT
TOMY RECOMMEND THE USE OF DURACELL POWERCHECK BATTERIES
Not Suitable for use with some Track Master™ or Tomy Thomas Motor Road and
Rail engines.
Ne convient pas pour l'utilisation de certaines locomotives Track Master™ ou Tomy
Thomas Motor Road et Rail.
Niet geschikt voor gebruik met sommige Track Master™ of Tomy Thomas Motor Road
en Rail locomotieven.
Nicht geeignet für die Benutzung zusammen mit einigen Track Master™ oder Tomy
Thomas Motor Road und Rail Loks.
No es adecuado para uso con algunas locomotoras de Track Master™ o Tomy Thomas
Motor Road y Rail.
Non adatto all'uso con alcune locomotive Track Master™ o Tomy Thomas Motor Road
and Rail.
Não é adequado para utilização com algumas locomotivas Track Master™ ou Tomy
Thomas Motor Road e Rail."
Passar inte till vissa Track Master™- och Tomy Thomas Motor Road and Rail-tåg.
Passer ikke til visse Track Master™ eller Tomy Thomas Motor Road og Rail lokomotiver.
Ikke egnet til alle Track Master™ maskiner eller Tomy Thomas Motor Road eller
Rail motorer.
Ei sovi käytettäväksi tiettyjen Track Master™- tai Tomy Thomas Motor Road moottoreiden
ja Rail-veturien yhteydessä.
Δεν είναι κατάλληλο για χρήση με μερικά Track Master™ ή Tomy Thomas Motor Road και
Rail μηχανές.
Because of small parts, not suitable for children under the age of 3 years.
Risque d'absorption de petites pièces. Ne convient pas à un enfant de moins de 36 mois.
Niet geschikt voor kinderen jonger dan 36 maanden, bevat kleine onderdelen die kunnen
ingeslikt worden.
Enthält kleine Teile. Nicht für Kinder unter 3 Jahren geeignet.
Por presencia de piezas pequeñas no es aconsejable para niños menores de 3 años.
A causa della presenza di piccole parti, questo giocattolo non è adatto a bambini di età
inferiore ai tre anni.
Contém peças pequenas. Não recomendado a crianças com idade inferior a 36 meses.
Innehåller smådelar. Ej lämpligt för barn under 3 år.
Ikke egnet for børn under 3 år pga. smådele.
Advarsel! Uegnet for barn under 3 år på grunn av smådeler.
Varoitus! Ei sovellu alle 3-vuotiaille lapsille. Sisältää pieniä osia.
Περιέχει μικρά κομμάτια. Δεν είναι κατάλληλο για παιδιά κάτω των τριών(3) ετών.
Dispose of all packaging safely before you give the toy to your child.
Retirez tout emballage avant de donner le jouet à votre enfant.
Verwijder veilig alle verpakkingsmateriaal vóór u het speelgoed aan uw kindje geeft.
Entfernen Sie das gesamte Verpackungsmaterial, bevor Sie Ihrem Kind das Spielzeug geben.
Guarde o elimine con seguridad el embalaje antes de entregar el juguete al niño.
Rimuovere la confezione prima di consegnare il giocattolo al bambino.
Elimine todas as embalagens de forma segura antes de dar o brinquedo à sua criança.
Gör dig av med förpackningsmaterialet på ett säkert sätt, innan du ger leksaken till ditt barn.
Af sikkerhedsmæssige grunde skal al emballage kasseres, inden barnet får legetøjet
i hænderne.
Sørg for å fjerne alle deler av innpakningen på betryggende måte før du gir leken til barn.
Poista kaikki pakkausmateriaalit ja pane ne sivuun, ennen kuin annat lelun lapselle.
Πετάξτε την συσκευασία σε ασφαλές μέρος πριν δώσετε το παιχνίδι στο παιδί σας.
F ATTENTION • Prendre bien soin de disposer correctement les piles ou accumulateurs
en respectant les indications (+) et (-) sur les piles et sur le produit • L'enlèvement et le
remplacement des piles ou accumulateurs doivent être effectués par un adulte ou sous
sa surveillance • Ne pas essayer de recharger les piles • Les piles rechargeables
(accumulateurs) doivent être enlevées du produit avant le rechargement • L'enlèvement
et la charge d'accumulateurs doivent être effectués par un adulte ou sous sa
surveillance • Ne mettez pas les contacts du compartiment à piles/accumulateurs ou les
pôles des piles/accumulateurs en court-circuit. • Oter les piles (ou accumulateurs)
usagées du produit • Ne pas utiliser simultanément des piles neuves et des piles
usagées, de même que des piles différentes (salines et alcalines) ou des piles et des
accumulateurs • Ne pas essayer d'alimenter des produits à piles à partir du secteur ou de
toute autre source de courant et ne pas essayer de brancher une quelconque partie du
produit sur le secteur • Stocker les piles usagées en sécurité, et ne jamais les mettre au
feu • Oter les piles ou accumulateurs du produit après usage, lors de longues absences
d'utilisation • Examiner régulièrement le produit sur d'éventuels dommages aux parties
électriques, et ne pas utiliser tant que ceux-ci ne sont pas résolus • Utiliser seulement des
piles ou accumulateurs identiques ou de même type que ceux recommandés • Garder
cette notice pour information.
Railway System
UTILISER DES PILES RECHARGEABLES N'EST PAS RECOMMANDE POUR CE PRODUIT.
TOMY VOUS CONSEILLE D'UTILISER DES PILES DURACELL POWER CHECK.
GB
F
NL
D
E
I
P
S
DK
N
FIN
GK
GB
F
NL
D
E
I
P
S
DK
N
FIN
GK
To avoid the risk of entanglement, keep trains and vehicles away
from children's hair.
Pour éviter l'enchevêtrement, tenez toujours les trains et les
véhicules à distance des cheveux de votre enfant.
Houd de trein en voertuigen uit de buurt van het haar van
kinderen zodat ze niet vastraken.
Stellen Sie sicher, dass die Züge und Fahrzeuge nicht in der Nähe
der Haare Ihres Kindes sind, damit sich diese nicht verfangen.
A fin de evitar el riesgo de enredos, mantener los trenes y los
vehículos fuera del alcance del cabello de los niños.
Per evitare il rischio di aggrovigliamento, tenere treni e veicoli
lontani dai capelli dei bambini.
Para evitar o risco de ficarem emaranhados nos cabelos,
mantenha os comboios e veículos afastados destes.
Håll tåg och andra fordon borta från barnens hår, för att undvika
att de trasslar in sig i dem.
For at undgå risiko for uheld ved indfiltring skal tog og køretøjer
holdes væk fra børns hår.
For å unngå mulighet for sammenfiltring, hold tog og kjøretøyer
unna barnets hår.
Pidä junat ja muut kulkuneuvot poissa lasten hiuksista,
välttääksesi niiden takertumisen.
Πα vα απoφεύγεται o κίνδuvoς vα μπλέκovται oτα μαλλιά, κρατείτε
τρεvά και oχήματα μακριά απfi τα μαλλιά τωv παιδιώv.
Colour and contents may vary.
Les couleurs et les détails peuvent varier.
De kleuren en inhoud kunnen verschillen.
Farbabweichung zwischen Produkt und Abbildung möglich.
El color y el contenido pueden variar de las ilustraciones.
Colori e contenuto possono variare rispetto alla confezione.
As cores e os detalhes podem variar dos ilustrados.
Färger och innehåll kan avvika från det somillustreras.
Farver og indhold kan variere fra det viste.
Fargerog innhold kan variere noe fra bildetpå esken.
Värjit ja sisältö saattavat poiketa kuvatuista.
Xρώμα και όγκος μεταβλητά.
GB
Do not dispose of in household waste;for more information
please visit:www.tomy.co.uk
F
Ne pas jeter avec les ordures ménagères ;pour tous
renseignements,veuillez consulter le site Web :www.tomy.fr
NL
Niet weggooien als gewoon huishoudelijk afval.
D
Nicht im Haushaltsmüll entsorgen.
E
No desechar con los residuos domésticos.
I
Non eliminare le pile assieme ai rifiuti domestici.
P
Não eliminar juntamente com o lixo doméstico.
S
Kasta inte i soporna.
DK
Må ikke bortskaffes sammen med husholdningsaffald.
N
Må ikke kastes sammen med husholdningsavfall.
FIN
Älä hävitä kotitalousjätteiden yhteydessä.
GK
NL WAARSCHUWING • Controleer nauwlettend of de batterijen en oplaadbare batterijen correct
in het batterijvak werden geplaatst, rekening houdend met de [+] en [-] aanduidingen op de
batterijen en het product • Het plaatsen en vervangen van batterijen en oplaadbare batterijen
dient door of onder toezicht van volwassenen te worden uitgevoerd • Probeer nooit
niet-oplaadbare batterijen op te laden • Oplaadbare batterijen moeten uit het product verwijderd
worden vóór het opladen • Het verwijderen en opladen van oplaadbare batterijen dient door of
onder toezicht van volwassenen te worden uitgevoerd • De contactpunten in het batterijvak of van
de batterij NIET kortsluiten. • Verwijder lege batterijen of oplaadbare batterijen uit het product •
Gebruik geen oude (lege) en nieuwe, noch batterijen van een verschillend type samen (b.v.
oplaadbare en alkaline batterijen) • Probeer nooit producten die op batterijen werken van stroom
te voorzien door deze aan te sluiten op het stroomnet of op afzonderlijke stroomopwekkers •
Probeer nooit dit product, of onderdelen ervan, aan te sluiten op het stroomnet • Verbrand
batterijen nooit; gooi batterijen ook nooit bij gewoon huisafval maar werp ze op een verantwoorde
manier weg (in overeenstemming met de wet van het land waar u woonachtig bent) • Verwijder de
batterijen uit het product na gebruik, of wanneer het product lange tijd niet zal worden gebruikt •
Controleer regelmatig of de elektrische onderdelen van het product niet beschadigd zijn; in
voorkomend geval, het product niet meer gebruiken tot de beschadiging behoorlijk onderzocht
en/of hersteld is • Gebruik uitsluitend batterijen van hetzelfde of een gelijkwaardig type als de
aanbevolen batterijen • Bewaar deze aanwijzingen zorgvuldig voor later gebruik.
AANBEVELING: GEBRUIK GEEN OPLAADBARE BATTERIJEN IN DIT PRODUCT
TOMY RAADT AAN DURACELL POWERCHECK BATTERIJEN TE GEBRUIKEN
D VORSICHT • Bitte stellen Sie sicher, dass die Batterien richtig eingelegt wurden,
beachten Sie das (+)- und (-)- Zeichen auf den Batterien sowie auf dem Produkt • Das
Einsetzen und Herausnehmen der Batterien sollte nur von einer erwachsenen Person
oder unter Aufsicht einer erwachsenen Person durchgeführt werden • Versuchen Sie
nie, nicht wiederaufladbare Batterien aufzuladen • Zum Wiederaufladen der Batterien
diese aus dem Produkt nehmen • Das Herausnehmen und Aufladen von
wiederaufladbaren Batterien sollte nur von einer erwachsenen Person oder unter
Aufsicht einer solchen durchgeführt werden • Schließen Sie die Batteriekontakte im
Batteriefach oder in den Batterienklemmen nicht kurz • Entfernen Sie leere Batterien •
Mischen Sie keine alten (gebrauchten) und neuen Batterien oder Batterien
unterschiedlicher Typen, z. B. wiederaufladbare und alkalische • Versuchen Sie nicht,
batteriebetriebene Produkte mit Strom zu versorgen oder Teile des Produktes an das
Stromnetz anzuschließen • Entsorgen Sie die leeren Batterien vorschriftsmäßig und
werfen Sie diese nicht ins Feuer • Entfernen Sie die Batterien nach Gebrauch oder vor
längerer Nichtbenutzung des Produktes • Untersuchen Sie die elektrischen Teile des
Produktes regelmäßig auf Beschädigungen und benutzen Sie es nicht, bevor evtl.
Schäden behoben sind • Verwenden Sie nur gleichwertige Batterien wie empfohlen •
Bitte bewahren Sie diese Information für den zukünftigen Gebrauch auf.
Batteries • Piles • Batterijen
Batterien • Pilas • Batterie
VERWENDEN SIE KEINE WIEDERAUFLADBAREN BATTERIEN FÜR DIESES PRODUKT
TOMY EMPFIEHLT, DURACELL POWERCHECK-BATTERIEN ZU VERWENDEN
E PRECAUCION • Asegúrese de que las pilas han dido colocadas correctamente,
haciendo coincidir las polaridades (+), (-) de las pilas y del producto • Las pilas
deben ser cambiadas por un adulto o bajo la supervisión de éste • No intente
recargar pilas que no sean recargables • Las pilas recargables deben quitarse del
producto antes de recargarlas • La recarga de las pilas recargables debe hacerse
bajo la supervisión de un adulto o éste debe hacerla • No provoque cortocircuitos
en las pilas o en el compartimento de éstas. • Quite las pilas gastadas del producto
• No mezcle pilas nuevas y viejas en el producto al mismo tiempo, o pilas de
diferentes tipos, recargable y ni-cad • No intente aplicar sobrecargas de energía
con unidades supletorias de energía, tampoco intente enchufar este producto a la
red general • Las pilas gastadas no deben ser tiradas al fuego en ningún caso •
Quite las pilas del producto si no se va a utilizar durante un largo periodo de
tiempo • Examine periódicamente el producto si hay indicios de daño en las partes
eléctricas de éste • Si se detectasen daños no utilice el producto hasta que éstos
hayan sido reparados • Usar solo pilas del mismo tipo o equivalente al
recomendado • Por favor, conserve esta dirección para caso de consulta.
Instructions • Instructions • Instructies
Anleitung • Instrucciones • Istruzioni
SE RECOMIENDA NO UTILIZAR PILAS RECARGABLES PARA ESTE
TOMY RECOMIENDA UTILIZAR PILAS DURACELL POWERCHECK
I ATTENZIONE • Assicurarsi che le pile siano inserite correttamente e che il segno
positivo (+) e negativo (-) sul prodotto e sulla pila coincidano • L'inserimento di
nuove pile dovrebbe essere effettuato da un adulto o, comunque, sotto la
supervisione di un adulto • Non tentare di ricaricare pile non ricaricabili •
Rimuovere le batterie ricaricabili dal prodotto prima di riporle sotto carica • Il
caricamento di pile ricaricabili dovrebbe essere fatto da un adulto o, comunque,
sotto la sua supervisione • Non creare corto circuiti dei contatti nel comparto
batterie o con il carica batterie. • Togliere le pile dal prodotto quando sono scariche
• Non mischiare pile vecchie e nuove o di diverso tipo (ad esempio, ricaricabili ed
alcaline) • Non provare a rifornire di energia elettrica prodotti a pila, attraverso
l'introduzione di cavi di alimentazione; non collegare parti del prodotto a cavi
elettrici • Non gettare mai pile nel fuoco • Togliere le pile dal prodotto quando non
viene utilizzato per lunghi periodi • Esaminare periodicamente il prodotto per
prevenire eventuali danni a parti elettriche; non giocare con il prodotto finchè gli
eventuali guasti non siano stati riparati • Utilizzare esclusivamente pile identiche o
equivalenti al tipo raccomandato • Conservare queste informazioni come
riferimento futuro.
L'USO DI BATTERIE RICARICABILI NON E CONSIGLIATO PER QUESTO PRODOTTO
TOMY COSIGLIA I'USO DELLE BATTERIE DURACELL POWERCHECK
Bottom of Airport
Dessous de l'Aéroport
Onderzijde van Luchthaven
Unterseite des Flughafens
Parte inferior del Aeropuerto
Fondo dell'aeroporto
GB
(c) 2007 HIT TOY COMPANY.
Railway System
F
Go • En avant • Vooruit
Start • En marcha • Vai
Stop • Stop • Stop
Stopp • Stop • Stop
Assembly Instructions
2 x 1.5V 'AA' (LR6)
Based on The Railway Series by The Reverend W Awdry. © 2007 Gullane (Thomas) Limited.
Thomas the Tank Engine & Friends, Thomas & Friends and Trackmaster are trademarks of Gullane (Thomas) Limited.
Thomas the Tank Engine & Friends and Design is Reg. U.S. Pat. & Tm. Off.
2
1
D
Aufbauanleitung
Please read and retain for future reference.
Bitte lesen und zum späteren nachschlagen aufbewahren.
Plug Sodor Airport into any Track Master™ layout.
Setzen Sie den Sodor Flughafen in eine beliebige Track Master Anlage ein.
Instructions d'assemblage
E
Instrucciones de Montaje
A lire et à conserver pour consultation ultérieure.
Sírvase leer y retener esta información para el futuro.
Raccordez l'Aéroport de Sodor à n'importe quelle installation Track Master.
Coloca el Aeropuerto de Sodor en cualquier circuito de Track Master.
© 2007 HIT Entertainment Limited. HIT and the HIT logo are trademarks of HIT Entertainment Limited.
NL
Montage-instructies
I
Istruzioni d'assemblaggio
A.U.B. Doorlezen en bewaren om later te raadplegen.
Leggere attentamente e conservare come riferimento futuro.
Sluit de Sodor Luchthaven aan op gelijk welke Track Master-opstelling.
Collegare l'Aeroporto Sodor in qualsiasi percorso Track Master.