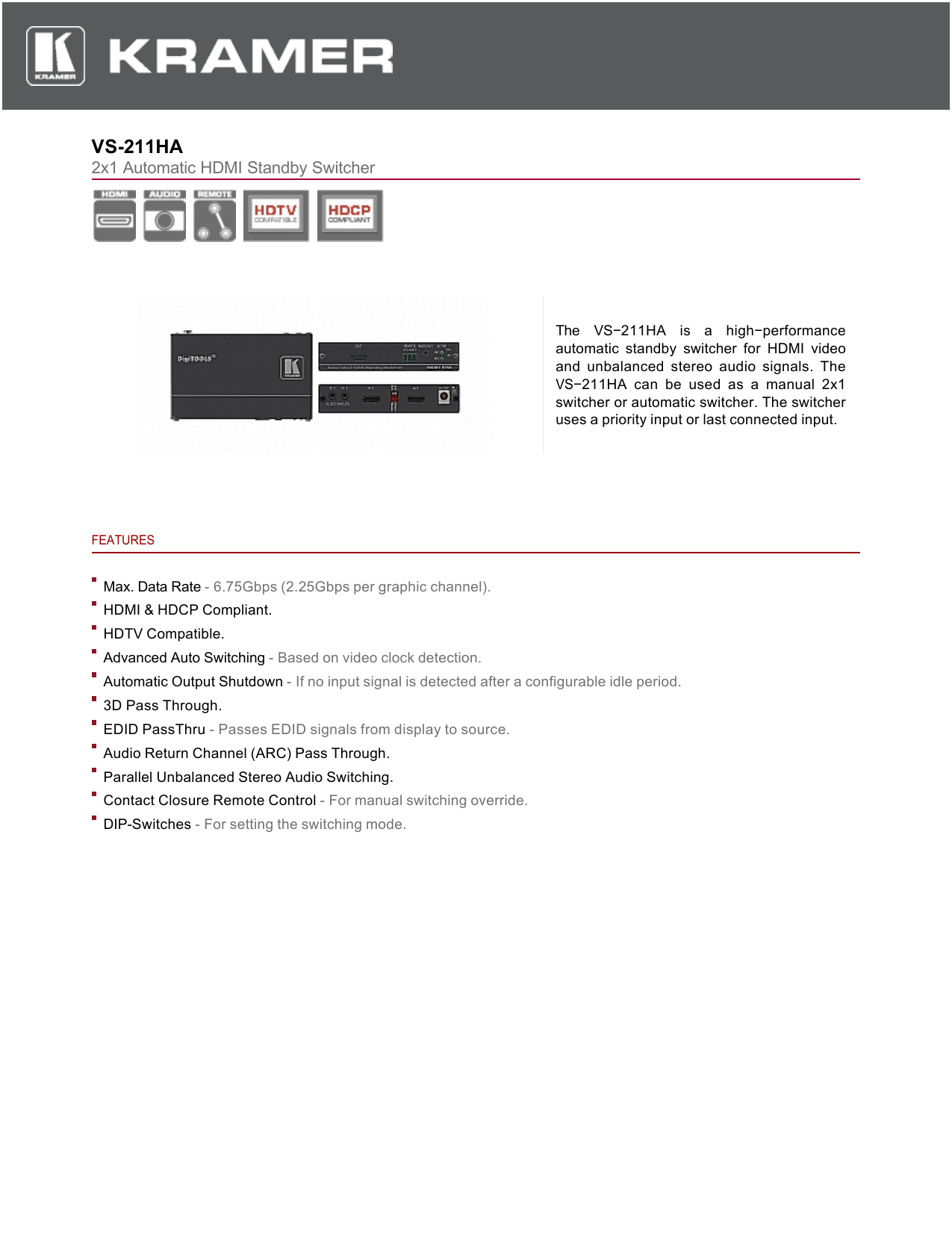 VS-211HA
2x1 Automatic HDMI Standby Switcher
The VS−211HA is a high−performance
automatic standby switcher for HDMI video
and unbalanced stereo audio signals. The
VS−211HA can be used as a manual 2x1
switcher or automatic switcher. The switcher
uses a priority input or last connected input.
FEATURES
Max. Data Rate - 6.75Gbps (2.25Gbps per graphic channel).
HDMI & HDCP Compliant.
HDTV Compatible.
Advanced Auto Switching - Based on video clock detection.
Automatic Output Shutdown - If no input signal is detected after a configurable idle period.
3D Pass Through.
EDID PassThru - Passes EDID signals from display to source.
Audio Return Channel (ARC) Pass Through.
Parallel Unbalanced Stereo Audio Switching.
Contact Closure Remote Control - For manual switching override.
DIP-Switches - For setting the switching mode.
VS-211HA
TECHNICAL SPECIFICATIONS
INPUTS:
OUTPUTS:
MAX. DATA RATE:
COMPLIANCE WITH HDMI STANDARD:
CONTROLS:
INDICATORS:
POWER CONSUMPTION:
OPERATING TEMPERATURE:
STORAGE TEMPERATURE:
HUMIDITY:
INCLUDED ACCESSORIES:
OPTIONS:
PRODUCT DIMENSIONS:
PRODUCT WEIGHT:
SHIPPING DIMENSIONS:
SHIPPING WEIGHT:
2 HDMI connectors, 2 unbalanced stereo audio on 3.5mm mini jacks.
1 HDMI connector, 1 unbalanced stereo audio on a 3.5mm mini jack.
6.75Gbps (2.25Gbps per graphic channel).
Supports HDMI and HDCP.
Contact closure on a 3−pin terminal block, 2 priority DIP−switches.
ON and active input LEDs.
5V DC, 120mA (without load), 350mA (fully loaded).
0° to +40°C (32° to 104°F).
−40° to +70°C (−40° to 158°F).
10% to 90%, RHL non−condensing.
Power supply.
RK−3T 19" rack adapter.
12.00cm x 7.15cm x 2.44cm (4.72" x 2.81" x 0.96" ) W, D, H
0.2kg (0.4lbs) approx.
15.70cm x 12.00cm x 8.70cm (6.18" x 4.72" x 3.43" ) W, D, H
0.6kg (1.3lbs) approx.

* Your assessment is very important for improving the work of artificial intelligence, which forms the content of this project