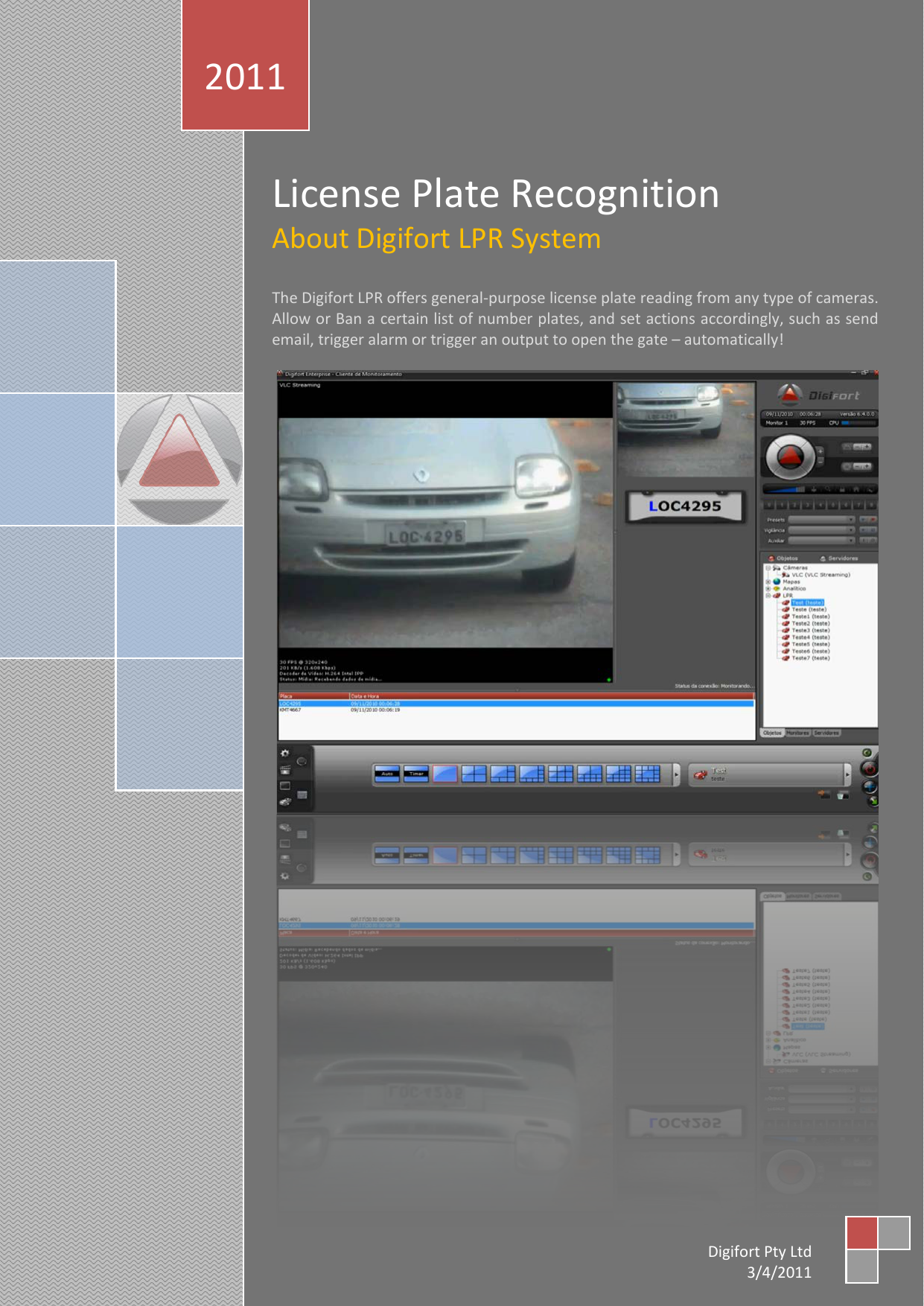 2011
License Plate Recognition
About Digifort LPR System
The Digifort LPR offers general-purpose license plate reading from any type of cameras.
Allow or Ban a certain list of number plates, and set actions accordingly, such as send
email, trigger alarm or trigger an output to open the gate – automatically!
Digifort Pty Ltd
3/4/2011
About Digifort LPR Recognition Engine
The Digifort License Plate Recognition Engine possesses all the features a high quality license plate
recognition system that is fast, highly accurate, fail safe, stable, and intelligent.
Meanwhile it provides the highest technological performance amongst today's license plate
readers, Digifort LPR offers great flexibility for integrators of car plate recognition systems: it can
be integrated into practically any system which needs automatic vehicle recognition.
Features of Digifort LPR
The Digifort LPR offers general-purpose license plate reading from digital pictures of any type of
cameras. Whether it is a megapixel-size, 12bits/pixel high dynamic range, high resolution digital
image or a 320x240 size colour CCTV video picture provided as input, Digifort LPR provides balanced
reading of car plates.
The automatic number plate recognition engine is powered by CARMEN® with over 98.5%
recognition rate (correct reading/total number of input) working 24h/day, 7days/week. CARMEN® is
a proven product - and a living automatic vehicle recognition technology
Technical Specifications of Digifort LPR Engine
Supported Operating Systems
Windows Family
(XP, Vista, 7, Server 2003/2008) 32/64Bit
Type of Plates
Recognition is country and font independent.
Any Latin, Arabic, Chinese, Korean and Cyrillic characters can be recognized.
Trigger
Trigger is not necessary but recommended when recognizing from live video
and more than 2 LPR cameras using single CPU core license.
Motion Detection as trigger for 2 LPR Cameras maximum per CPU core license.
Sample Processing Time
Standard engine: 50ms @ CPU 2GHz
B&W images, 768x288 pixels (PAL/2)
Processing Time Dependence
Image quality (complexity, noise level etc.)
Image size
Processing power (CPU speed)
Parameter settings
Output
Plate number in ASCII/UNICODE
Confidence levels for each tips
Single Plate detection per image
System Requirements
Intel Core2 Duo 1.8GHz or higher CPU (1024MB RAM)
Digifort LPR can provide and/or improve:
Automatic highway toll collection systems
Traffic Analytics during peak periods
Automatic access control point management
Automation of weigh-in-motion systems
Enhanced vehicle theft prevention
Effective law enforcement
Border control systems
Building a database of traffic movement
Bus lane or red light enforcement
Automation of airport and harbour logistics
Security monitoring of roads, checkpoints, etc.
Prevention of drive-off's at gas stations, drive-in
restaurants, etc.
Although they are many LPR cameras available, here are some that are highly recommended by
Digifort.
Brand:
Model:
ARH
FXCAM IBW 2000
CCD 1/3"
Infra-Red
IP66 Rated
Analogue Camera
Brand:
Model:
Messoa
SCR510
Sony CCD ½"
Infra-Red
IP66-IP67 Rated
Analogue Camera
Brand:
Model:
DemoCSI
TAG-1
Sony CCD 1/3"
Infra-Red
IP66 Rated
Analogue Camera
Taiwan LPR Test
Security image print
Image details
License plate
605CLQ
Camera Name
01
Date and Time of the Image
Tuesday, 8 March 2011 15:45:04
Operator Name
Dario
Date and Time of the Print
Tuesday, 8 March 2011 15:57:03
Operator Notes
Test Printing From Digifort
<any notes here>
C opyright (c) 2002 - 2010 Digifort - IP Surveillance System
Select Single/Multiple LPR Camera Objects
Print Reports from AND/OR Queries
Save to PDF
Export to CSV (comma-separated values)
Save to PDF
Jump to Playback/Recording
Advanced AND/OR Queries
Scroll through queried results with Snapshot
Preview
Trigger Event(s) on detected number plate
Ability to Link to 3rd party system via HTTP
API
As each number plate is detected, characters are assessed for an accuracy/confidence level rating.
These rating are represented as colour characters on the virtual number plate in the main GUI.
Accuracy, or Confidence level, is how certain the LPR engine is that the detected character is the
actual character on the image.
BLACK
Over 90% Accuracy
BLUE from 70% to under 90% Accuracy
RED
under 70% Accuracy
You can define a detection area (if using motion detection as trigger).
This also allows configurations of a single camera for multiple lanes of traffic for LPR detection, or
simply, narrowing down the detection area.
OSD Timestamp is ignored.
LPR Control List is a group
of number plates to which
an action or multiple
actions can be applied.
When these number plates
are detected, actions are
automatically executed by
Digifort.
Note: Digifort LPR server, can run on a separate server, or on the same server as Digifort recording
server. Primary factor that influences this is the number of LPR cameras that you wish to
process.
??
Getting the
the best
best images
images for
for LPR
LPR
Getting
What isis required?
required?
What
-
Toget
getthe
themost
mostaccurate
accurateresults
resultsfrom
froman
anLPR
LPRsystem,
system,the
thecaptured
capturedimages/video
images/videoare
arethe
the
To
mostimportant
importantfactor.
factor.
most
Therequirements
requirementsare;
are;
The
LPRCamera
Camera
1.4. LPR
Cameras
specifically designed
designed with
with high
high shutter
shutter speeds
speeds to
to capture
capture fast
fast moving
moving
Cameras specifically
objects without
without image
image blurring.
blurring. Most
Most megapixels
megapixels cameras
cameras will
will blur
blur on
on fast
fast
objects
movements
so
you
may
consider
slowing
or
stopping
the
vehicles
if
not
using
an
movements so you may consider slowing or stopping the vehicles if not using an
LPRcamera.
camera.
LPR
MinimumResolution
Resolution320x240
320x240@
@3FPS
3FPS
2.5. Minimum
Character size
size on
on number
number plate
plate must
must be
be minimum
minimum 16
16 pixels
pixels high.
high. Resolution
Resolution isis
Character
not important
important as
as long
long as
as the
the captured
captured image
image has
has good
good spatial
spatial resolution,
resolution,
not
sharpness,
contrast,
lighting
conditions
and
angle
of
view.
sharpness, contrast, lighting conditions and angle of view.
CameraAngle
AngleView
View
3.6. Camera
Camera
needs
to see
see the
the entire
entire vehicle
vehicle and
and the
the number
number plates
plates so
so aa person
person
Camera needs to
watchingthe
thevideo
videocan
canread
readthe
thenumber
numberplates
plateswith
withtheir
theirown
owneyes.
eyes.IfIfaaperson
person
watching
canmake
makeout
outthe
thenumber
numberplates
plateswith
withease,
ease,then
thenthe
theDigifort
DigifortLPR
LPRengine
enginewill
willalso
also
can
work
well.
work well.
Examples;
Examples;
-Characterstoo
toosmall
small(less
(lessthan
than16
16pixels
pixelshigh)
high)
-Characters
-LowSpatial
SpatialResolution
Resolution
-Low
-Image too blurry
-Image too blurry
-Low Contrast / too Dark
-Low Contrast / too Dark
-Overexposure / too Bright
-Overexposure / too Bright
-Bad lighting conditions
-Distorted
Image
-Bad
lighting
conditions
-Interlacing
-Distorted Image
-Good Spatial Resolution
-Good Sharpness
-Interlacing
-High Contrast
-Good Lighting Conditions
-Good
Resolution
-GoodSpatial
Position
and Angle of View
-Good Sharpness
-High Contrast
-Good Lighting Conditions
-Good Position and Angle of View
Good Position/Angle
Clear Image
Good Contrast
Good Size of Numbers
?
How LICENSING works?
What is required?
To enable Digifort IP Surveillance for LPR detection, 2 licenses are required;
1. Separate Server (Recommended)
A separate server is recommended for LPR detection, although not always
necessary – depends on number of LPR cameras and configurations.
2. Digifort LPR Base License
Digifort requires a license that will allow a LPR license dongle to be inserted &
detected. Without the LPR BASE license, you will not be able to use Carmen or
Kapta dongles on the system. Contact sales@digifort.com for more information.
3. Carmen FreeFlow License (Dongle) OR Kapta Dongle
Carmen or Kapta dongles can be purchased directly from the manufacturer or
through Digifort.
Kapta
is for South America only, and is looking for a particular format
of the number plates. 3 Letters, 4 Numbers (EG: XXX-1234)
Carmen
can be used worldwide and is country and font independent.
(recommended)
NOTE: Carmen and Kapta both use hardware protection; therefore they do not
offer any DEMO options. A license/dongle needs to be purchased for demo
purposes and the price can be negotiated with the manufacturer.
DISCLAIMER
© 2010-2011 DigiFort Pty Ltd. All rights reserved.
By providing this document, DigiFort Pty Ltd is not making any representations
regarding the correctness or completeness of its contents and reserves the
right to alter this document at any time without notice.