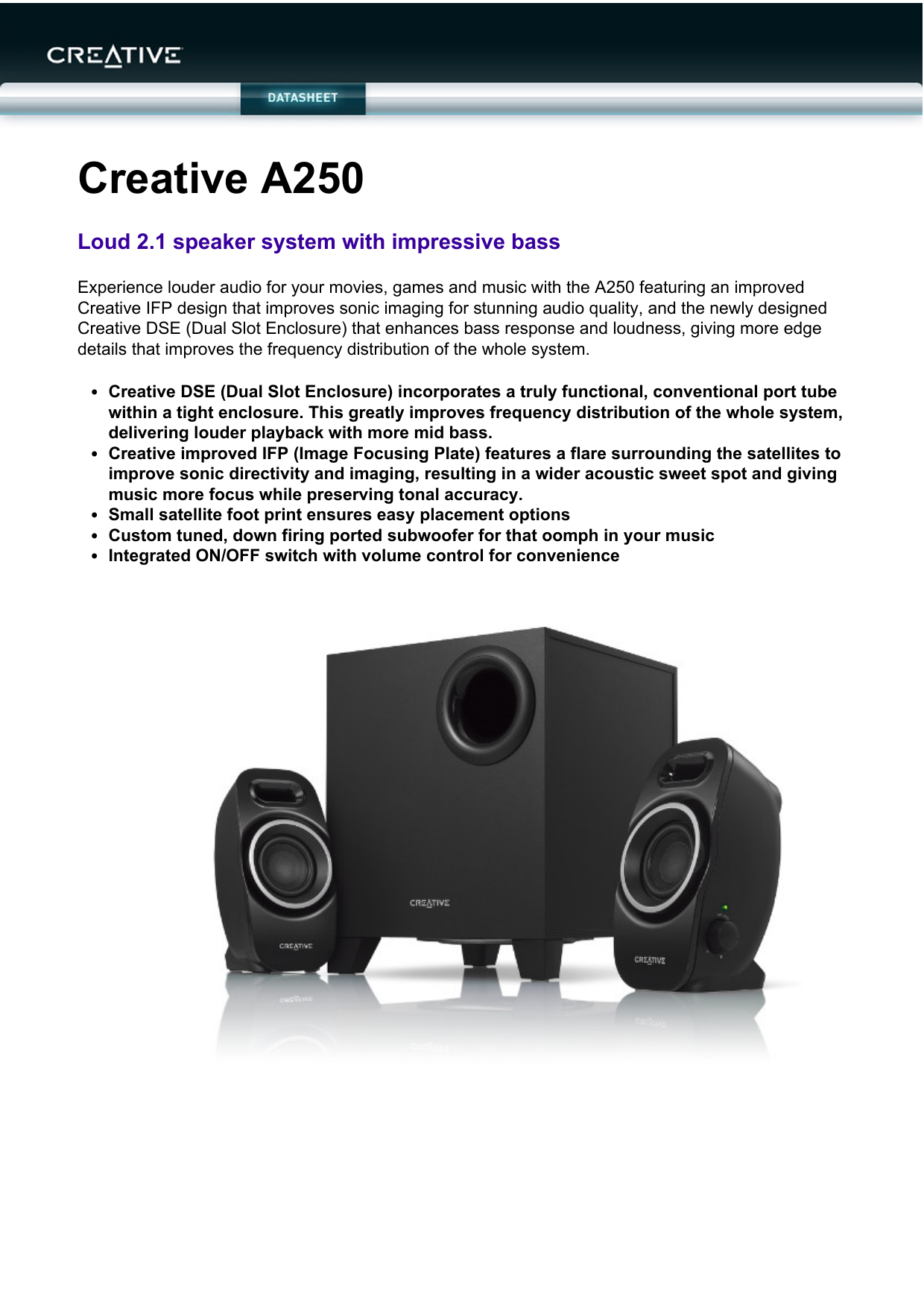 Creative A250
Loud 2.1 speaker system with impressive bass
Experience louder audio for your movies, games and music with the A250 featuring an improved
Creative IFP design that improves sonic imaging for stunning audio quality, and the newly designed
Creative DSE (Dual Slot Enclosure) that enhances bass response and loudness, giving more edge
details that improves the frequency distribution of the whole system.
• Creative DSE (Dual Slot Enclosure) incorporates a truly functional, conventional port tube
within a tight enclosure. This greatly improves frequency distribution of the whole system,
delivering louder playback with more mid bass.
• Creative improved IFP (Image Focusing Plate) features a flare surrounding the satellites to
improve sonic directivity and imaging, resulting in a wider acoustic sweet spot and giving
music more focus while preserving tonal accuracy.
• Small satellite foot print ensures easy placement options
• Custom tuned, down firing ported subwoofer for that oomph in your music
• Integrated ON/OFF switch with volume control for convenience
Technical Specifications
Technical Specifications
Package Contents
• Speaker power:
• 2 Watts RMS per channel (2 channels)
• 5 Watts RMS subwoofer
• Frequency response: 40Hz ~ 20kHz
• SNR : 75dB
• Product Weight:
• Satellite x 2 ( 620 g), Subwoofer( 1.56 kg)
• Dimensions (W x H x D)mm :
• Satellite(72 x 147 x 79)mm,
• Subwoofer(183x 225 x 190)mm
• Come with 3.5mm stereo analog jack for most
audio connections.
• Perfect for desktops, entertainment setups or
connecting to Creative Sound cards.
•
•
•
•
2 Satellite Speakers (Left and Right satellites)
1 Subwoofer
1 Warranty and Technical Support Booklet
1 Quick start guide
Warranty
• 1 year limited hardware warranty
www.creative.com
© 2013 All rights reserved. Creative and the Creative Logo are trademarks or registered trademarks of Creative Technology Ltd in the United States and/or other countries. All other trademarks are the property of their
respective owners and are hereby recognized as such. All specifications are subject to change without notice. Actual contents may differ slightly from those pictured. Use of this product is subject to a limited warranty.

* Your assessment is very important for improving the work of artificial intelligence, which forms the content of this project