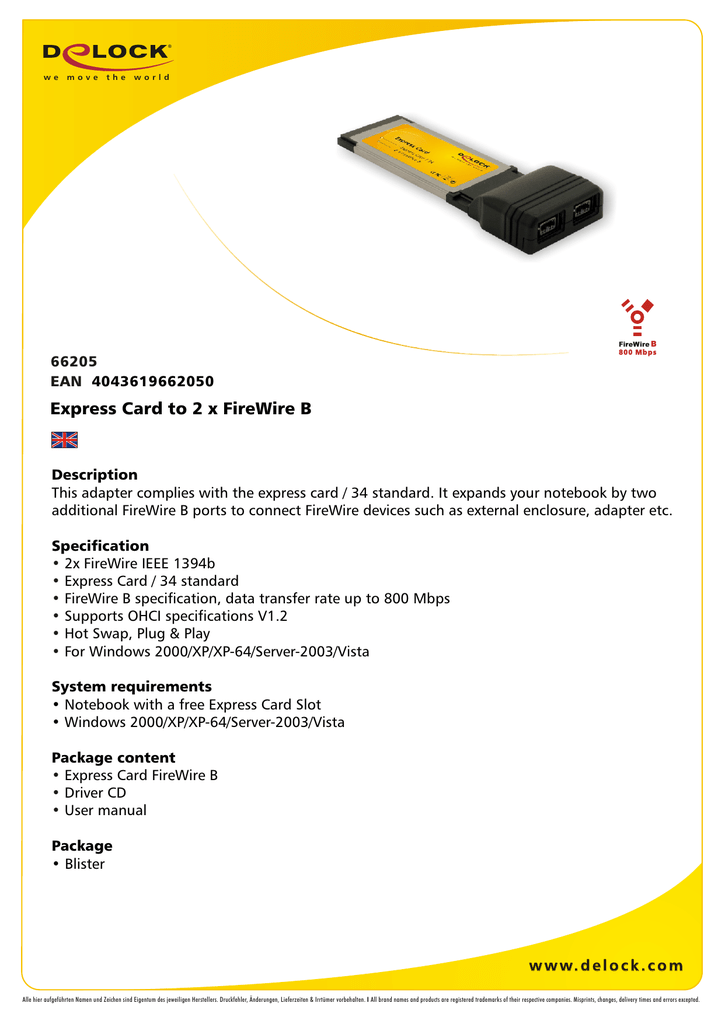 ®
we
move
the
world
B
66205
EAN 4043619662050
Express Card to 2 x FireWire B
Description
This adapter complies with the express card / 34 standard. It expands your notebook by two
additional FireWire B ports to connect FireWire devices such as external enclosure, adapter etc.
Specification
• 2x FireWire IEEE 1394b
• Express Card / 34 standard
• FireWire B specification, data transfer rate up to 800 Mbps
• Supports OHCI specifications V1.2
• Hot Swap, Plug & Play
• For Windows 2000/XP/XP-64/Server-2003/Vista
System requirements
• Notebook with a free Express Card Slot
• Windows 2000/XP/XP-64/Server-2003/Vista
Package content
• Express Card FireWire B
• Driver CD
• User manual
Package
• Blister
w w w. d e l o c k . c o m
Alle hier aufgeführten Namen und Zeichen sind Eigentum des jeweiligen Herstellers. Druckfehler, Änderungen, Lieferzeiten & Irrtümer vorbehalten. I All brand names and products are registered trademarks of their respective companies. Misprints, changes, delivery times and errors excepted.

* Your assessment is very important for improving the work of artificial intelligence, which forms the content of this project