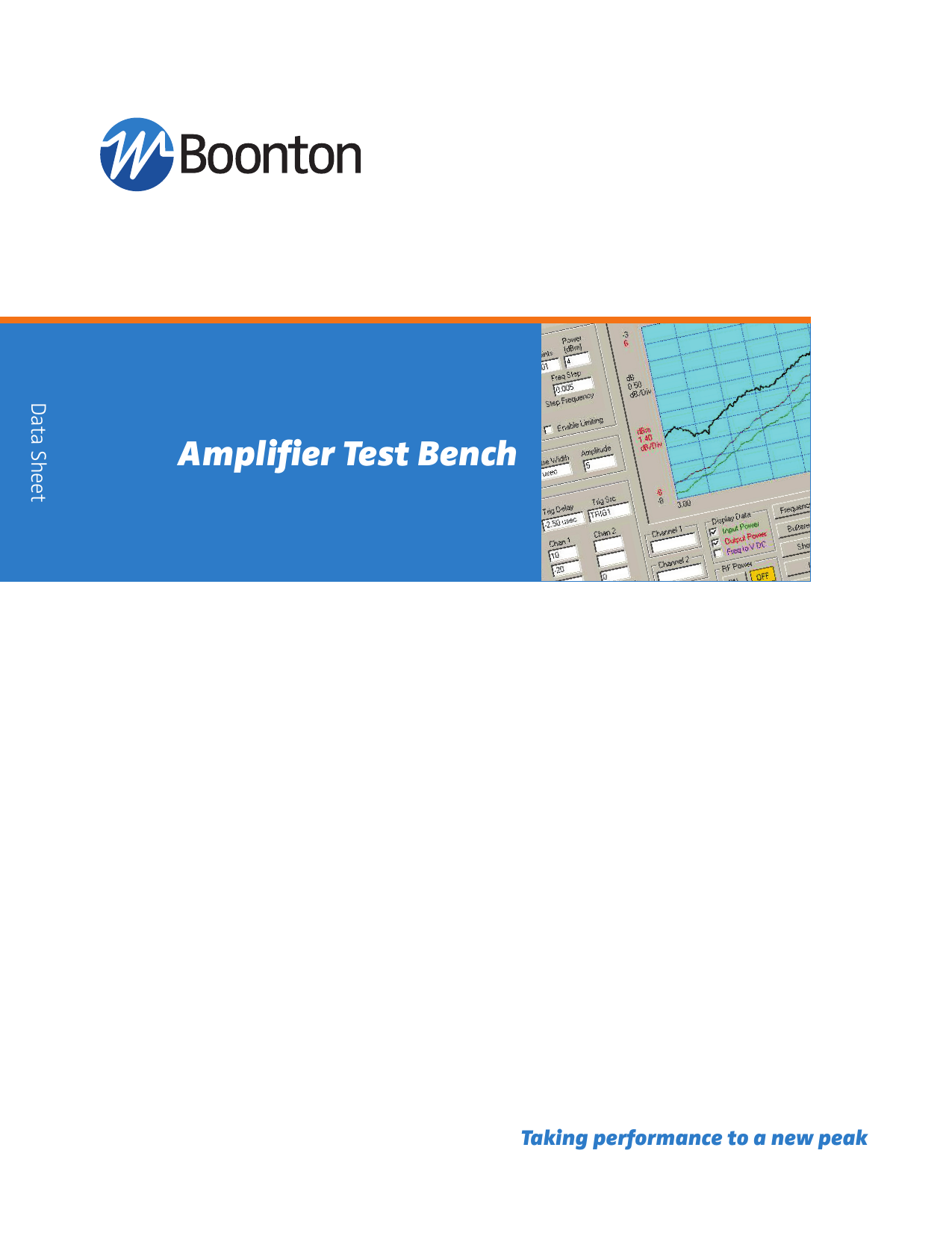 Data Sheet
Amplifier Test Bench
Taking performance to a new peak
Amplifier Test Bench
Boonton's Amplifier Test Bench is a powerful software tool especially designed for efficient and accurate, test verification
and analysis of high power or small signal RF amplifiers. The
software works with Boonton 4540 and 4500B power meters
and is equally suited for pulsed, continuous or random (noiselike) signals. Supported frequencies are sensor dependent
and range from 10MHz to 40GHz.
Features
• Automatic testing of RF amplifier parameters (pulsed and
continuous)
• Measures gain over frequency, gain over input power and
combinations.
• Measures VSWR and return loss over frequency (requires
directional bridge).
• Plots frequency vs. power responses with one or multiple
traces on the display.
• Measures input and output power simultaneously.
• Significant improvements in accuracy compared with average power measurements.
• Very detailed signal analysis.
• Many popular signal generators are supported and others
can be easily adapted.
2
Typical Test Set-up
Figure 1: Typical test setup for high power, gated pulse amplifier.
Generator Support and Adaption
Amplifier Test Bench supports a variety of signal / pulse gen-
be close to the sensor noise floor and cause measurement error.
erators. Even if a particular generator is not supported by the
Duty cycles of 0.1% (1:1000) or 0.01% (1:10,000) are com-
software, Amplifier Test Bench allows creating individual in-
mon in radar technology and other applications that require
struction tables for most generators. Complex programming
pulsed signals. A duty cycle of 0.1% reduces the usable dy-
skills are not required and a text file template can be modified
namic range of an average sensor by 30dB and a duty cycle of
to include specific commands for additional signals sources.
0.01% by 40dB. The remaining dynamic range might be insuf-
Devices will be added in future software releases.
ficient for proper measurements. Digitizer quantization error
further reduces dynamic measurement range and the accuracy
Why average power measurements are not
sufficient with pulsed amplifiers
of the measurement.
The assumption that pulses have a perfectly rectangular shape
Measuring pulsed amplifiers with average power measurement
without overshoot or undershoot is not always true. Rising and
equipment like RF detectors or average power sensors is com-
falling edges often show anomolies in the system caused by
mon but the results may vary. These measurements require
poor power supply performance.
calculating the average pulse power based on the duty cycle,
which can cause a large variation between the calculated and
The solution is wide dynamic range, fast peak power measure-
the actual pulse response.
ment equipment to measure input and output pulses simultaneously to resolve signal detail. Only peak power sensors can
The resulting average measurement is multiplied by the in-
measure the actual signal and provide accurate information
verse duty cycle to calculate the average pulse power. Depend-
about the real pulse power. Amplifier Test Bench can make
ing on the duty cycle ratio, the measured average power may
these measurements with a few mouse clicks.
3
Screenshots
The instrument setting of Amplifier Test Bench is easy. Basic parameters like start, stop frequency and power for the signal generator or
pulse period and pulse width for the pulse generator are simply entered at the user screen.
Whether a Boonton 4540 or 4500B Power meter is used, additional
settings for horizontal and vertical display scale and offset can be entered as well. To analyze a particular portion of a pulse, a time marker
can be positioned on a particular interval. Multiple acquisitions are
useful for long term testing or temperature variation measurements.
(Figure 2).
Figure 3
The measurement data can be represented in tabular or graphic format. Detailed information about every measurement point is available
in the result table. The graphic in Figure 3 shows the input, the output
and the gain over a frequency range of 3 GHz to 4 GHz.
Figure 4
Documentation is often mandatory for quality or proof of the amplifier
performance. Amplifier Test Bench can create plots by exporting data
to Excel®. Amplifier Test bench comes with an Excel® template (Freqresponse.xls) to quickly create a plot and information like the serial numFigure 2
4
ber from the DUT can be automatically added to the plot (Figure 4).
Boonton 4500B Peak Power Meter
Boonton 4540 RF Power Meter
Ordering Information
Software Packages for Windows® W2K, XP and W7
Model
Amplifier Test Bench
*Complementary
NOTE: Complementary software with the purchase of Boonton 4500B or 4540 Peak meter
Related Equipment
Model
Frequency 4500B Peak Power Meter 1 MHz to 40 GHz
Rise TIme
Dynamic Range
4540 RF Power Meter10 kHz to 40 GHz
57006 Wideband Peak Power Sensor
0.5 to 6 GHz
<7ns
-50 to +20 dBm
59318 Wideband Peak Power Sensor
0.5 to 18 GHz
<10ns
-24 to +20 dBm
59340 Wideband Peak Power Sensor
0.5 to 40 GHz
<10ns
-24 to +20 dBm
57518 Wideband Peak Power Sensor
0.1 to 18 GHz
<100ns
-40 to +20 dBm
57540 Wideband Peak Power Sensor0.1 to 40 GHz
<100ns
-40 to +20 dBm
5
Wireless Telecom Group Inc.
25 Eastmans Rd
Parsippany, NJ 07054
United States
Tel:
+1 973 386 9696
Fax:
+1 973 386 9191
www.boonton.com
© Copyright 2013
All rights reserved.
AMPTB/0413/EN
Note: Specifications, terms and conditions
are subject to change without prior notice.

* Your assessment is very important for improving the work of artificial intelligence, which forms the content of this project