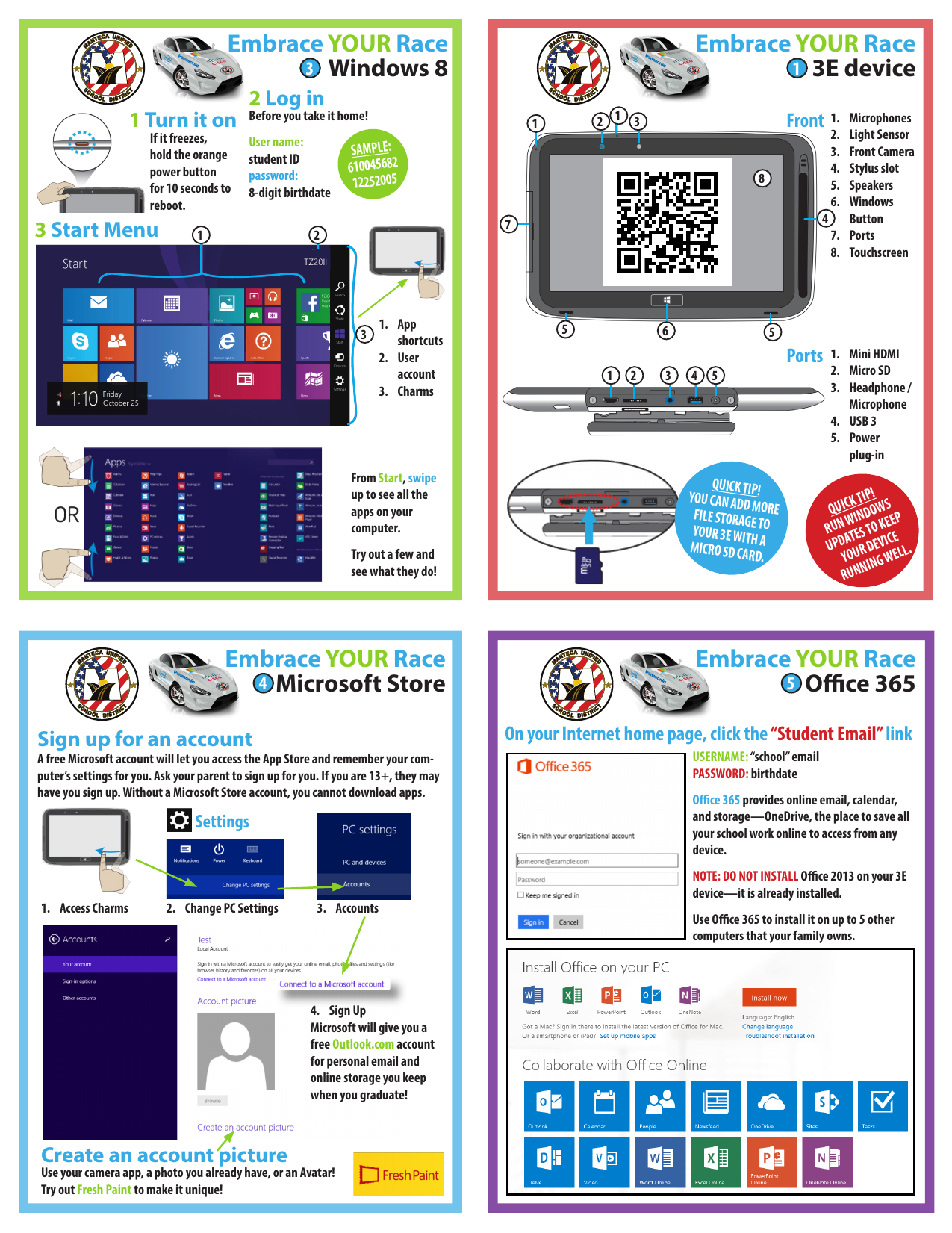 Embrace YOUR Race
3 Windows 8
1 Turn it on
If it freezes,
hold the orange
power button
for 10 seconds to
reboot.
3 Start Menu
Embrace YOUR Race
1 3E device
2 Log in
Before you take it home!
User name:
student ID
password:
8-digit birthdate
1
2 1 3
1
SAMPLE:
610045682
12252005
Front
1.
2.
3.
4.
5.
6.
Ports
1. Mini HDMI
2. Micro SD
3. Headphone /
Microphone
4. USB 3
5. Power
plug-in
Microphones
Light Sensor
Front Camera
Stylus slot
Speakers
Windows
4
Button
7. Ports
8. Touchscreen
8
7
2
3
1. App
shortcuts
2. User
account
3. Charms
From Start, swipe
up to see all the
apps on your
computer.
Try out a few and
see what they do!
Embrace YOUR Race
4 Microsoft Store
5
6
1
2
3
5
4
5
QUICK TIP
YOU CAN ADD !
M
FILE STORAG ORE
E TO
YOUR 3E WIT
H
MICRO SD CA A
RD.
!
K TIP
QUIC INDOWS
EP
W
RUN TES TO KE
E
A
C
I
D
UP UR DEV LL.
YO ING WE
N
RUN
Embrace YOUR Race
5 Office 365
Sign up for an account
On your Internet home page, click the "Student Email" link
Settings
Office 365 provides online email, calendar,
and storage—OneDrive, the place to save all
your school work online to access from any
device.
A free Microsoft account will let you access the App Store and remember your computer's settings for you. Ask your parent to sign up for you. If you are 13+, they may
have you sign up. Without a Microsoft Store account, you cannot download apps.
1. Access Charms
2. Change PC Settings
3. Accounts
4. Sign Up
Microsoft will give you a
free Outlook.com account
for personal email and
online storage you keep
when you graduate!
Create an account picture
Use your camera app, a photo you already have, or an Avatar!
Try out Fresh Paint to make it unique!
USERNAME: "school" email
PASSWORD: birthdate
NOTE: DO NOT INSTALL Office 2013 on your 3E
device—it is already installed.
Use Office 365 to install it on up to 5 other
computers that your family owns.
4 Visit the Desktop
1
2
3
Search
Keyboard
1. Dock and
disconnect
2. Power
3. USB 2
4. Battery
Light
4
Share
4
Your tethered stylus has a
rechargeable battery!
Detach
Using
BOTH
Hands
Try out movie
mode with the
screen facing
the handle!
Devices
Settings
1. Taskbar
2. Notification area
5
4
2
3. Pinned Programs
4. Charms
!
K TIP
QUIC STURES
E
TRY G NE AND IN
I
L
ON APPS.
5 Practice Finger Movements
1. Tap to start an
app or
"left click"
Be a Good
Digital Citizen
3
2
1
3
Re-Attach with a firm "snap"
1
6
Avoid:
1. heat
2. magnets
3. direct sun
Start
2. Double Tap
to select an
object
Take Care of
Your Device
3. Press and hold
for a "right
click" to bring
up a menu
4. water
5. crushing
6. dropping
4. Pinch to zoom in
or out (great
for web pages)
5. Slide to move an
object, draw,
or write
6. Two Finger
Slide to scroll
horizontal or
vertical
Setup Desktop Email
Your "work" email address is your student number@musd.net, for
example, if my student number was 610045682, then my email
address would be 610045682@musd.net
Click The Squares To Use a Program
Your password is your 8-digit birthdate.
Outlook is your email and OneDrive is where you save your files. Your OneDrive gives
you 1,000 GB of online storage! Drag files from your computer into OneDrive to
upload them.
Setup Outlook 2013 on your student device. By setting up desktop email, you can
access messages you have already downloaded without an Internet connection.
Once you have setup Outlook 2013, email a friend in your class.
Office 365 includes online programs that let you work on documents together with
a friend!
Check out the Microsoft Store
1
Very Important!
There are over 1,000 free educational apps waiting to help you learn and embrace
YOUR race, but there are some things to remember:
Before you go home, Sync your OneDrive to your computer so that
you have your online files even when you do not have an Internet
connection.
1.
2.
3.
1. Click the OneDrive icon
2. Click the Sync icon
3. Click Sync now
2
3
This gives you a copy of your online files and makes
this folder for you
on your computer.
Use the folder on
your device
to organize
your
Office 365
OneDrive.
Your student device has powerful apps already installed.
Do not sign up for an account without a parent's permission.
During class, focus on learning—save games for later!
Embrace YOUR Race
6 OneNote
Embrace YOUR Race
2 Charging
The Ultimate Educational Tool
Be a Good Digital Citizen
Just because you are getting a digital device, doesn't mean notetaking is no more. It's just more powerful with a touch screen, a
keyboard, a stylus, and digital ink!
Built on a Familiar Notebook Concept
A place to keep all your information,
OneNote uses tabs and pages to organize
any kind of content you need to know all
in once place. Use Sections and Pages for
different information.
Keep your device charged!
1.
Tablet
Plug it in AT HOME every day so that
you are ready to learn!
NEVER let your device get below 10%.
Shut it down instead of just letting
it die.
Op
2.
3.
tio
Make lists and
plan your time
Use the stylus
to jot down
notes or draw
with digital ink!
Always plug into
the Keyboard
dock because
it charges both
units!
!
S,
NING
WAR EVICE DIE O
T
D
E
AV
UR
IF YO T WILL H CLOCK
S
R
D
O
U
A
T YO
ICE T
RESE OUR DEV
N
FOR Y FUNCTIO Y!
L
AL
NORM
Embrace YOUR Race
7
Parent Info
Help your child learn
You must register for a free Microsoft store account for your child to
download any additional apps at home or at school. A credit card is
not required to download free apps.
n2
n
Best Optio
keyboard dock
QUICK TIP!
IS
ONCE THE DOCK
ES
G
R
A
AT 8%, IT CH
RE
O
EF
B
THE TABLET
!
LF
SE
IT
IT CHARGES
Maximize your battery life by:
1. Shut your device down if you won't be using it
for 30 minutes or more.
2. Close apps and programs that you are not
actively using.
3. Adjust screen brightness to a lower setting (the
screen uses the most power).
Embrace YOUR Race
8 Teacher Tech
Center
Resources to Help You, and students!
Anyone with an MUSD Office 365 account can access the Teacher Technology Center
Sharepoint site. So, if you find a valuable resource there that you want your students
to see, give them a link, or refer them here too!
!
NING
WAR T A FREE
OU
UR
WITH UNT, YO T
O
C
N
C
N
A D CA O S.
CHIL ALL APP
INST
NOTE: If your child is less than 13 years old, Microsoft requires you to verify your
parental consent of his or her use of the store with a $0.50 donation using a credit
card. A complete guide to creating a Microsoft account is available. See Below.
ated
lustr ng a
l
i
e
h
i
See t to creat nt at
e
d
o
i
gu soft Acc u .
w
Micro ttp://ww .net
h causd
te
man
Embrace the
Race Videos
Missed a video? Need to watch it again? Think your students may benefit from one?
All district videos are organized by subject into folders and file names include a short
description of the video's topic.
Take just a few minutes here and there to practice your digital skills and go digital
with your classroom.
Insert nearly any kind of content!
How to Shut Down and Sleep
Please DO NOT use the ON button to
Shut Down your device.
Instead, use the Power buttons:
1. on the START screen
2. with the Settings Charm.
ONLY If your device is frozen:
1. Press and hold power button
for 10 seconds
Just like a paper notebook or 3-ring binder,
you can collect all kinds of information, but
OneNote can also record video and audio
right into the program!
Swipe in from the
right for charms!
To Sleep, close the device so that the
screen is near the keyboard.
Use the Screen Clipping tool to grab a quick
picture of anything on your
computer screen. OneNote will
save a link to the page so that
you know the source!
Always have access to your information
Have more than one device? Office 365 will
keep your OneNote information up to date
on every device you use!
Remember to respect your battery
life level so that your device is ready
to help you learn!
What's the Difference between
Sleep and Shut down?
1.
2.
3.
4.
5.
The OneNote Class Notebook Creator
Your device battery is still being used when sleeping.
Your device CANNOT sleep for more than a day or two without dying.
Your device starts a little faster from sleep than while booting up.
Sleep keeps all your running apps open and ready.
Always shut your device down if you won't be using it for 30 minutes or more!
Documents
Prefer print information?
The Documents area has
key forms and information
from the Family
Information Nights.
Microsoft has also provided
user friendly PDF starter
guides on all of Microsoft
Office 2013 desktop apps.
Web Links
Need more? There are thousands of other
online staff and student development
opportunities available at these
Microsoft sites.
Discover where you are most
comfortable, what you still need to
learn, and make the race to go digital
your own.
To truly be a digital learner and model
the process for your students, you need
to set goals for your own learning.
Just think, exploring some of these
resources with your students could result
in a shared voyage of discovery that
will help them to also become life long
learners as they embrace their own race
to their digital future.
O
FUL T
HELP ERS AND
H
TEAC DENTS!
STU
Because of Office 365, teachers can create
class notebooks to share with their students.
Every change the teacher makes to her
class notebook, the students see within
moments. Never again worry about losing
the handout with directions on it!
Keep your child safe online
At school, your child's Internet experience is safe. At home, that is a personal family
decision if and how your child uses the Internet. Here are some sites that can help
you filter and monitor your Internet connection. If you do not see one you like here
below, try searching for the phrase "internet filter" or "DNS filter."
NOTE: These sites are not endorsed by, or affiliated with, MUSD.
Need help with Internet Access?
Low cost internet solutions are available from:
http://www.everyoneon.org/mantecaunified
Microsoft Student Advantage Program
Install Office 2013 on up to 5 PCs or Macs and on other mobile devices, including
Windows tablets and iPads. Your student simply needs to login to Office 365 with
their student email address and birthdate.
Use the homepage at
http://portal.office.com
to download Office
2013.
Find out more at the District Web Site
There is so much more to learn about Going Digital in Manteca Unified School
District in 2015.
On the district website at http://www.mantecausd.net/community you can find out
a great deal more about this project. District forms, information about PayPams and
a comprehensive FAQ are there to help you.