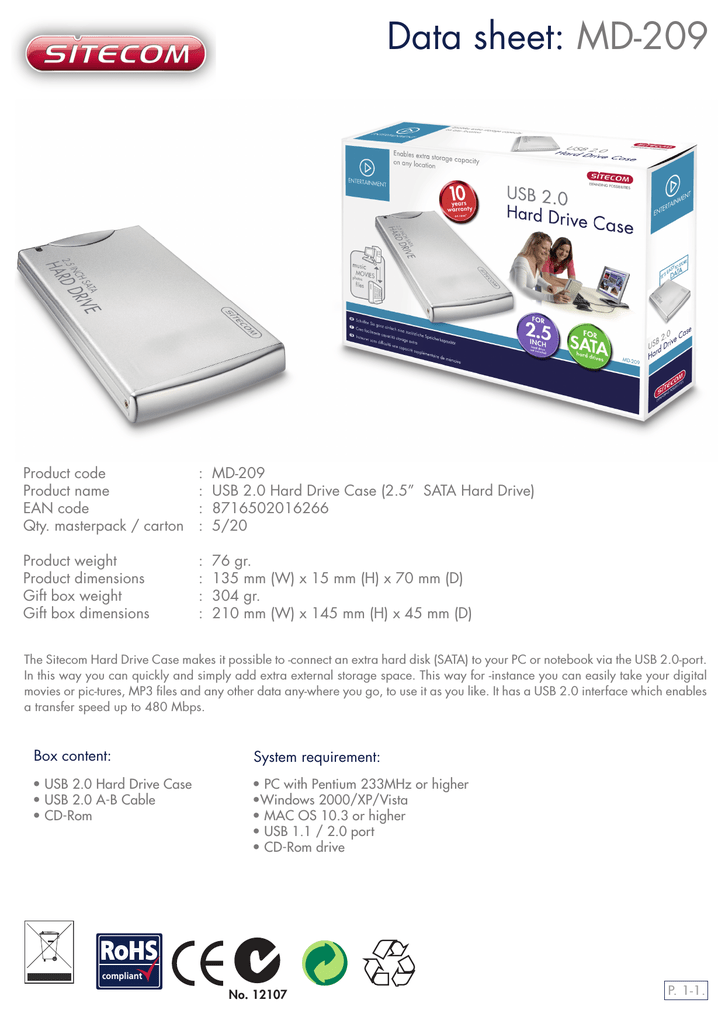 Data sheet: MD-209
Product code
Product name
EAN code
Qty. masterpack / carton
:
:
:
:
MD-209
USB 2.0 Hard Drive Case (2.5" SATA Hard Drive)
8716502016266
5/20
Product weight
Product dimensions
Gift box weight
Gift box dimensions
:
:
:
:
76 gr.
135 mm (W) x 15 mm (H) x 70 mm (D)
304 gr.
210 mm (W) x 145 mm (H) x 45 mm (D)
The Sitecom Hard Drive Case makes it possible to -connect an extra hard disk (SATA) to your PC or notebook via the USB 2.0-port.
In this way you can quickly and simply add extra external storage space. This way for -instance you can easily take your digital
movies or pic-tures, MP3 files and any other data any-where you go, to use it as you like. It has a USB 2.0 interface which enables
a transfer speed up to 480 Mbps.
Box content:
System requirement:
• USB 2.0 Hard Drive Case
• USB 2.0 A-B Cable
• CD-Rom
• PC with Pentium 233MHz or higher
•Windows 2000/XP/Vista
• MAC OS 10.3 or higher
• USB 1.1 / 2.0 port
• CD-Rom drive
,œVœ"«ˆ>˜Ì
No. 12107
P. 1-1.

* Your assessment is very important for improving the work of artificial intelligence, which forms the content of this project