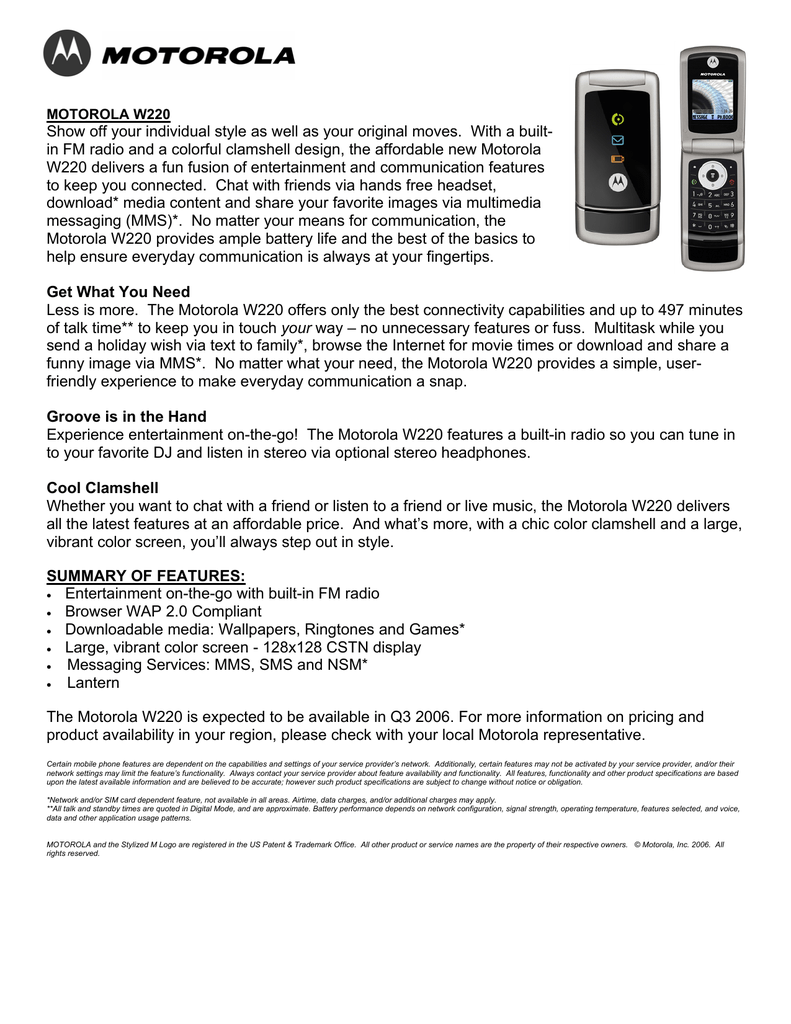 MOTOROLA W220
Show off your individual style as well as your original moves. With a builtin FM radio and a colorful clamshell design, the affordable new Motorola
W220 delivers a fun fusion of entertainment and communication features
to keep you connected. Chat with friends via hands free headset,
download* media content and share your favorite images via multimedia
messaging (MMS)*. No matter your means for communication, the
Motorola W220 provides ample battery life and the best of the basics to
help ensure everyday communication is always at your fingertips.
Get What You Need
Less is more. The Motorola W220 offers only the best connectivity capabilities and up to 497 minutes
of talk time** to keep you in touch your way – no unnecessary features or fuss. Multitask while you
send a holiday wish via text to family*, browse the Internet for movie times or download and share a
funny image via MMS*. No matter what your need, the Motorola W220 provides a simple, userfriendly experience to make everyday communication a snap.
Groove is in the Hand
Experience entertainment on-the-go! The Motorola W220 features a built-in radio so you can tune in
to your favorite DJ and listen in stereo via optional stereo headphones.
Cool Clamshell
Whether you want to chat with a friend or listen to a friend or live music, the Motorola W220 delivers
all the latest features at an affordable price. And what's more, with a chic color clamshell and a large,
vibrant color screen, you'll always step out in style.
SUMMARY OF FEATURES:
• Entertainment on-the-go with built-in FM radio
• Browser WAP 2.0 Compliant
• Downloadable media: Wallpapers, Ringtones and Games*
• Large, vibrant color screen - 128x128 CSTN display
•
Messaging Services: MMS, SMS and NSM*
•
Lantern
The Motorola W220 is expected to be available in Q3 2006. For more information on pricing and
product availability in your region, please check with your local Motorola representative.
Certain mobile phone features are dependent on the capabilities and settings of your service provider's network. Additionally, certain features may not be activated by your service provider, and/or their
network settings may limit the feature's functionality. Always contact your service provider about feature availability and functionality. All features, functionality and other product specifications are based
upon the latest available information and are believed to be accurate; however such product specifications are subject to change without notice or obligation.
*Network and/or SIM card dependent feature, not available in all areas. Airtime, data charges, and/or additional charges may apply.
**All talk and standby times are quoted in Digital Mode, and are approximate. Battery performance depends on network configuration, signal strength, operating temperature, features selected, and voice,
data and other application usage patterns.
MOTOROLA and the Stylized M Logo are registered in the US Patent & Trademark Office. All other product or service names are the property of their respective owners. © Motorola, Inc. 2006. All
rights reserved.

* Your assessment is very important for improving the work of artificial intelligence, which forms the content of this project