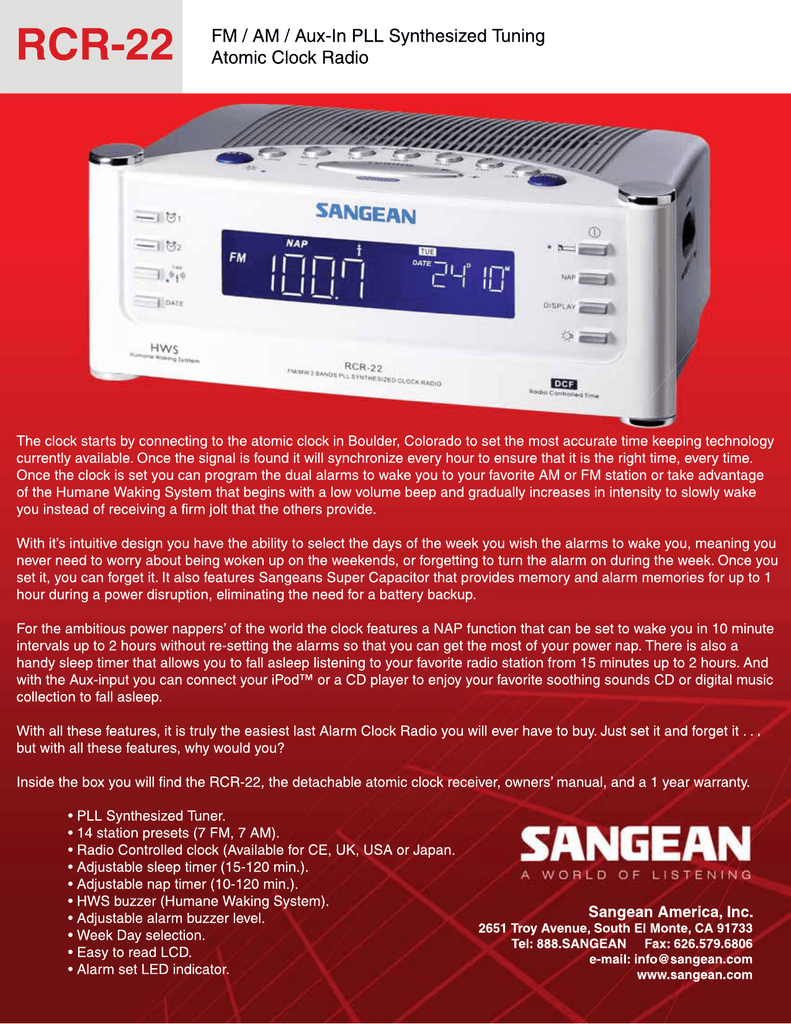 FM / AM / Aux-In PLL Synthesized Tuning
Atomic Clock Radio
Rodit Contéstas firme
The clock starts by connecting to the atomic clock in Boulder, Colorado to set the most accurate time keeping technology
currently available. Once the signal is found it will synchronize every hour to ensure that it is the right time, every time.
Once the clock is set you can program the dual alarms to wake you to your favorite AM or FM station or take advantage
of the Humane Waking System that begins with a low volume beep and gradually increases in intensity to slowly wake
you instead of receiving a firm jolt that the others provide.
With it's intuitive design you have the ability to select the days of the week you wish the alarms to wake you, meaning you
never need to worry about being woken up on the weekends, or forgetting to turn the alarm on during the week. Once you
set it, you can forget it. It also features Sangeans Super Capacitor that provides memory and alarm memories for up to 1
hour during a power disruption, eliminating the need for a battery backup.
For the ambitious power nappers' of the world the clock features a NAP function that can be set to wake you in 10 minute
intervals up to 2 hours without re-setting the alarms so that you can get the most of your power nap. There is also a
handy sleep timer that allows you to fall asleep listening to your favorite radio station from 15 minutes up to 2 hours. And
with the Aux-input you can connect your ¡Pod'M or a CD player to enjoy your favorite soothing sounds CD or digital music
collection to fall asleep.
With all these features, it is truly the easiest last Alarm Clock Radio you will ever have to buy. Just set it and forget it . . .
but with all these features, why would you?
Inside the box you will find the RCR-22, the detachable atomic clock receiver, owners' manual, and a 1 year warranty.
* PLL Synthesized Tuner.
* 14 station presets (7 FM, 7 AM).
* Radio Controlled clock (Available for CE, UK, USA or Japan.
* Adjustable sleep timer (15-120 min.).
' ' ' A WORLD OF S TE NTN'G
* Adjustable nap timer (10-120 min.).
* HWS buzzer (Humane Waking System). En de e
* Adjustable alarm buzzer level. ; "
Ty е] ek Dav selection 2651 Troy Avenue, South El Monte, CA 91733
y ' Tel: 888.SANGEAN Fax: 626.579.6806
e Fasy to read LCD.
e-mail: info € sangean.com
www.sangean.com
* Alarm set LED indicator.

* Your assessment is very important for improving the work of artificial intelligence, which forms the content of this project