Epson C11CA00001DA Datasheet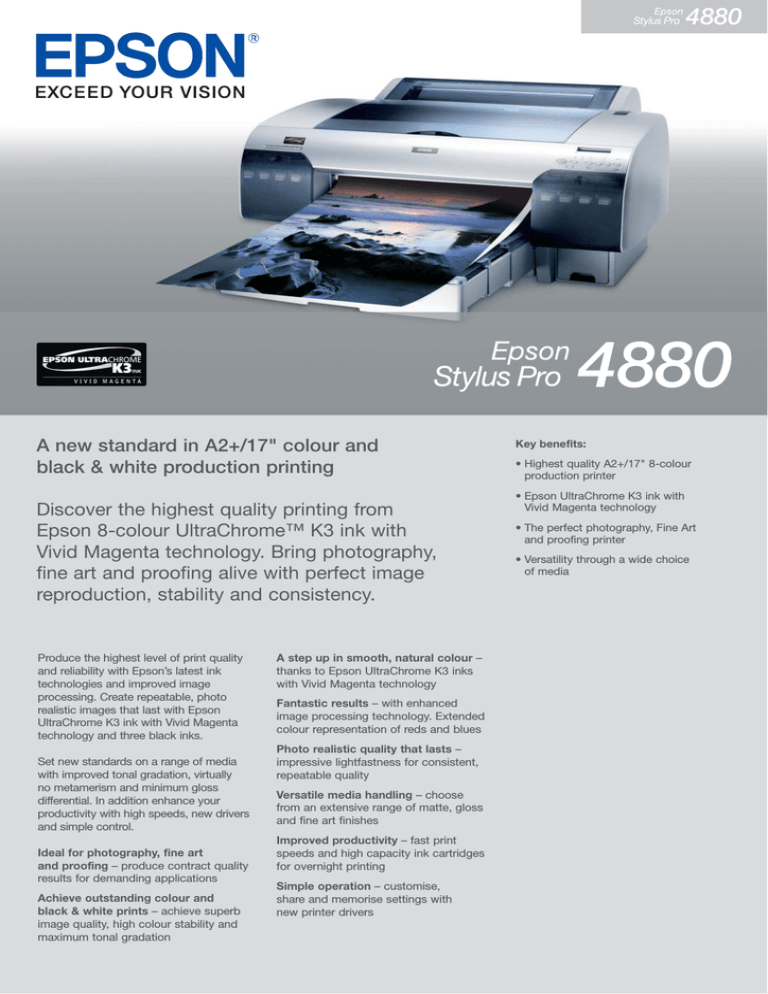 A new standard in A2+/17" colour and
black & white production printing
Discover the highest quality printing from
Epson 8-colour UltraChrome™ K3 ink with
Vivid Magenta technology. Bring photography,
fine art and proofing alive with perfect image
reproduction, stability and consistency.
Produce the highest level of print quality
and reliability with Epson's latest ink
technologies and improved image
processing. Create repeatable, photo
realistic images that last with Epson
UltraChrome K3 ink with Vivid Magenta
technology and three black inks.
Set new standards on a range of media
with improved tonal gradation, virtually
no metamerism and minimum gloss
differential. In addition enhance your
productivity with high speeds, new drivers
and simple control.
Ideal for photography, fine art
and proofing – produce contract quality
results for demanding applications
Achieve outstanding colour and
black & white prints – achieve superb
image quality, high colour stability and
maximum tonal gradation
A step up in smooth, natural colour –
thanks to Epson UltraChrome K3 inks
with Vivid Magenta technology
Fantastic results – with enhanced
image processing technology. Extended
colour representation of reds and blues
Photo realistic quality that lasts –
impressive lightfastness for consistent,
repeatable quality
Versatile media handling – choose
from an extensive range of matte, gloss
and fine art finishes
Improved productivity – fast print
speeds and high capacity ink cartridges
for overnight printing
Simple operation – customise,
share and memorise settings with
new printer drivers
Key benefits:
• Highest quality A2+/17" 8-colour
production printer
• Epson UltraChrome K3 ink with
Vivid Magenta technology
• The perfect photography, Fine Art
and proofing printer
• Versatility through a wide choice
of media
Epson Stylus Pro 4880
Size
Print technology
Ink system
Resolution
Speed
Driver
Interfaces
Roll dimensions
Paper handling
Roll media
Cut sheet
17" (A2+)
Epson Micro Piezo™ drop-on-demand inkjet technology
Epson Variable-sized Droplet Technology and 3.5 pl Epson Ultra Micro Dot™
Print head configuration: 180 nozzles x 8 colours
9 colour pigmented ink (C, VM, Y, LC, VLM, LK, LLK, Photo K, Matte K) with
CSIC with 8 slots (one slot for interchangable Matte K and Photo K)
Ink conversion cartridges required for ink change between Matte K and
Photo K are delivered with the unit
2880 x 1440 dpi Bi-Directional, Epson Variable-sized Droplet Technology
Up to 12.8 m / Hr (A2 / Plain paper / Draft mode)
Microsoft® Windows 2000, XP, XP 64-bit, Vista, MAC OS®X 10.x.x
Standard: USB 2.0 (Compatible with 1.1), Ethernet 10 / 100Mb
Core diameter 2'' or 3''. Max. outside diameter 150 mm
Single roll (1 roll < 150 mm / Outside diameter)
Media width 203.2 mm – 431.8 mm (8'' – 17'')
Minimum media length 279 mm
Media thickness 0.08 mm – 0.50 mm
High capacity paper tray with automatic sheet feed (up to 250 pcs of plain paper)
Manual insertion feeder for media up to 1.5 mm
Media width size A4 / LTR – A2 / C (210 mm – 431.8 mm)
Media length 279 mm – 610 mm
Media thickness 0.08 mm – 1.50 mm
Print margins
Roll media
Sheet media
4 modes available; mode 1: 3 mm on all edges (top, sides, bottom);
mode 2: 15 mm (top and bottom), 3 mm (sides);
mode 3: 15 mm (top, sides, bottom);
mode 4: 25 mm (top and bottom) 3 mm (side)
2 modes available; mode 1: 3 mm (top, sides, bottom);
mode 2: 3 mm (top and sides) 14 mm (bottom)
Edge-to-edge / Borderless
Roll media / Cut sheet
Ink cartridges
Both edge-to-edge and full bleed* for the following media widths: 8"*,10", 12",
14", 16", 17", 210 mm, 257 mm, 300 mm, 329 mm, 400 mm, 420 mm
Top and bottom edges can be automatically cut to any length
8" & 420 mm requires spacer
110 and 220 ml ink capacity
Intellidge cartridge system for ink level control even on re-inserted cartridges
Matte black
Photo black
Light black
Light light black
Cyan
Vivid magenta
Yellow
Vivid light magenta
Light cyan
Lightfastness
110 ml
C13T613800
C13T605100
C13T605700
C13T605900
C13T605200
C13T605300
C13T605400
C13T605600
C13T605500
220 ml
C13T614800
C13T606100
C13T606700
C13T606900
C13T606200
C13T606300
C13T606400
C13T606600
C13T606500
Up to 75 years for colour prints
In excess of 100 years for B&W prints
General
Dimensions (WxDxH)
Weight
Noise level
Power consumption
Warranty
Options
848 x 765 x 354 mm (paper tray storage min. size)
848 mm x 1105 mm x 354 mm (paper tray expand max. size)
Approx. 39.4 kg (without ink and media)
Approx. 50dB
Printing: 59 W or less
Standby: 5 W or less
Power off: 1 W or less
1 year repair or replace
Optional extension to 3 years
2 / 3" dual roll feed spindle (High tension)
C12C811191
C12C811201
Borderless print spacer for 420 mm and 8" roll paper
C12C815291
Auto cutter spare blade
Maintenance tank
C12C890191
*Full bleed only available on roll media
SP4880-1GB-08/07-7103991
Telephone: 08702 416900 (UK)
1 800 409132 (Republic of Ireland)
E-mail: [email protected]
www.epson.co.uk
www.epson.ie
Fax: +44 (0) 8702 413093
EPSON® is a registered trademark of Seiko EPSON® Corporation. All other product names and other company
names used herein are for identification purposes only and may be trademarks or registered trademarks of their
respective owners. Errors and omissions excepted, all specifications are subject to change without notice.

* Your assessment is very important for improving the work of artificial intelligence, which forms the content of this project