Philips HR230410 Datasheet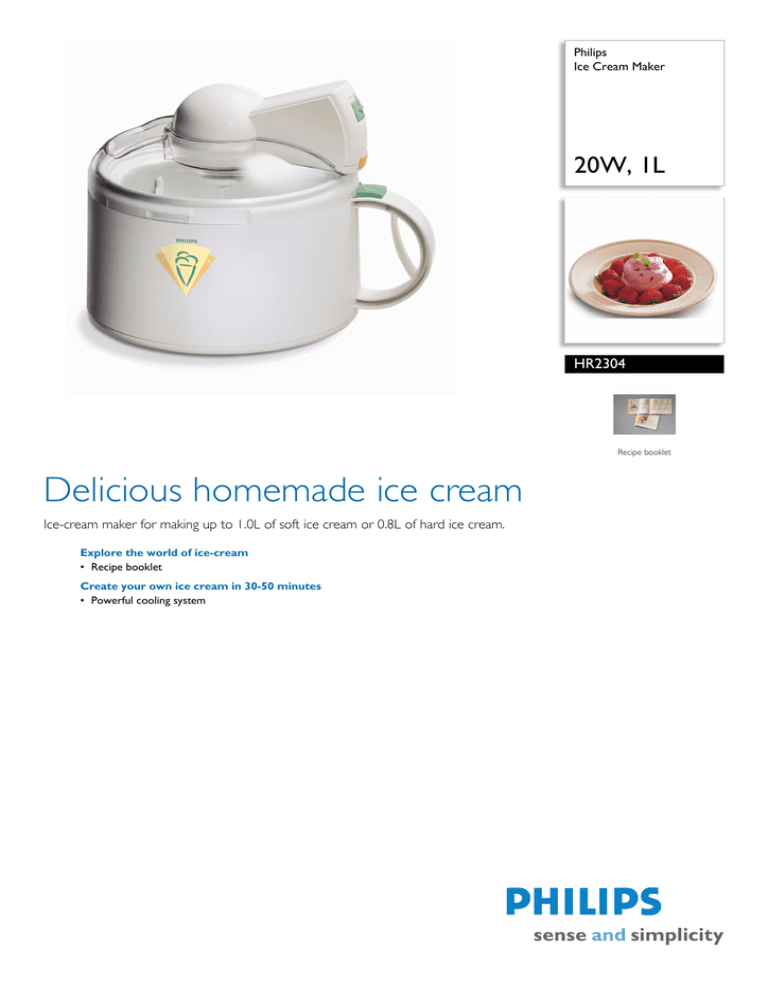 Philips
Ice Cream Maker
20W, 1L
HR2304
Recipe booklet
Delicious homemade ice cream
Ice-cream maker for making up to 1.0L of soft ice cream or 0.8L of hard ice cream.
Explore the world of ice-cream
• Recipe booklet
Create your own ice cream in 30-50 minutes
• Powerful cooling system
HR2304
Ice Cream Maker
20W, 1L
Specifications
Product highlights
General specifications
• Recipe booklet
Technical Specifications
•
•
•
•
Capacity: 1 l
Freezing time cooling element: 18 hour(s)
Preparation time: 30-50 minute(s)
Power: 20 W
Design
•
•
•
•
•
Bowl: Plastic PP
Cover: SAN transparent
Motor Housing: Plastic PP
Stirrer: PBTP
Colour: White with green accents
•
Issue date 2008-01-02
© 2008 Koninklijke Philips Electronics N.V.
All Rights reserved.
Version: 2.0
Specifications are subject to change without notice.
Trademarks are the property of Koninklijke Philips
Electronics N.V. or their respective owners.
www.philips.com
Recipe booklet
With the recipe booklet you will discover the delicious
world of ice cream.
Powerful cooling system
Cooling element and 20W motor for delicious
homemade ice cream.

* Your assessment is very important for improving the work of artificial intelligence, which forms the content of this project