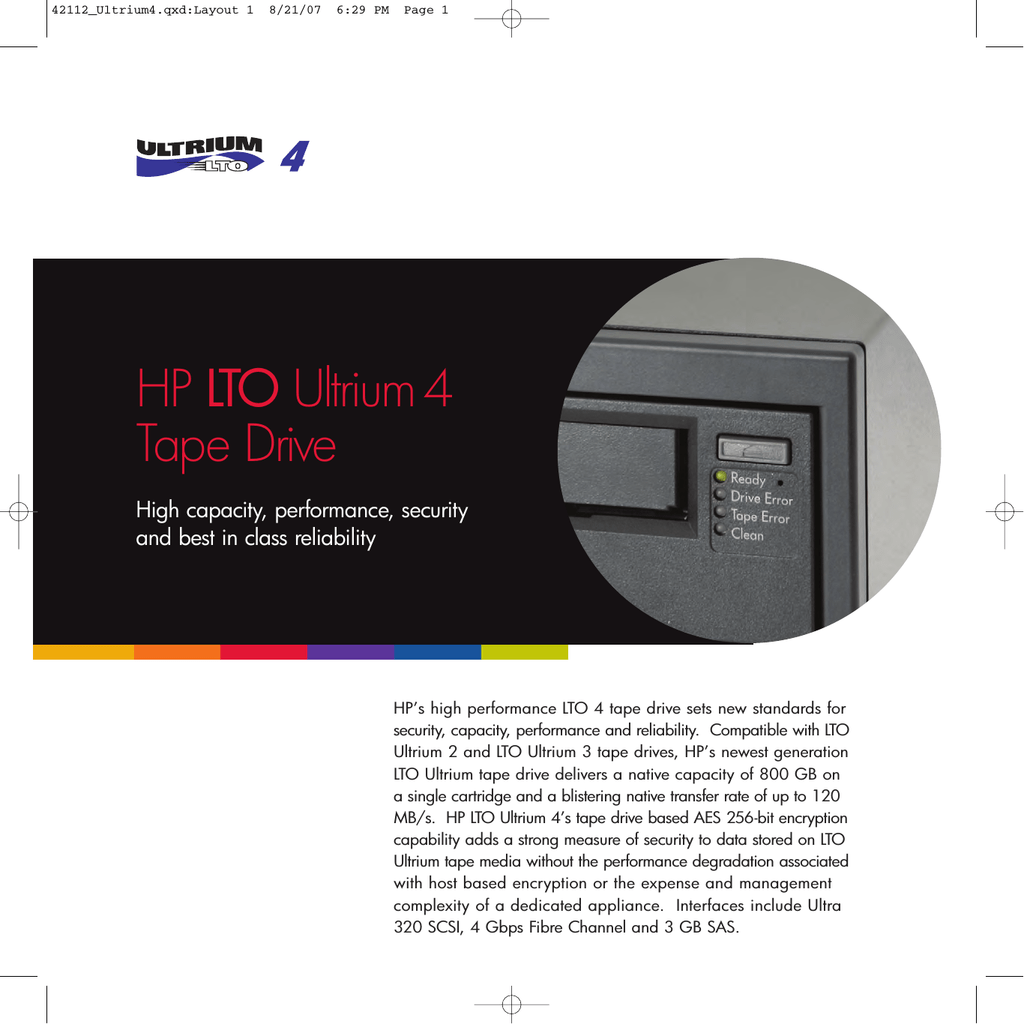 42112_Ultrium4.qxd:Layout 1
8/21/07
6:29 PM
Page 1
HP LTO Ultrium 4
Tape Drive
High capacity, performance, security
and best in class reliability
HP's high performance LTO 4 tape drive sets new standards for
security, capacity, performance and reliability. Compatible with LTO
Ultrium 2 and LTO Ultrium 3 tape drives, HP's newest generation
LTO Ultrium tape drive delivers a native capacity of 800 GB on
a single cartridge and a blistering native transfer rate of up to 120
MB/s. HP LTO Ultrium 4's tape drive based AES 256-bit encryption
capability adds a strong measure of security to data stored on LTO
Ultrium tape media without the performance degradation associated
with host based encryption or the expense and management
complexity of a dedicated appliance. Interfaces include Ultra
320 SCSI, 4 Gbps Fibre Channel and 3 GB SAS.
42797_Ultrium4.qxd:Layout 1
11/8/07
3:28 PM
Page 2
HP LTO Ultrium 4 Tape Drive
Key features and benefits
• High Security: Hardware AES 256 bit encryption
enables customers to protect sensitive data on
LTO 4 tape media in a secure, cost effective,
compliant and simple manner.
• Outstanding reliability: Builds on the success
of HP LTO Ultrium 2 and 3 with state-of-the-art
reliability in a robust drive that includes Data Rate
Matching, a dependable leader capture design,
active head cleaner, simple tape path, and soft
load/unload mechanism designed for 100,000
load/unloads.
• Unrivaled data integrity: Real-time read-whilewrite data verification and powerful error
correction codes mean that even if a full track
is lost or up to 32mm of tape is unreadable,
all data can be recovered.
• Backup more data in less time: High performance
backup with 432 GB/hour transfer rate and
800 GB per cartridge capacity.
• Optimal performance: Unique features such as
data rate matching and dual mode compression
ensure optimal performance to minimize the
backup window and improve drive life span.
• Investment protection: Backward compatible
to LTO Ultrium 2 and 3 media. Delivers compelling migration path that will double in
capacity every generation.
• Manageability: Best in class total customer
experience with state-of the-art manageability,
diagnostic and support tools, WORM support
and LTO-CM (cartridge memory).
Specifications
Capacity
Recording format
Logical recording format:
Recording technology:
Backwards compatibility
Performance
Data compression:
Memory buffer:
Data rate matching
800 GB native, typically 1.6 TB with hardware data compression
LTO Ultrium 4
16 channel linear serpentine recording on half-inch tape media
Fully read compatible with LTO Ultrium 2, LTO Ultrium 3 and
LTO Ultrium 4 media. Fully write compatible with LTO Ultrium
3 and LTO Ultrium 4 media
Interface:
Sustained transfer rate:
Tape speed (maximum):
LTO-DC (enhanced version of ALDC)
128 MB plus 8 MB (SCSI, SAS) and 16 MB (FC) burst buffer
Dynamically variable adaptive tape speed to match host
data rate from 40-120 MB/second (native)
4 GB Fibre Channel, 3 GB Serial Attach SCSI (SAS), U320 SCSI
Up to 120 MB/second native (432 GB/hour)
7.00 metres per second
Media
LTO Ultrium 4, 800 GB RW and WORM data cartridge
Reliability
MTFB:
Corrected error rate:
Loading mechanism:
Head life:
250,00 hours at 100% duty cycle
1 in 1x10-17 bits
Powered load with precision eject
60,000 hours
Power consumption
Idle
Typical
Max
Power supply/required (int):
12 Watts
30 Watts
35 Watts
5V DC, 3.6A; 12V DC, 1.6A
Temperature
Operating temperature range:
Storage temperature range:
Humidity range:
Non-operating humidity:
10 to 40°C (41 to 104°F)
-40 to 66°C (-40 to 151°F)
20 to 80% RH
10 to 95% RH
Safety
UL, CSA, TUV, CE, NOM, FCC, VCCI, C-tick, RRL,
BCIQ, BSMI, GOSH
Physical characteristics
Form factor:
Dimensions (h x w x d):
Weight:
(Internal product)
5.25-inch wide, full-height
82.5 x 146 x 203mm (3.25 x 5.75 x 8")
2.24 Kg (4.94 lbs.)
Ordering Information
PD015A
PD090A
PD098A
C7974A
C7974W
LTO
LTO
LTO
LTO
LTO
Ultrium
Ultrium
Ultrium
Ultrium
Ultrium
4
4
4
4
4
SAS tape drive (generic internal)
SCSI tape drive (generic internal)
Fibre Channel automation tape drive
RW Tape Data Cartridge
WORM Tape Data Cartridge
................................................................................................
Native capacity/transfer rates quoted unless otherwise stated. All brand and product names are
trademarks or registered trademarks of their respective companies. Technical information is subject
to change without notice. Copyright © 2007 Hewlett-Packard Company. All rights reserved.

* Your assessment is very important for improving the work of artificial intelligence, which forms the content of this project