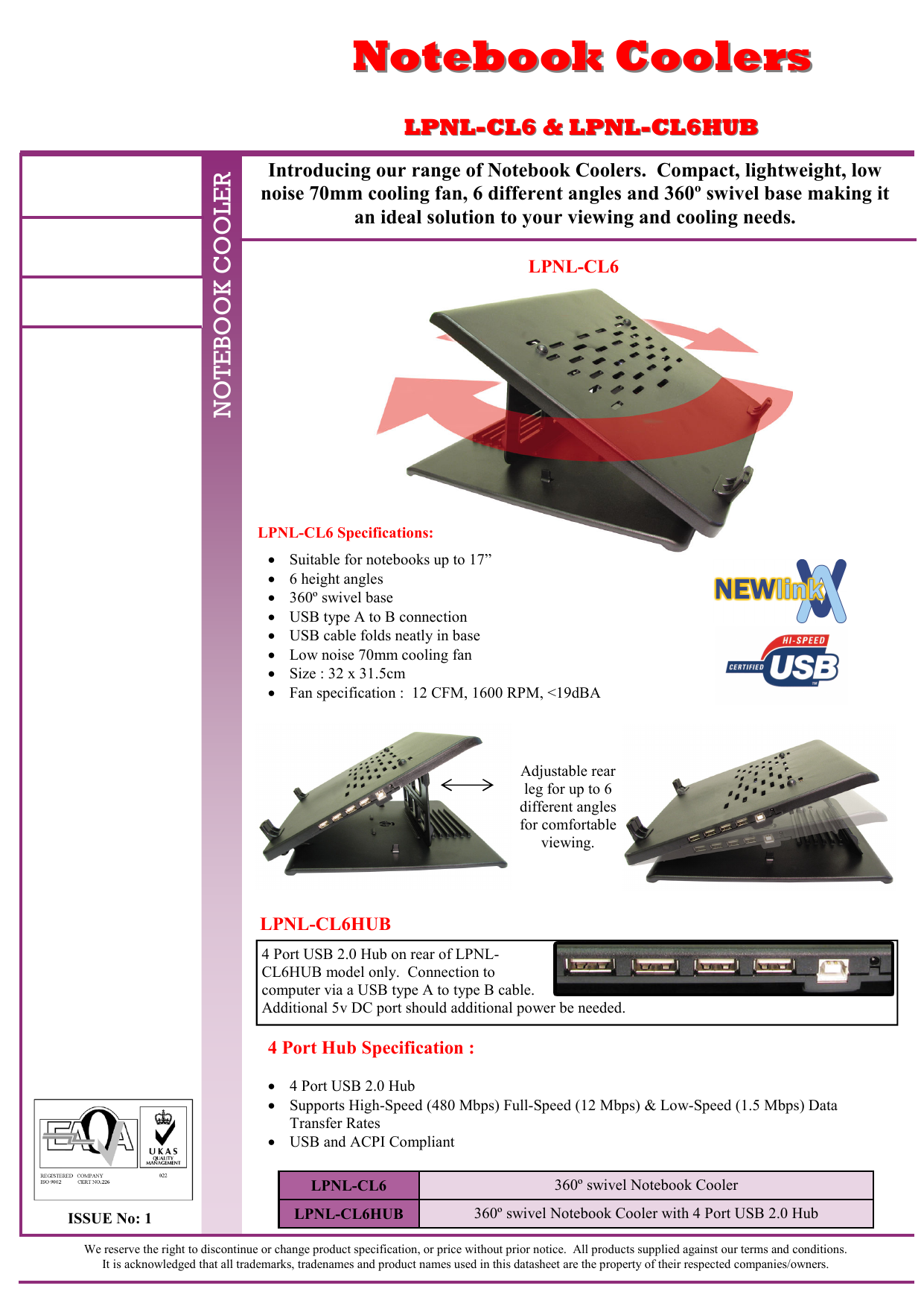 Notebook Coolers
NOTEBOOK COOLER
LPNL-CL6 & LPNL-CL6HUB
Introducing our range of Notebook Coolers. Compact, lightweight, low
noise 70mm cooling fan, 6 different angles and 360º swivel base making it
an ideal solution to your viewing and cooling needs.
LPNL-CL6
LPNL-CL6 Specifications:
•
•
•
•
•
•
•
•
Suitable for notebooks up to 17"
6 height angles
360º swivel base
USB type A to B connection
USB cable folds neatly in base
Low noise 70mm cooling fan
Size : 32 x 31.5cm
Fan specification : 12 CFM, 1600 RPM, <19dBA
Adjustable rear
leg for up to 6
different angles
for comfortable
viewing.
LPNL-CL6HUB
4 Port USB 2.0 Hub on rear of LPNLCL6HUB model only. Connection to
computer via a USB type A to type B cable.
Additional 5v DC port should additional power be needed.
4 Port Hub Specification :
• 4 Port USB 2.0 Hub
• Supports High-Speed (480 Mbps) Full-Speed (12 Mbps) & Low-Speed (1.5 Mbps) Data
Transfer Rates
• USB and ACPI Compliant
ISSUE No: 1
LPNL-CL6
360º swivel Notebook Cooler
LPNL-CL6HUB
360º swivel Notebook Cooler with 4 Port USB 2.0 Hub
We reserve the right to discontinue or change product specification, or price without prior notice. All products supplied against our terms and conditions.
It is acknowledged that all trademarks, tradenames and product names used in this datasheet are the property of their respected companies/owners.

* Your assessment is very important for improving the work of artificial intelligence, which forms the content of this project