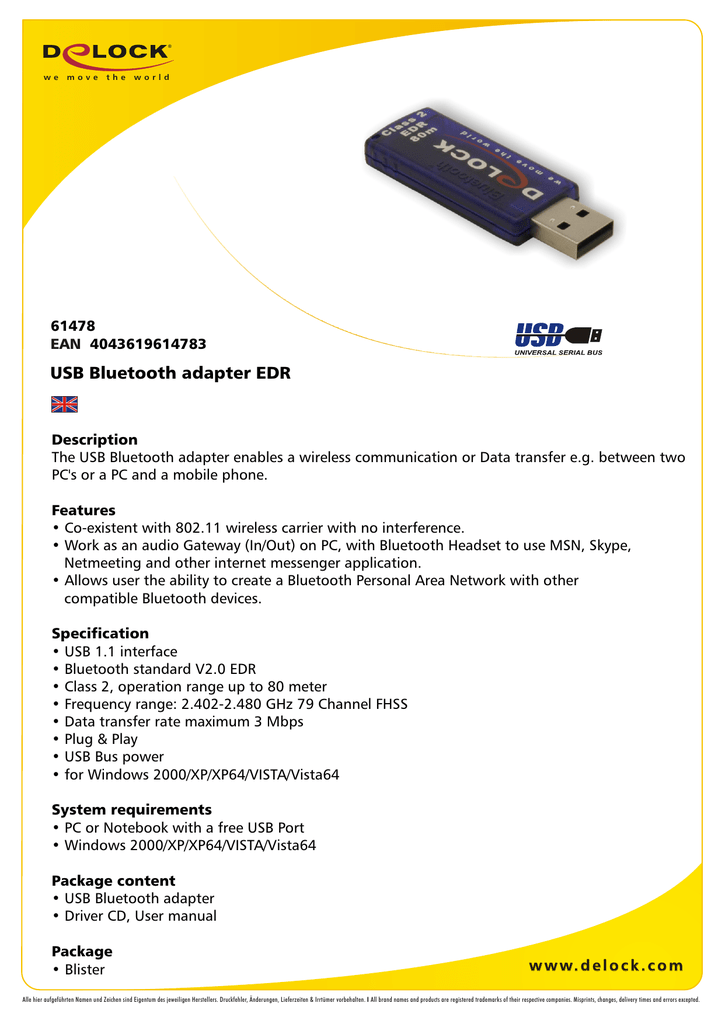 ®
we
move
the
world
61478
EAN 4043619614783
USB Bluetooth adapter EDR
Description
The USB Bluetooth adapter enables a wireless communication or Data transfer e.g. between two
PC's or a PC and a mobile phone.
Features
• Co-existent with 802.11 wireless carrier with no interference.
• Work as an audio Gateway (In/Out) on PC, with Bluetooth Headset to use MSN, Skype,
Netmeeting and other internet messenger application.
• Allows user the ability to create a Bluetooth Personal Area Network with other
compatible Bluetooth devices.
Specification
• USB 1.1 interface
• Bluetooth standard V2.0 EDR
• Class 2, operation range up to 80 meter
• Frequency range: 2.402-2.480 GHz 79 Channel FHSS
• Data transfer rate maximum 3 Mbps
• Plug & Play
• USB Bus power
• for Windows 2000/XP/XP64/VISTA/Vista64
System requirements
• PC or Notebook with a free USB Port
• Windows 2000/XP/XP64/VISTA/Vista64
Package content
• USB Bluetooth adapter
• Driver CD, User manual
Package
• Blister
w w w. d e l o c k . c o m
Alle hier aufgeführten Namen und Zeichen sind Eigentum des jeweiligen Herstellers. Druckfehler, Änderungen, Lieferzeiten & Irrtümer vorbehalten. I All brand names and products are registered trademarks of their respective companies. Misprints, changes, delivery times and errors excepted.

* Your assessment is very important for improving the work of artificial intelligence, which forms the content of this project