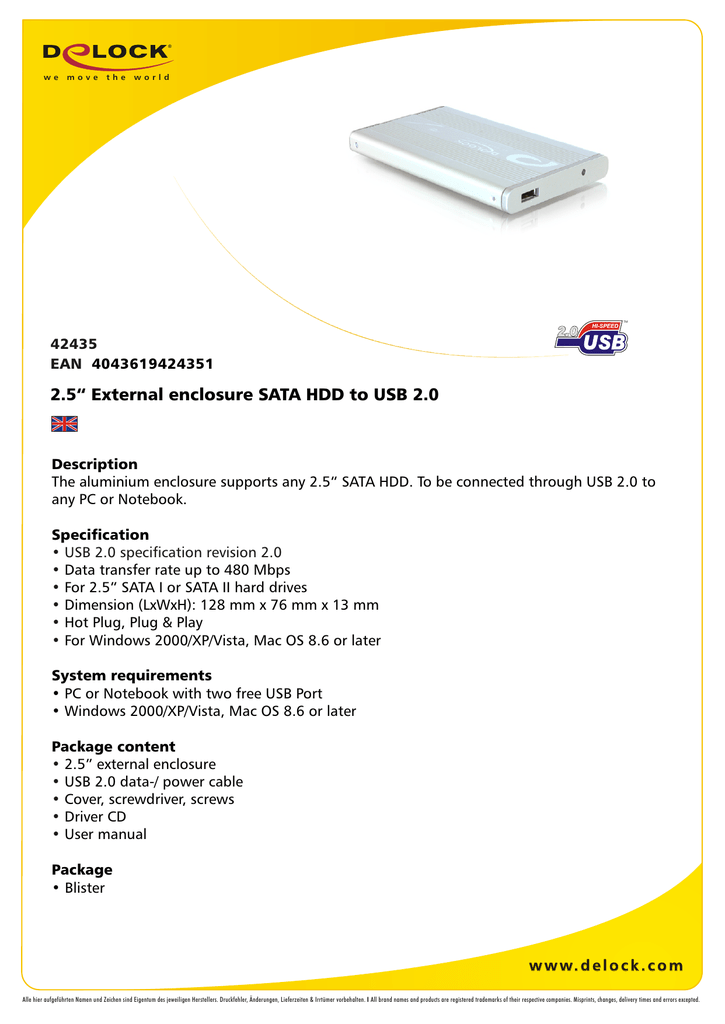 ®
we
move
the
world
TM
42435
EAN 4043619424351
2.5" External enclosure SATA HDD to USB 2.0
Description
The aluminium enclosure supports any 2.5" SATA HDD. To be connected through USB 2.0 to
any PC or Notebook.
Specification
• USB 2.0 specification revision 2.0
• Data transfer rate up to 480 Mbps
• For 2.5" SATA I or SATA II hard drives
• Dimension (LxWxH): 128 mm x 76 mm x 13 mm
• Hot Plug, Plug & Play
• For Windows 2000/XP/Vista, Mac OS 8.6 or later
System requirements
• PC or Notebook with two free USB Port
• Windows 2000/XP/Vista, Mac OS 8.6 or later
Package content
• 2.5" external enclosure
• USB 2.0 data-/ power cable
• Cover, screwdriver, screws
• Driver CD
• User manual
Package
• Blister
w w w. d e l o c k . c o m
Alle hier aufgeführten Namen und Zeichen sind Eigentum des jeweiligen Herstellers. Druckfehler, Änderungen, Lieferzeiten & Irrtümer vorbehalten. I All brand names and products are registered trademarks of their respective companies. Misprints, changes, delivery times and errors excepted.

* Your assessment is very important for improving the work of artificial intelligence, which forms the content of this project