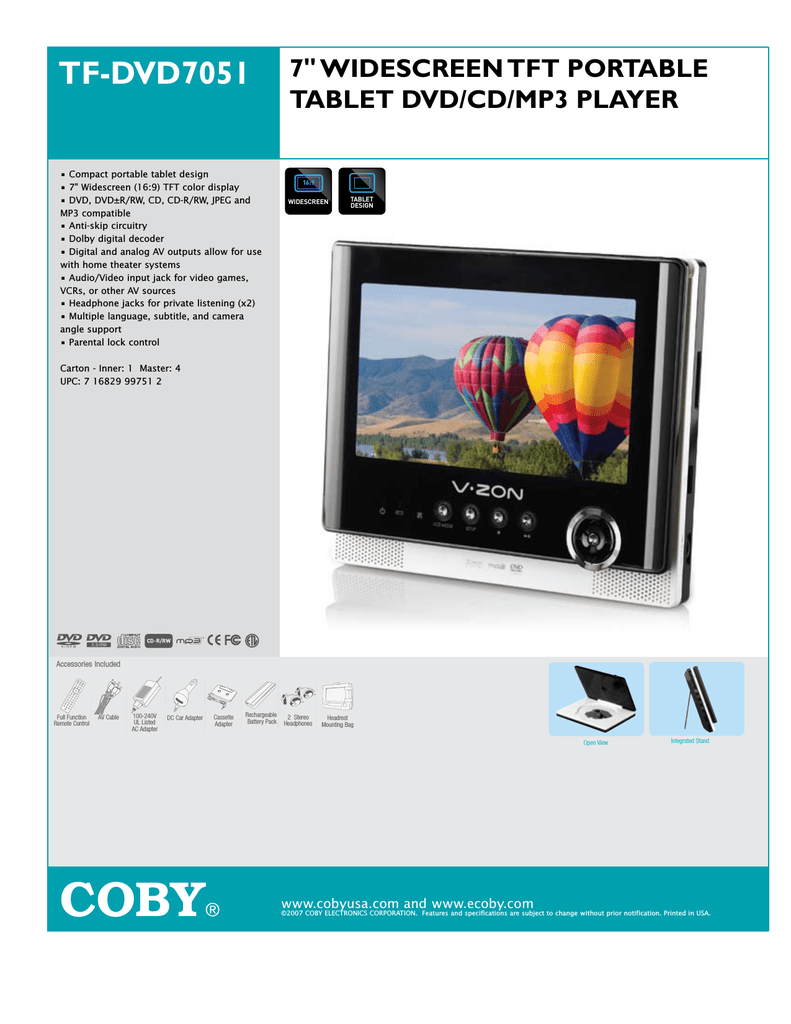 TF-DVD7051
• Compact portable tablet design
• 7" Widescreen (16:9) TFT color display
• DVD, DVD±R/RW, CD, CD-R/RW, JPEG and
MP3 compatible
• Anti-skip circuitry
• Dolby digital decoder
• Digital and analog AV outputs allow for use
with home theater systems
• Audio/Video input jack for video games,
VCRs, or other AV sources
• Headphone jacks for private listening (x2)
• Multiple language, subtitle, and camera
angle support
• Parental lock control
7" WIDESCREEN TFT PORTABLE
TABLET DVD/CD/MP3 PLAYER
16:9
WIDESCREEN
TABLET
DESIGN
Carton - Inner: 1 Master: 4
UPC: 7 16829 99751 2
Accessories Included
Full Function
Remote Control
AV Cable
100-240V
UL Listed
AC Adapter
Cassette
Adapter
DC Car Adapter
Rechargeable
Battery Pack
2 Stereo
Headphones
Headrest
Mounting Bag
Open View
COBY
®
www.cobyusa.com and www.ecoby.com
Integrated Stand
©2007 COBY ELECTRONICS CORPORATION. Features and specifications are subject to change without prior notification. Printed in USA.

* Your assessment is very important for improving the work of artificial intelligence, which forms the content of this project