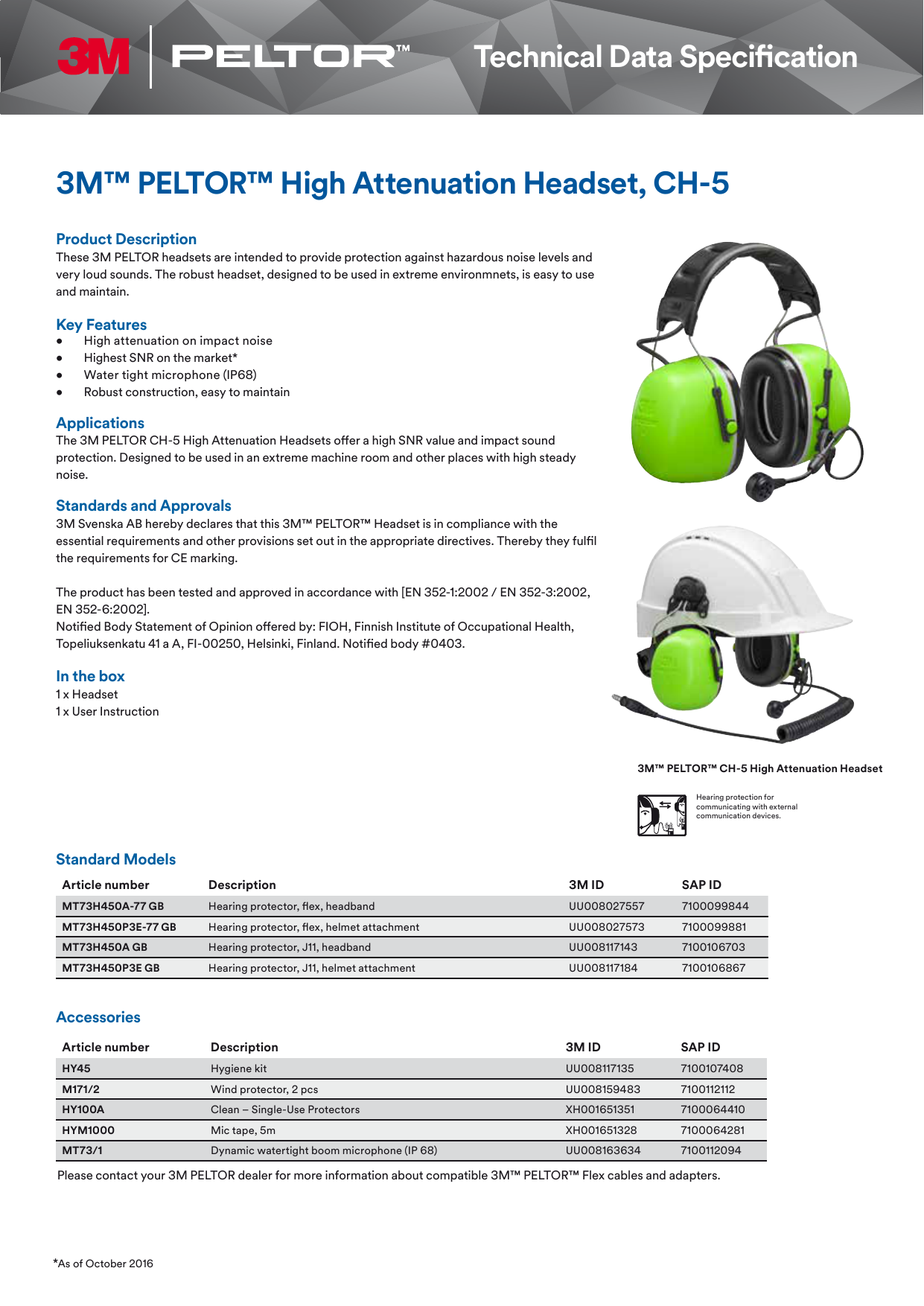 Technical Data Specification
3M™ PELTOR™ High Attenuation Headset, CH-5
Product Description
These 3M PELTOR headsets are intended to provide protection against hazardous noise levels and
very loud sounds. The robust headset, designed to be used in extreme environmnets, is easy to use
and maintain.
Key Features
•
•
•
•
High attenuation on impact noise
Highest SNR on the market*
Water tight microphone (IP68)
Robust construction, easy to maintain
Applications
The 3M PELTOR CH-5 High Attenuation Headsets offer a high SNR value and impact sound
protection. Designed to be used in an extreme machine room and other places with high steady
noise.
Standards and Approvals
3M Svenska AB hereby declares that this 3M™ PELTOR™ Headset is in compliance with the
essential requirements and other provisions set out in the appropriate directives. Thereby they fulfil
the requirements for CE marking.
The product has been tested and approved in accordance with [EN 352-1:2002 / EN 352-3:2002,
EN 352-6:2002].
Notified Body Statement of Opinion offered by: FIOH, Finnish Institute of Occupational Health,
Topeliuksenkatu 41 a A, FI-00250, Helsinki, Finland. Notified body #0403.
In the box
1 x Headset
1 x User Instruction
3M™ PELTOR™ CH-5 High Attenuation Headset
Hearing protection for
communicating with external
communication devices.
Standard Models
Article number
Description
3M ID
SAP ID
MT73H450A-77 GB
Hearing protector, flex, headband
UU008027557
7100099844
MT73H450P3E-77 GB
Hearing protector, flex, helmet attachment
UU008027573
7100099881
MT73H450A GB
Hearing protector, J11, headband
UU008117143
7100106703
MT73H450P3E GB
Hearing protector, J11, helmet attachment
UU008117184
7100106867
Accessories
Article number
Description
3M ID
SAP ID
HY45
Hygiene kit
UU008117135
7100107408
M171/2
Wind protector, 2 pcs
UU008159483
7100112112
HY100A
Clean – Single-Use Protectors
XH001651351
7100064410
HYM1000
Mic tape, 5m
XH001651328
7100064281
MT73/1
Dynamic watertight boom microphone (IP 68)
UU008163634
7100112094
Please contact your 3M PELTOR dealer for more information about compatible 3M™ PELTOR™ Flex cables and adapters.
*As of October 2016
Technical data specifications
Materials:
Headband
Headband (PVC, PA)
Headband wire (stainless steel)
Two-point fastener (POM)
Cushion (PVC foil and PUR foam)
Foam liner (PUR foam)
Cup (ABS)
Speech microphone (ABS, PA)
External connector (Metal Bronze)
PTT button (PBT)
J22 for Speech microphone (TPE)
Helmet attachment
Helmet attachment wire (stainless steel)
Approx. net weight:
MT73H450A-77 GB = 451 g
MT73H450A GB = 498 g
MT73H450P3E-77 GB = 474 g
MT73H450P3E GB = 521 g
Operating temperature:
-20°C (-4°F) to +55°C (131°F)
Storage temperature:
-20°C (-4°F) to +55°C (131°F)
Shelf life:
5 years
Wired connectivity:
-77 Flex (limited to 82 dB) or J11 PELTOR Connection
Use limitation: Never modify or alter this product
MUFF_MT13H223A_MUFF
Attenuation Europe
MT73H450A-77 GB, MT73H450A GB
Frequency (Hz)
125
250
500
1000
2000
4000
8000
Mean Attenuation (dB)
22.5
29.2
39.3
44.1
37.2
42.1
41.6
Std. deviation (dB)
2.9
1.7
2.2
2.8
2.3
2.7
4.1
Assumed Protection Value (dB)
19.6
27.5
37.2
41.3
34.9
39.4
37.5
EN 352-1:2002
SNR=37 dB H=37 dB M=36 dB L=28 dB
MUFF_HRXS220P3E_MUFF
MT73H450P3E-77 GB, MT73H450P3E GB
Frequency (Hz)
125
250
500
1000
2000
4000
8000
Mean Attenuation (dB)
22.9
27.9
38.1
43.1
36.6
40.6
40.0
Std. deviation (dB)
2.0
1.9
2.6
2.0
2.9
2.5
5.8
20.9
26.0
35.5
41.1
33.7
38.1
34.2
Assumed Protection Value (dB)
EN 352-3:2002
SNR=36 dB H=35 dB M=35 dB L=28 dB
DS16008 rev.a
3M™ PELTOR™ Marketing Communication, Värnamo, Sweden
External input levels MT73H450A GB, MT73H450A-77 GB, MT73H450P3E GB, MT73H450P3E-77 GB
RMS Voltage U (mV)
Mean Sound Pressure (dB(A))
STD Sound Pressure (dB)
197
70.9
0.7
351
75.9
0.7
624
80.9
0.7
1110
85.9
0.6
The electrical input level for which the sound pressure level is equal to 82 dB(A) is: 660 mV
It is expected that all users read and understand the provided user instructions as well as be
familiar with the use of this device.
3M Personal Safety Division
3M Svenska AB, Box 2341
SE-331 02 Värnamo
Sweden
Tel. +46 370 69 42 00
Internet: www.3M.com/PELTOR
Warranty
The warranty does not cover any damage caused by neglected maintenance or
careless handling.
For more information on maintenance, please see the user instruction.
For complete warranty condition, contact your dealer or local 3M office
Please recycle. Printed in Sweden.
© 3M 2016. All rights reserved.
3M is a trademark of 3M Company, used under
license in Canada. PELTOR is a trademark of 3M
Svenska AB, used under license in Canada.
Important Notice
3M does not accept liability of any kind, be it direct or consequential (including,
but not limited to, loss of profits, business and/or goodwill) arising from reliance
upon any information herein provided by 3M.
The user is responsible for determining the suitability of the products for their
intended use. Nothing in this statement will be deemed to exclude or restrict
3M's liability for death or personal injury arising from its negligence.

* Your assessment is very important for improving the work of artificial intelligence, which forms the content of this project