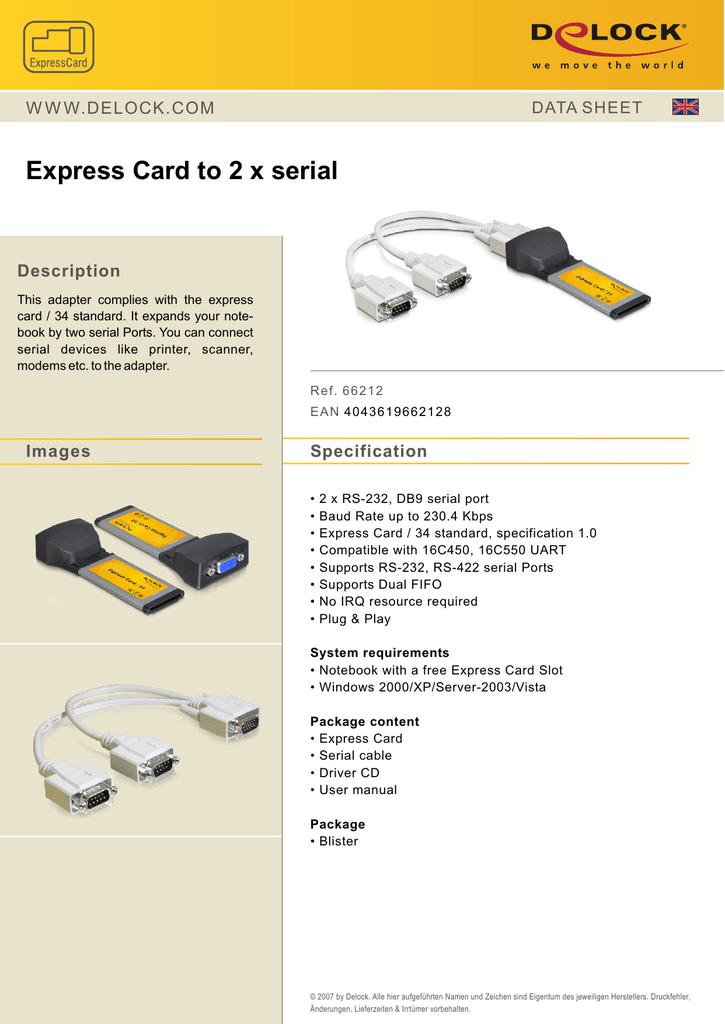 DATA SHEET
W W W.DELOCK.COM
Express Card to 2 x serial
Description
This adapter complies with the express
card / 34 standard. It expands your notebook by two serial Ports. You can connect
serial devices like printer, scanner,
modems etc. to the adapter.
Ref. 66212
EAN 4043619662128
Images
Specification
•
•
•
•
•
•
•
•
2 x RS-232, DB9 serial port
Baud Rate up to 230.4 Kbps
Express Card / 34 standard, specification 1.0
Compatible with 16C450, 16C550 UART
Supports RS-232, RS-422 serial Ports
Supports Dual FIFO
No IRQ resource required
Plug & Play
System requirements
• Notebook with a free Express Card Slot
• Windows 2000/XP/Server-2003/Vista
Package content
• Express Card
• Serial cable
• Driver CD
• User manual
Package
• Blister
© 2007 by Delock. Alle hier aufgeführten Namen und Zeichen sind Eigentum des jeweiligen Herstellers. Druckfehler,
Änderungen, Lieferzeiten & Irrtümer vorbehalten.

* Your assessment is very important for improving the work of artificial intelligence, which forms the content of this project