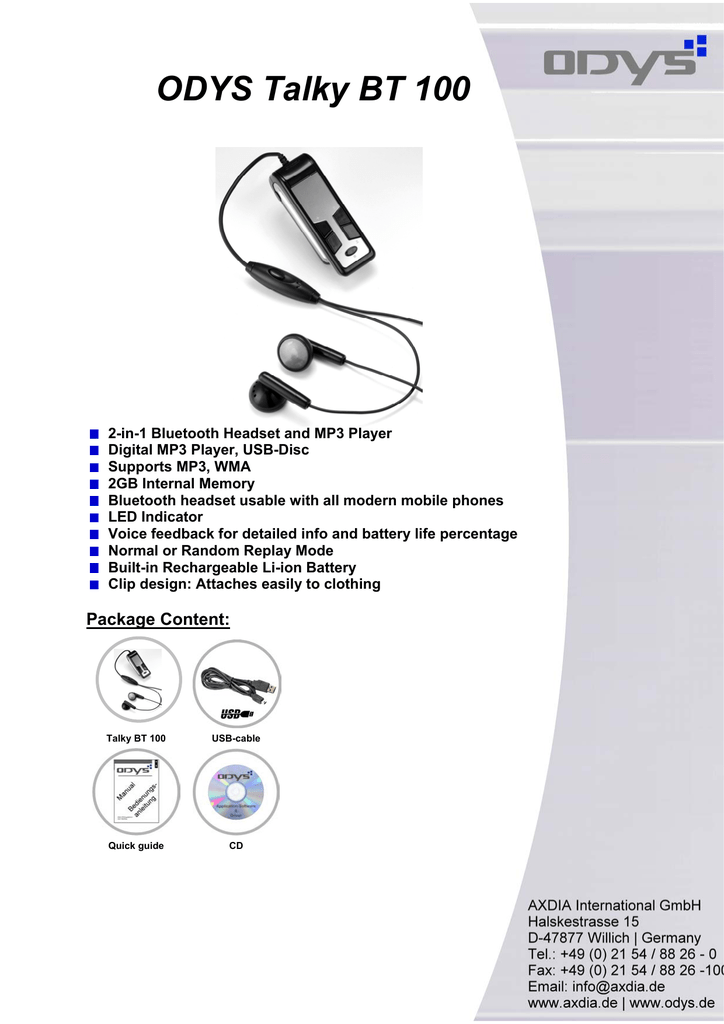 ODYS Talky BT 100
2-in-1 Bluetooth Headset and MP3 Player
Digital MP3 Player, USB-Disc
Supports MP3, WMA
2GB Internal Memory
Bluetooth headset usable with all modern mobile phones
LED Indicator
Voice feedback for detailed info and battery life percentage
Normal or Random Replay Mode
Built-in Rechargeable Li-ion Battery
Clip design: Attaches easily to clothing
Package Content:
Talky BT 100
USB-cable
Quick guide
CD
Talky BT 100
Technische Daten / Specifications
Interner Speicher /
Internal Memory
2048MB
Dateiformate /
File formats
MP3, WMA
Wiedergabefunktionen /
Repeat-Function
Normal, Zufällig
Normal, Random
Rauschabstand /
Signal-to-Noise Ratio
>=90dB
Schnittstelle /
Interface
Universal Serial Bus 2.0 (Full Speed)
Kopfhöreranschluss /
Earphone jack
3,5 mm
Stromversorgung /
Power Supply
180mAh Li-ion Batterie
180mAh Li-ion-Battery
Unterstützte Bluetooth Profile
Supported Bluetooth Profiles
BT Headset (HSP), Hands-free (HFP)
System Status Information
LED Anzeige und Sprachansage für Detailinformationen und
Batteriestatus
LED Indicator and Voice feedback for detailed info and battery life
percentage
Batterielaufzeit /
Continuous playing time
10 Std. Musik Wiedergabe, 80 Std. Standby, 4 Std. Gespräch
10 Hrs. Music playback, 80 Hrs. Standby, 4 Hrs. Talk time
Abmessungen /
Dimensions
57 x 23 x 20 [mm]
Gewicht /
Weight
32g
Softwareunterstützung /
Software support
Windows 98 / 2000 / XP / Vista and Linux 2.4/ Mac OS 9.0 above
Lieferumfang /
Package Content
Talky BT 100, USB-Kabel, CD, anleitung
Talky BT 100, USB-cable, CD, Manuel
Technische Änderungen und Irrtümer vorbehalten.
We reserve the right for technical changes and mistakes.

* Your assessment is very important for improving the work of artificial intelligence, which forms the content of this project