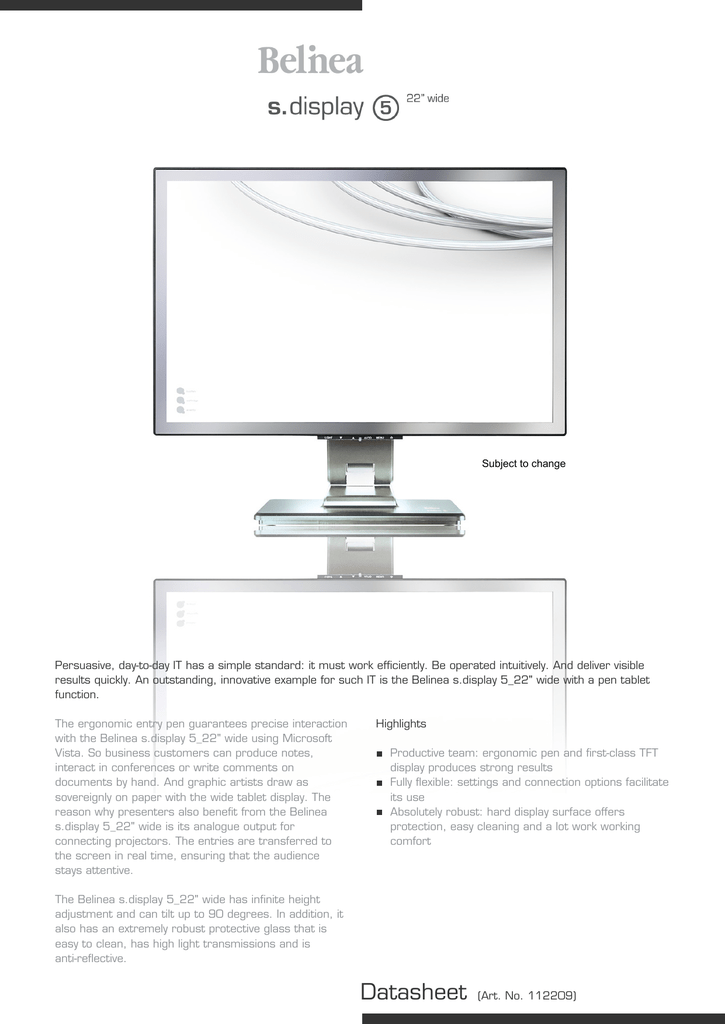 Subject to change
Persuasive, day-to-day IT has a simple standard: it must work efficiently. Be operated intuitively. And deliver visible
results quickly. An outstanding, innovative example for such IT is the Belinea s.display 5_22" wide with a pen tablet
function.
The ergonomic entry pen guarantees precise interaction
with the Belinea s.display 5_22" wide using Microsoft
Vista. So business customers can produce notes,
interact in conferences or write comments on
documents by hand. And graphic artists draw as
sovereignly on paper with the wide tablet display. The
reason why presenters also benefit from the Belinea
s.display 5_22" wide is its analogue output for
connecting projectors. The entries are transferred to
the screen in real time, ensuring that the audience
stays attentive.
Highlights
Productive team: ergonomic pen and first-class TFT
display produces strong results
Fully flexible: settings and connection options facilitate
its use
Absolutely robust: hard display surface offers
protection, easy cleaning and a lot work working
comfort
The Belinea s.display 5_22" wide has infinite height
adjustment and can tilt up to 90 degrees. In addition, it
also has an extremely robust protective glass that is
easy to clean, has high light transmissions and is
anti-reflective.
Datasheet
(Art. No. 112209)
Display
Display Type
Panel Technology
Image Size
Viewable Image Size
Picture Size W*H (max.)
Physical resolution
Pixel Pitch
Displayable Colours (max.)
Brightness (typical)
Background Lighting
Contrast Ratio (typical)
Contrast ratio (dynamic)
Viewing Angle h/v C/R 10:1
Viewing Angle h/v C/R 5:1
Response Time: (typical)
Response Time
TFT / Active Matrix
TN + Film
22 inch
54.86 cm
465 x 291 mm
1680 x 1050 Pixel
0.277 mm
16,7 Mio
300 cd / sq m
4 CCFLs
1000:1
2500:1
170° / 160°
170° / 170°
5 ms
5 ms
Tablet
Technology
Resolution
Detectable pen tilt
Reading height (pen)
Writing height (pen)
Report rate
Pen
Pen pressure
Electromagnetic pen-writing technology
1000 lpi
± 45°
15 mm
10 mm
180 Points per sec.
Active pen with 2 buttons
1024 Levels
Certifications / Certificates / Standards
Plug & Play
DDC 1
DDC 2B
DDC-CI
Energy Star
VESA-Standard (Dot Pitch)
Mac compatible
CE-Marking according to EU-guidelines
Safety glass
Hardness level (as per MOH)
Reflection (max.)
Glass thickness (min.)
Light transmission (min.)
7
2%
2 mm
95 %
Accessories
Audio Cable
Video Cable (15 pol. Mini D-Sub, Length
1,8 m)
DVI-D cable (1.8 m)
Power Cable
USB cable
Pivot Software (optional)
Electrical Data
Horizontal Frequency
Vertical Frequency
Video bandwidth (dot rate)
Rated Voltage
Input Frequency
Input Signal
Power Consumption (ON)
Power Consumption (sleep)
Power Consumption (OFF)
Audio Amplifier Power Output (2x)
30 - 81 kHz
56 - 75 Hz
162 MHz
100 - 240 V
50 - 60 Hz
digital + analogue
38 W
0,8 W
0,7 W
2W
Interfaces
Mini-D-Sub Connector (15 pin)
Mini-D-Sub out (15 pin)
DVI-D (24 pin) incl. HDCP
Audio In
yes
yes
yes
yes
Features
Speaker (integrated)
OSD
Power Adaptor
Colour
Height adjustability
Rotatable through 90°
Tilt Back
Tilt Forth
Swivel Left
Swivel Right
Kensington Lock compatible
yes
yes
internal
s.line.black
120 mm
no
90 °
3°
0°
0°
Yes, Case Rear
Control Settings (OSD)
Brightness
Contrast
Volume (OSD)
Automatic Picture Adjustment
ColourTemperature
ColourCalibration
Display At Lower Resolutions
Reset
full screen
1:1 Repesentation
Frequency Display
Video Signal Selection
yes
yes
yes
yes
yes
yes
full screen
yes
yes
no
yes
yes
ColourTemperature
5400K
6500K
9300K
Supervisor
no
yes
yes
yes
sRGB
yes
Control Settings (external)
Power
Menu
Automatic Screen Adjust (external)
Volume Adjust (external)
Mute (external)
Video signal switch (external)
yes
yes
yes
yes
yes
yes
Maximum Refresh Rates (Resolution Dependent)
640 * 480
75 Hz
800 * 600
75 Hz
1024 * 768
75 Hz
1280 * 1024
75 Hz
1440 * 900
75 Hz
1400 * 1050
60 Hz
1680 * 1050
60 Hz
yes
yes
yes
yes
yes
75 x 75 mm
yes
yes
yes
yes (2x)
yes
yes
yes
no
Manual(s)
Number of languages in Manual
14
Measures (net)
Width (net)
Height (net)
Depth (net)
Weight (net)
500 mm
428 mm
271 mm
7.6 kg
Measures (without stand)
Width (without stand)
Height (without stand)
Depth (without stand)
500 mm
326 mm
76 mm
Measures (gross)
Weight (gross)
8.5 kg
Application areas
For all business customers that want
productive computing with its own style
For presenters that want to be even more
persuasive through the intelligent use of
technology
For graphic designers and digital media
designers who value the highest precision for
digital work
31.03.2008 © All rights reserved
all statements are subject to change and may contain errors. Belinea, the Belinealogo as well as the
layout and features of this brochure are copyright protected. Declared marks belong to their respective
owners.

* Your assessment is very important for improving the work of artificial intelligence, which forms the content of this project