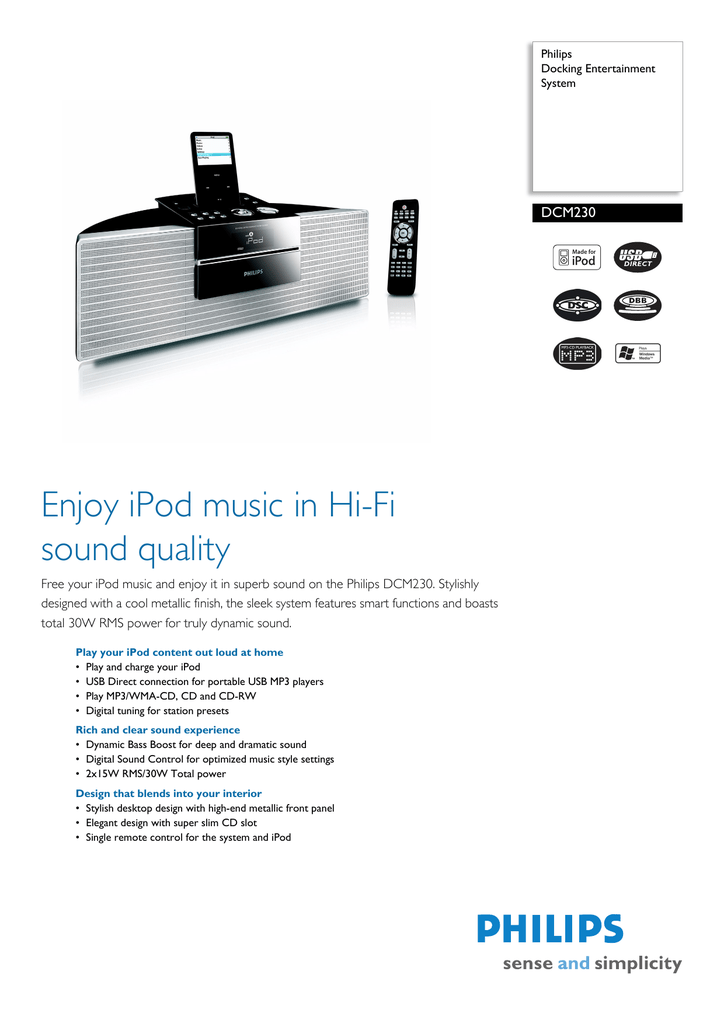 Philips
Docking Entertainment
System
DCM230
Enjoy iPod music in Hi-Fi
sound quality
Free your iPod music and enjoy it in superb sound on the Philips DCM230. Stylishly
designed with a cool metallic finish, the sleek system features smart functions and boasts
total 30W RMS power for truly dynamic sound.
Play your iPod content out loud at home
• Play and charge your iPod
• USB Direct connection for portable USB MP3 players
• Play MP3/WMA-CD, CD and CD-RW
• Digital tuning for station presets
Rich and clear sound experience
• Dynamic Bass Boost for deep and dramatic sound
• Digital Sound Control for optimized music style settings
• 2x15W RMS/30W Total power
Design that blends into your interior
• Stylish desktop design with high-end metallic front panel
• Elegant design with super slim CD slot
• Single remote control for the system and iPod
DCM230/12
Docking Entertainment System
Specifications
Product highlights
iPod compatibility
• Compatible with: iPod, iPod mini, iPod nano, iPod
with colour display, iPod 5th Generation
Audio Playback
• Cradle playback mode: Charging iPod, Play and
Pause, Next and Previous track, Fast forward and
backward
• Loader Type: Motorised, Slot
• Playback Media: WMA-CD, MP3-CD, CD, CD-R,
CD-RW
• Disc Playback Modes: Fast Forward/Backward,
Next/Previous Track Search, Repeat Play, Shuffle
Play
• Programmable Tracks: 20
Sound
•
•
•
•
•
Output power (RMS): 2x15 W
Sound System: Stereo
Loudspeaker types: Bass Reflex Speaker System
Sound Enhancement: Dynamic Bass Boost
Volume Control: Volume Control up/down
Tuner/Reception/Transmission
• Tuner Bands: FM, MW
• Station presets: 40
• Auto digital tuning
• RDS: Station Name
• Antenna: FM Antenna
Connectivity
• USB: USB host
• Aux in
• Headphone: 3.5 mm
Convenience
•
•
•
•
•
Display Type: LCD
Backlight
Remote Control: Multi functional
Alarms: Radio Alarm, Sleep timer
Clock/Version: Digital
Power
• Mains power
Accessories
• Included Accessories: AC Power Cord, User
Manual, Warranty certificate, Remote Control,
World Wide Warranty leaflet
Dimensions
• Product dimensions (W x H x D):
390 x 140.5 x 200.5 mm
•
Issue date 2008-04-07
© 2008 Koninklijke Philips Electronics N.V.
All Rights reserved.
Version: 4.0.12
Specifications are subject to change without notice.
Trademarks are the property of Koninklijke Philips
Electronics N.V. or their respective owners.
12 NC: 8670 000 30938
EAN: 87 12581 34150 3
www.philips.com
Play and charge your iPod
USB Direct connection
With the USB Direct mode, you can simply select the
music on a USB device and playback all your content. All
you have to do is plug in your USB device to playback
music or export content from the device.
Dynamic Bass Boost
Dynamic Bass Boost maximizes your music enjoyment by
emphasizing the bass content of the music throughout
the range of volume settings - from low to high – at the
touch of a button! Bottom-end bass frequencies usually
get lost when the volume is set at a low level. To
counteract this, Dynamic Bass Boost can be switched on
to boost bass levels, so you can enjoy consistent sound
even when you turn down the volume.
Digital Sound Control
Digital Sound Control offers you a choice of pre-set Jazz,
Rock, Pop and Classic controls you can use to optimise
the frequency ranges for different musical styles. Each
mode uses graphic equalising technology to automatically
adjust the sound balance and enhance the most
important sound frequencies in your chosen music style.
Ultimately, Digital Sound Control makes it easy for you
get the most out of your music by precisely adjusting the
sound balance to match the type of music you are
playing.

* Your assessment is very important for improving the work of artificial intelligence, which forms the content of this project