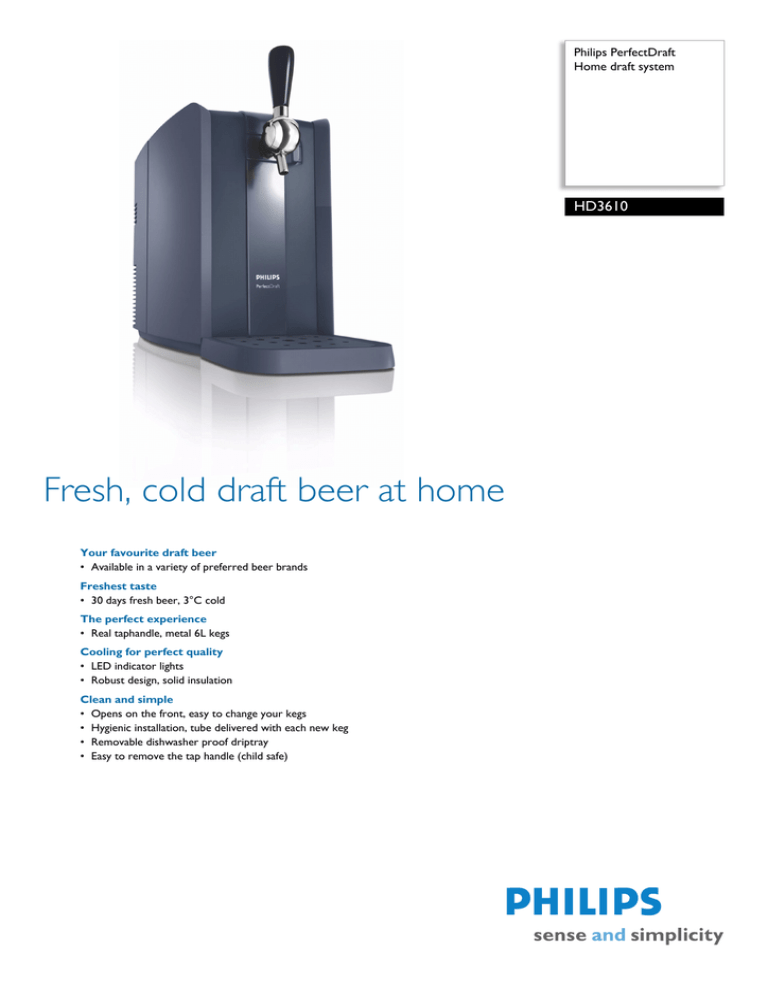 Philips PerfectDraft
Home draft system
HD3610
Fresh, cold draft beer at home
Your favourite draft beer
• Available in a variety of preferred beer brands
Freshest taste
• 30 days fresh beer, 3°C cold
The perfect experience
• Real taphandle, metal 6L kegs
Cooling for perfect quality
• LED indicator lights
• Robust design, solid insulation
Clean and simple
• Opens on the front, easy to change your kegs
• Hygienic installation, tube delivered with each new keg
• Removable dishwasher proof driptray
• Easy to remove the tap handle (child safe)
HD3610
Home draft system
Specifications
Product highlights
Finishing
Logistic data
Design specifications
Technical data
• Color: Grey with dark grey accents.
• Cooling time at room temperature (23ºC):
15 hour(s)
• Max operating temperature: 30 °C
Dimensions and weight
• Product dimensions incl handle and
driptray(WxHxD): 261 x 444 x 493 mm
• Weight: 7500 g
• CTV: 8823 610 50000
•
•
•
•
•
Max power: 70 W
Voltage: 200-240 V
Flow rate: 2 l/min
Frequency: 50-60 Hz
Max operating pressure: 1,5 bar
Kegs for use in the system (not included)
• Volume: 6 l
• Dimensions (HxDiameter): 273 x 199 mm
• Weight: Empty 1200, Full 7200 g
•
Issue date 2007-12-17
© 2007 Koninklijke Philips Electronics N.V.
All Rights reserved.
Version: 4.1
Specifications are subject to change without notice.
Trademarks are the property of Koninklijke Philips
Electronics N.V. or their respective owners.
www.philips.com
Variety of beer brands
Personalize the appliance to your favourite beer brand
with a variety of medallions to put on the handle. New
medaillions will be available in the webshop.
LED indicator lights
On indicator showing you that the appliance is switched
on and that a keg needs to be loaded. The cooling
indicator is showing you that the appliance is cooling
towards the ideal beer temperature of 3°C. The ready
indicator is showing you that the ideal drinking
temperature of 3°C has been reached.

* Your assessment is very important for improving the work of artificial intelligence, which forms the content of this project