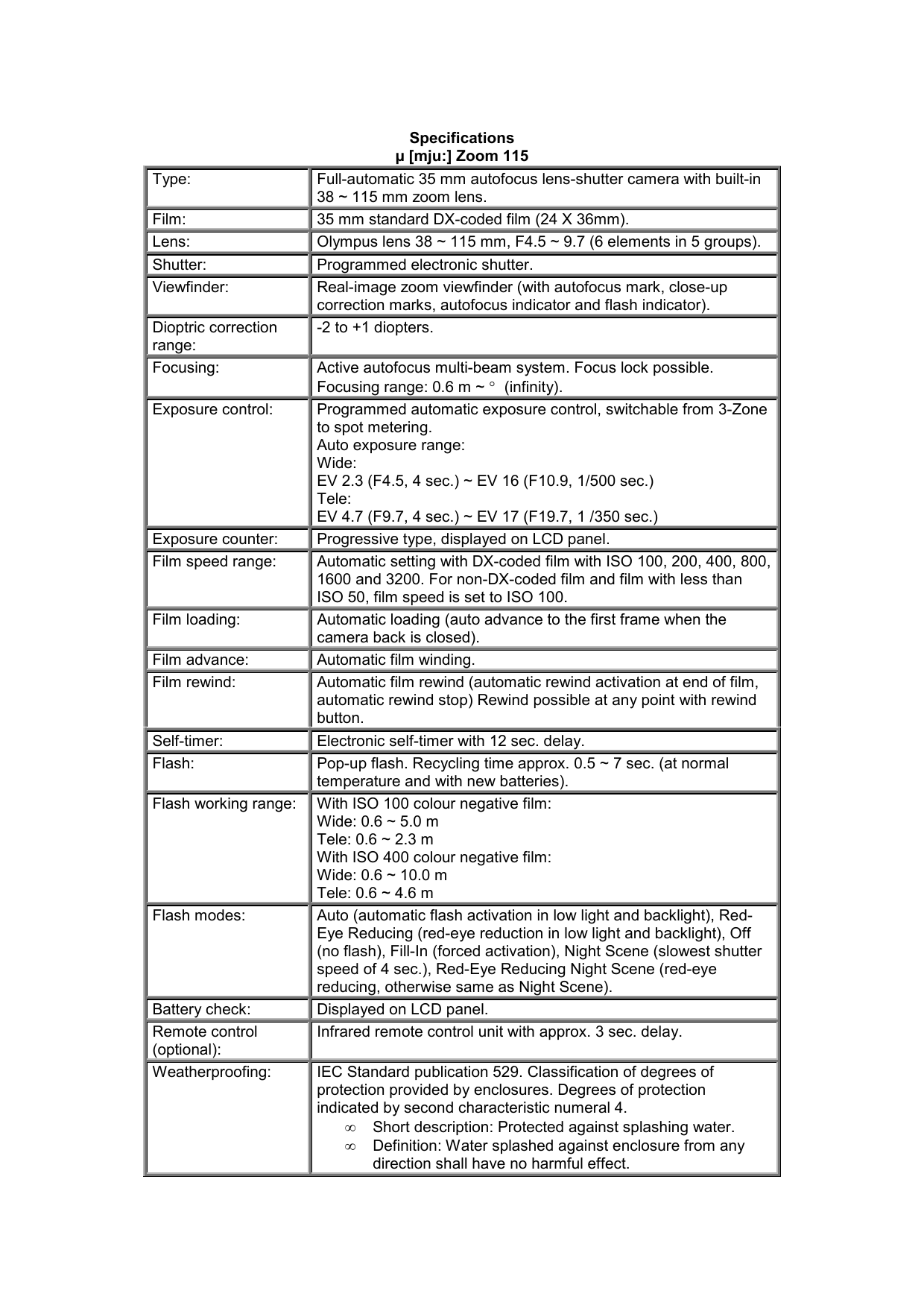 Type:
Film:
Lens:
Shutter:
Viewfinder:
Dioptric correction
range:
Focusing:
Exposure control:
Exposure counter:
Film speed range:
Film loading:
Film advance:
Film rewind:
Self-timer:
Flash:
Flash working range:
Flash modes:
Battery check:
Remote control
(optional):
Weatherproofing:
Specifications
µ [mju:] Zoom 115
Full-automatic 35 mm autofocus lens-shutter camera with built-in
38 ~ 115 mm zoom lens.
35 mm standard DX-coded film (24 X 36mm).
Olympus lens 38 ~ 115 mm, F4.5 ~ 9.7 (6 elements in 5 groups).
Programmed electronic shutter.
Real-image zoom viewfinder (with autofocus mark, close-up
correction marks, autofocus indicator and flash indicator).
-2 to +1 diopters.
Active autofocus multi-beam system. Focus lock possible.
Focusing range: 0.6 m ~ ∞ (infinity).
Programmed automatic exposure control, switchable from 3-Zone
to spot metering.
Auto exposure range:
Wide:
EV 2.3 (F4.5, 4 sec.) ~ EV 16 (F10.9, 1/500 sec.)
Tele:
EV 4.7 (F9.7, 4 sec.) ~ EV 17 (F19.7, 1 /350 sec.)
Progressive type, displayed on LCD panel.
Automatic setting with DX-coded film with ISO 100, 200, 400, 800,
1600 and 3200. For non-DX-coded film and film with less than
ISO 50, film speed is set to ISO 100.
Automatic loading (auto advance to the first frame when the
camera back is closed).
Automatic film winding.
Automatic film rewind (automatic rewind activation at end of film,
automatic rewind stop) Rewind possible at any point with rewind
button.
Electronic self-timer with 12 sec. delay.
Pop-up flash. Recycling time approx. 0.5 ~ 7 sec. (at normal
temperature and with new batteries).
With ISO 100 colour negative film:
Wide: 0.6 ~ 5.0 m
Tele: 0.6 ~ 2.3 m
With ISO 400 colour negative film:
Wide: 0.6 ~ 10.0 m
Tele: 0.6 ~ 4.6 m
Auto (automatic flash activation in low light and backlight), RedEye Reducing (red-eye reduction in low light and backlight), Off
(no flash), Fill-In (forced activation), Night Scene (slowest shutter
speed of 4 sec.), Red-Eye Reducing Night Scene (red-eye
reducing, otherwise same as Night Scene).
Displayed on LCD panel.
Infrared remote control unit with approx. 3 sec. delay.
IEC Standard publication 529. Classification of degrees of
protection provided by enclosures. Degrees of protection
indicated by second characteristic numeral 4.
• Short description: Protected against splashing water.
• Definition: Water splashed against enclosure from any
direction shall have no harmful effect.
•
Power source:
Dimensions:
Weight:
Test for second numeral 4: Equipment is sprayed from all
practical directions.
One 3V lithium battery (DL 123A or CR 123A).
120 (W) X 64 (H) X 49 (D) mm (without protrusions).
245 g (without batteries).

* Your assessment is very important for improving the work of artificial intelligence, which forms the content of this project