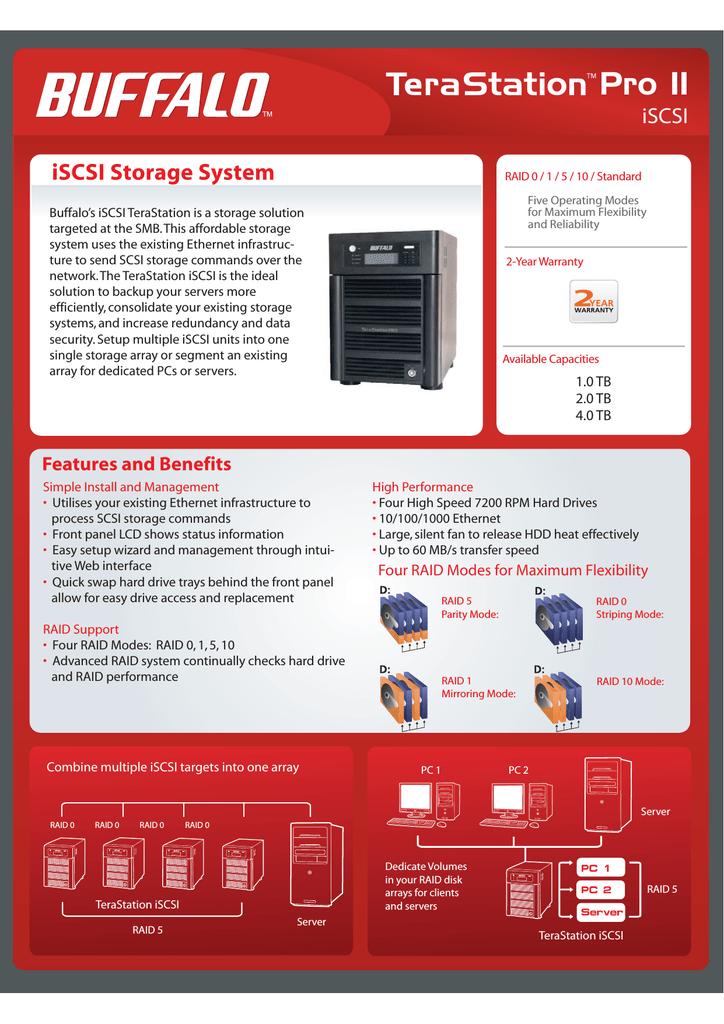 Pro II
iSCSI
iSCSI Storage System
RAID 0 / 1 / 5 / 10 / Standard
Five Operating Modes
for Maximum Flexibility
and Reliability
Buffalo's iSCSI TeraStation is a storage solution
targeted at the SMB. This affordable storage
system uses the existing Ethernet infrastructure to send SCSI storage commands over the
network. The TeraStation iSCSI is the ideal
solution to backup your servers more
efficiently, consolidate your existing storage
systems, and increase redundancy and data
security. Setup multiple iSCSI units into one
single storage array or segment an existing
array for dedicated PCs or servers.
2-Year Warranty
Available Capacities
1.0 TB
2.0 TB
4.0 TB
Features and Benefits
Simple Install and Management
• Utilises your existing Ethernet infrastructure to
process SCSI storage commands
• Front panel LCD shows status information
• Easy setup wizard and management through intuitive Web interface
• Quick swap hard drive trays behind the front panel
allow for easy drive access and replacement
High Performance
• Four High Speed 7200 RPM Hard Drives
• 10/100/1000 Ethernet
• Large, silent fan to release HDD heat effectively
• Up to 60 MB/s transfer speed
Four RAID Modes for Maximum Flexibility
RAID Support
• Four RAID Modes: RAID 0, 1, 5, 10
• Advanced RAID system continually checks hard drive
and RAID performance
Combine multiple iSCSI targets into one array
RAID 5
Parity Mode:
RAID 0
Striping Mode:
RAID 1
Mirroring Mode:
RAID 10 Mode:
PC 1
PC 2
Server
RAID 0
RAID 0
RAID 0
RAID 0
Dedicate Volumes
in your RAID disk
arrays for clients
and servers
TeraStation iSCSI
RAID 5
Server
PC 1
PC 2
Server
TeraStation iSCSI
RAID 5
Pro II
iSCSI
TS-I1.0TGL/R5, TS-I2.0TGL/R5, TS-I4.0TGL/R5
Specifications
LAN Interface
Standard Compliance
Data Transfer Rates
Connector Type
Number of Ports
Internal Hard Drives
Number of Drives
Drive Interface
Hard Drive Sizes
Total Capacity
Rotational Speed
Supported Operating
Modes
Other
Dimensions
Weight
Operating Environment
Client OS Support
Power Supply
IEEE802.3ab / IEEE802.3u / IEEE802.3
1000BASE-T / 100BASE-TX / 10BASE-T
10 / 100 / 1000 Mbps
RJ-45
1
4
SATA
250GB, 500GB, 1.0TB
1.0TB, 2.0TB, 4.0TB
7200 RPM
0, 1, 5, 10, Standard
170 x 235 x 290 mm
7.3Kg
5-35° C
Windows® Vista™, Windows® XP, Windows® 2000,
Windows® 2003/2008 Server
Internal, AC220-240V 50/60 Hz
*1 TB= 1,000,000,000,000 Bytes. Actual data throughput and range will vary depending upon network conditions and environmental factors, including volume of network traffic,
building materials and construction, and network overhead.
About Buffalo
www.buffalotech.com
Buffalo Technology UK Ltd. is a leading global provider of award-winning networking, memory, storage
and multimedia solutions for the home and small business environments as well as for system builders
and integrators. With almost three decades of networking and computer peripheral experience, Buffalo
has proven its commitment to delivering innovative, solutions that have put the company at the forefront
of infrastructure technology.
© Buffalo Inc. 2008. BUFFALO logo, AirStation, DriveStation, DriveStation Duo, LinkStation, MiniStation, Nfiniti and TeraStation are either trademarks or registered trademarks of Melco Holdings Inc. or Buffalo Inc. Microsoft Windows and Windows logo are either
registered trademarks or trademarks of Microsoft Corporation in the United States and/or other countries. Windows Vista is either registered trademark or trademark of Microsoft Corporation in the United States and/or other countries. The names and logos of other
companies mentioned herein belong to their respective owners.

* Your assessment is very important for improving the work of artificial intelligence, which forms the content of this project