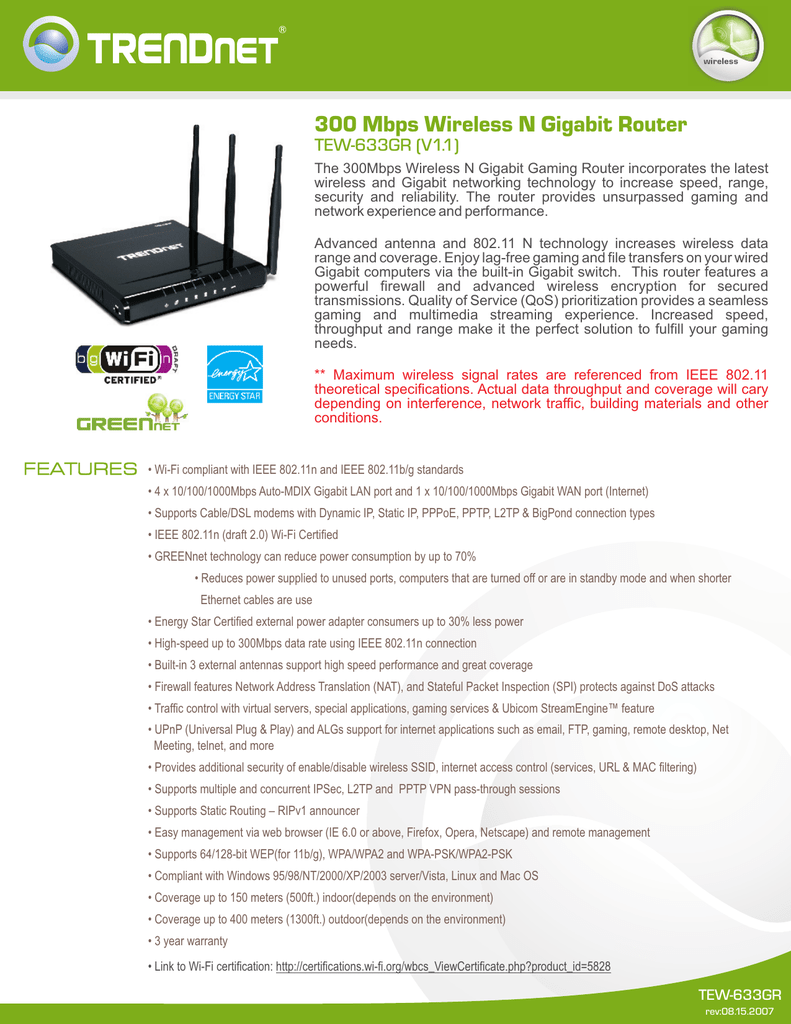 wireless
300 Mbps Wireless N Gigabit Router
TEW-633GR (V1.1)
The 300Mbps Wireless N Gigabit Gaming Router incorporates the latest
wireless and Gigabit networking technology to increase speed, range,
security and reliability. The router provides unsurpassed gaming and
network experience and performance.
Advanced antenna and 802.11 N technology increases wireless data
range and coverage. Enjoy lag-free gaming and file transfers on your wired
Gigabit computers via the built-in Gigabit switch. This router features a
powerful firewall and advanced wireless encryption for secured
transmissions. Quality of Service (QoS) prioritization provides a seamless
gaming and multimedia streaming experience. Increased speed,
throughput and range make it the perfect solution to fulfill your gaming
needs.
** Maximum wireless signal rates are referenced from IEEE 802.11
theoretical specifications. Actual data throughput and coverage will cary
depending on interference, network traffic, building materials and other
conditions.
FEATURES
• Wi-Fi compliant with IEEE 802.11n and IEEE 802.11b/g standards
• 4 x 10/100/1000Mbps Auto-MDIX Gigabit LAN port and 1 x 10/100/1000Mbps Gigabit WAN port (Internet)
• Supports Cable/DSL modems with Dynamic IP, Static IP, PPPoE, PPTP, L2TP & BigPond connection types
• IEEE 802.11n (draft 2.0) Wi-Fi Certified
• GREENnet technology can reduce power consumption by up to 70%
• Reduces power supplied to unused ports, computers that are turned off or are in standby mode and when shorter
Ethernet cables are use
• Energy Star Certified external power adapter consumers up to 30% less power
• High-speed up to 300Mbps data rate using IEEE 802.11n connection
• Built-in 3 external antennas support high speed performance and great coverage
• Firewall features Network Address Translation (NAT), and Stateful Packet Inspection (SPI) protects against DoS attacks
• Traffic control with virtual servers, special applications, gaming services & Ubicom StreamEngine™ feature
• UPnP (Universal Plug & Play) and ALGs support for internet applications such as email, FTP, gaming, remote desktop, Net
Meeting, telnet, and more
• Provides additional security of enable/disable wireless SSID, internet access control (services, URL & MAC filtering)
• Supports multiple and concurrent IPSec, L2TP and PPTP VPN pass-through sessions
• Supports Static Routing – RIPv1 announcer
• Easy management via web browser (IE 6.0 or above, Firefox, Opera, Netscape) and remote management
• Supports 64/128-bit WEP(for 11b/g), WPA/WPA2 and WPA-PSK/WPA2-PSK
• Compliant with Windows 95/98/NT/2000/XP/2003 server/Vista, Linux and Mac OS
• Coverage up to 150 meters (500ft.) indoor(depends on the environment)
• Coverage up to 400 meters (1300ft.) outdoor(depends on the environment)
• 3 year warranty
• Link to Wi-Fi certification: http://certifications.wi-fi.org/wbcs_ViewCertificate.php?product_id=5828
TEW-633GR
rev:08.15.2007
300 Mbps Wireless N Gigabit Router
TEW-633GR
SPECIFICATIONS
Hardware
Standards
• Wired: IEEE 802.3 (10Base-T), IEEE 802.3u (100Base-TX), IEEE 802.3ab (1000Base-T)
• Wireless: IEEE 802.11b, IEEE 802.11g, IEEE 802.11n (draft 2.0), IEEE 802.11e QoS
WAN
• 1 x 10/100/1000Mbps Auto-MDIX gigabit port (Internet)
LAN
• 4 x 10/100/1000Mbps Auto-MDIX gigabit port
Slide Switch
• Turn On/Off Wireless LAN
WPS Button
• Enable WPS function (PIN setup)
Connection Type
• Dynamic IP, Static (Fixed) IP, PPPoE, PPTP, L2TP, BigPond
• 3K configurable NAT entries; Restricted NAPT
• IP Ranges, Port Ranges & Schedule
NAT Firewall
• Pre-Defined Game Hosting Configurations
• Port triggering for 24 special applications
• ALG support (enable/disable support) – PPTP, IPSec, RTP/RTSP, AOL, FTP, ICMP, WMP/MMS, NetMeeting, SIP, MSN
Messenger, Wake on LAN
SPI Firewall
• UP to 24 Rules
• Cyber Attack Protection – Verified Against Over 2000 Attacks
Multicast Stream
• Enable/Disable control support
UPnP
• UPnP IGD Compliant
DMZ
• DMZ Host, 24 Configurable Virtual Servers & Game Servers
DNS
Internet Access Control
Logging
• Static or WAN assigned DNS Servers
• 10 verified services for DDNS
• Policy based parental control; Time based internet access; Port range/service filtering; Dynamic URL filtering; Internet domain
restriction; 32 user defined schedules, 24 MAC Address Filter Entries
• 3 types & 3 severities event logging; up to 1K entries
• Email report logging on schedule or log full
LED Indicator
• Power, LAN1~LAN4, WAN, WLAN
Power Adapter
• 12V DC, 1A External Power Adapter
Power Consumption
Dimensions (LxWxH)
Weight
Temperature
• 779mA
• 150 x 162 x 25 mm (5.9 x 6.4 x 1 inches)
• 335g (11.8oz)
• Operating: 0° ~ 40° C (32° ~ 104° F)
Humidity
• Storage: -20° ~ 60° C (-4° ~ 140° F)
• Max. 90% (Non-Condensing)
Emissions
• CE, FCC
TEW-633GR
rev:08.15.2007
300 Mbps Wireless N Gigabit Router
TEW-633GR
SPECIFICATIONS
Wireless
• 2.412 ~ 2.462 GHz (FCC)
Frequency
• 2.412 ~ 2.472 GHz (ETSI)
• 3 x 4dBi Fixed Dipole Antenna
Antenna
• CSMA/CA with ACK
Media Access Protocol
• 802.11b: 11Mbps, 5.5Mbps, 2Mbps, and 1Mbps
Data Rate (auto fallback)
• 802.11g: 54Mbps, 48Mbps, 36Mbps, 24Mbps, 18Mbps, 12Mbps, 9Mbps and 6Mbps
• 802.11n (draft 2.0) : up to 300Mbps
• Encryption: Hardware AES/TKIP, 64/128-bit WEP (Hex/Passpharse, for 11b/g)
• 802.1X/EAP: EAP-TLE,EAP-TTLE/MSCHAPv2, PEAPv0/EAP-MSCHAPv2, PEAPv1/EAP-GTC
Security
• WPA: WPA/WPA2, WPA-PSK/WPA2-PSK (AES-11b/g/n, TKIP-11b/g)
• WPS: support PIN and PBC
• SSID broadcast control
• 802.11b: 18dBm (typical)
Output Power
• 802.11g: 15dBm (typical)
• 802.11n (draft 2.0): 6dBm (typical) with HT20 or HT40
• 802.11b: -84dBm (typical) @ 11Mbps
Receiving Sensitivity
• 802.11g: -72dBm (typical) @ 54Mbps
• 802.11n (draft 2.0) : -70dBm (typical) with HT20 or HT40
• 1~11 (US), 1~13 (EU)
Channels
NETWORKING SOLUTIONS
PACKAGE CONTENTS
• TEW-633GR
• Multi-language quick installation guide
Wireless N Gigabit Router
(TEW-633GR)
• Easy-Go installation CD-ROM
• Power Adapter (12V DC, 1A)
• RJ-45 Cable (1.5m)
Internet/
Game Servers
Cable/DSL Modem
OR
Notebook with
Gigabit PC Card
(TEG-PCBUSR)
OR
Y
X
RELATED PRODUCTS
TEW-621PC
300Mbps Wireless N-Draft PC Card
TEW-623PI
300Mbps Wireless N-Draft PCI Adapter
TEW-624UB
300Mbps Wireless N USB 2.0 Adapter
TEW-630APB
300Mbps Wireless N-Draft Access Point
B
A
Workstations with
Gigabit PCI Adapter
(TEG-PCITXR)
Game Console with Fast Ethernet
or Gigabit Connection
300Mbps, share multimedia throughout the house
Gigabit
ORDERING INFORMATION
20675 Manhattan Place,Torrance, CA 90501 USA
Tel: 1-310-961-5500
Fax: 1-310-961-5511
Web: www.trendnet.com
Email: sales@trendnet.com
To Order Please Call:
1-888-326-6061
TRENDnet is a registered trademark. Other Brands and product names are trademarks of their respective holders. Information provided in this document pertain to TRENDnet
products and is subject to change at any time, without notice. For the most recent product information please visit http://www.trendnet.com.
Copyright © TRENDnet. All Rights Reserved.