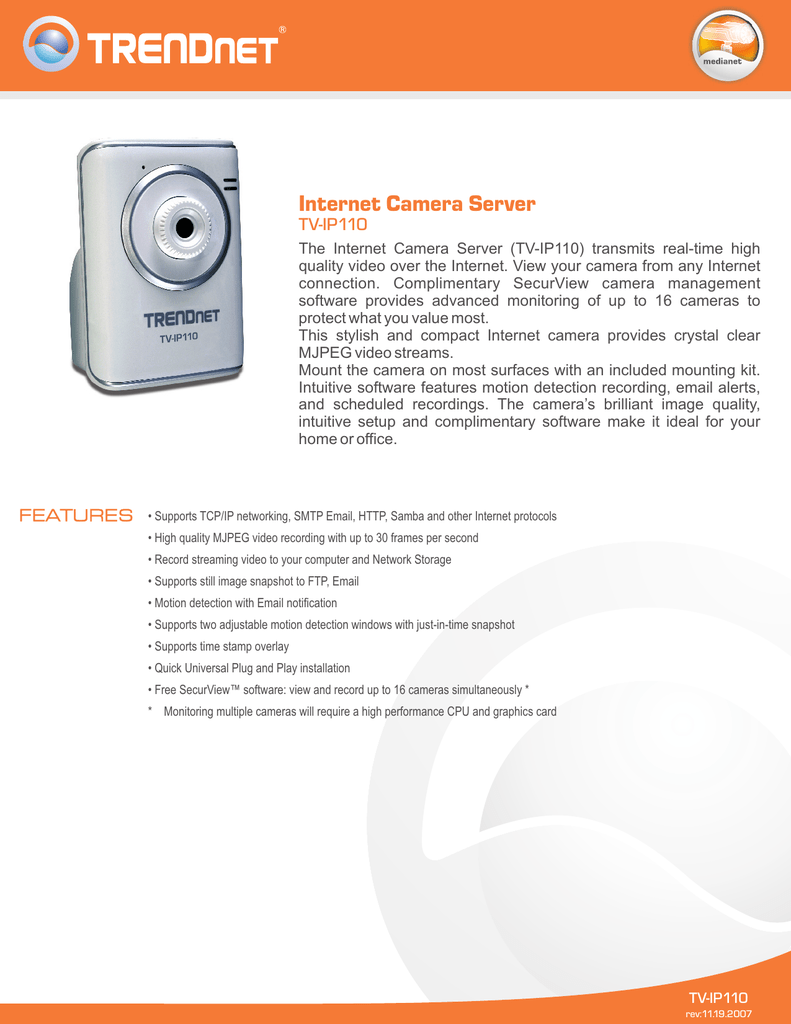 medianet
Internet Camera Server
TV-IP110
The Internet Camera Server (TV-IP110) transmits real-time high
quality video over the Internet. View your camera from any Internet
connection. Complimentary SecurView camera management
software provides advanced monitoring of up to 16 cameras to
protect what you value most.
This stylish and compact Internet camera provides crystal clear
MJPEG video streams.
Mount the camera on most surfaces with an included mounting kit.
Intuitive software features motion detection recording, email alerts,
and scheduled recordings. The camera's brilliant image quality,
intuitive setup and complimentary software make it ideal for your
home or office.
FEATURES
• Supports TCP/IP networking, SMTP Email, HTTP, Samba and other Internet protocols
• High quality MJPEG video recording with up to 30 frames per second
• Record streaming video to your computer and Network Storage
• Supports still image snapshot to FTP, Email
• Motion detection with Email notification
• Supports two adjustable motion detection windows with just-in-time snapshot
• Supports time stamp overlay
• Quick Universal Plug and Play installation
• Free SecurView™ software: view and record up to 16 cameras simultaneously *
* Monitoring multiple cameras will require a high performance CPU and graphics card
TV-IP110
rev:11.19.2007
Internet Camera Server
TV-IP110
SPECIFICATIONS
Image Sensor
Sensor
• ¼" Color CMOS Sensor
Resolution
• 640 x 480 pixel
Fixed Lens
• f: 4.6mm, F: 2.6 (Board Lens)
Viewing Angle
• 60 Degree
Minimum Illumination
• 0.5Lux
Video/Image
Video Format
• MJPEG
Image Frame Rate
• 30fps @VGA, QVGA, QQVGA
Frame Rate Setting
• 1 ~ 30fps, 3 x Digital Zoom
Zoom
• 3 x Digital Zoom
Compression Ration Setting
• 5 Levels
Resolution
• 640 x 480, 320 x 240, 160 x 120
Exposure Control, White Balance,
Gain Control
• Automatic
Image Setting
• Adjustable brightness, contrast,saturation & sharpness
Flip Images
• Vertical / Horizontal
Light Frequency
• 50Hz, 60Hz or Outdoor
Communication
LAN
• 10/100Mbps Auto MDIX
Protocol
• HTTP, FTP, TCP/IP, UDP, ICMP, DHCP, NTP, DNS, DDNS, SMTP, PPPoE, UPnP
System
CPU
RAM
• ARM9 base
• 16Mbyte SDRM
ROM
• 4Mbyte Nor Flash
OS
• Linux
System Requirement (Web Configuration)
CPU
• Pentium 4, 350MHz or above
Memory Size
• 256MB RAM or above, 512MB RAM or above (Windows Vista)
Resolution
Browser
• 800 x 600 or above
• Internet Explorer 6.0 or above
Supported OS
• Windows 2000/XP/Vista
System Requirement (SecurView™ Software)
CPU
• Pentium 4, 1GHz or above
Memory Size
• 512MB or above
Resolution
• 1024 X 768 or above
Supported OS
• Windows 2000/XP/Vista
TV-IP110
rev:11.19.2007
Internet Camera Server
TV-IP110
SPECIFICATIONS
Physical/Environmental
• xxxxxxxxxxxxxxxxxxxxxxxxxxxxxxxx
Dimension
• 70 x 100 x 57mm (2.67 x 3.94 x 2.95 in.)
Weight
• Camera: 125g (4.4oz.); Stand: 135g (4.76oz.)
Power
• 5V DC, 2.5A External Adapter
Power Consumption
• 6 Watts (Max)
• Power (Orange), Link (Green)
LEDs
• Enable/Disable Support
• Operating: 0ºC ~ 45ºC (32ºF ~ 113ºF); Storage : -10ºC ~ 60ºC (14ºF ~ 140ºF)
Temperature
NETWORKING SOLUTIONS
PACKAGE CONTENTS
• TV-IP110
Internet Camera Server
• Utility CD-ROM
(TV-IP110)
• Multi-Language Quick Installation Guide
• 1.8m/5.9ft Cat.5 Fast Ethernet cable
• Power Adapter (5V DC 2.5A)
Cable/DSL 4-Port
Broadband Router
(TW100-S4W1CA)
• Camera Stand
RELATED PRODUCTS
Internet
Notebook with PC Card
(TE100-PCBUSR)
Modem
TV-IP110W
Wireless Internet Camera Server
TV-IP212
2-Way Audio Internet Camera Server
TV-IP312
2- Way Audio Day/Night Internet Camera Server
10/100Mbps
ORDERING INFORMATION
20675 Manhattan Place,Torrance, CA 90501 USA
Tel: 1-310-961-5500
Fax: 1-310-961-5511
Web: www.trendnet.com
Email: sales@trendnet.com
To Order Please Call:
1-888-326-6061
TRENDnet is a registered trademark. Other Brands and product names are trademarks of their respective holders. Information provided in this document pertain to TRENDnet
products and is subject to change at any time, without notice. For the most recent product information please visit http://www.trendnet.com.
Copyright © TRENDnet. All Rights Reserved.

* Your assessment is very important for improving the work of artificial intelligence, which forms the content of this project